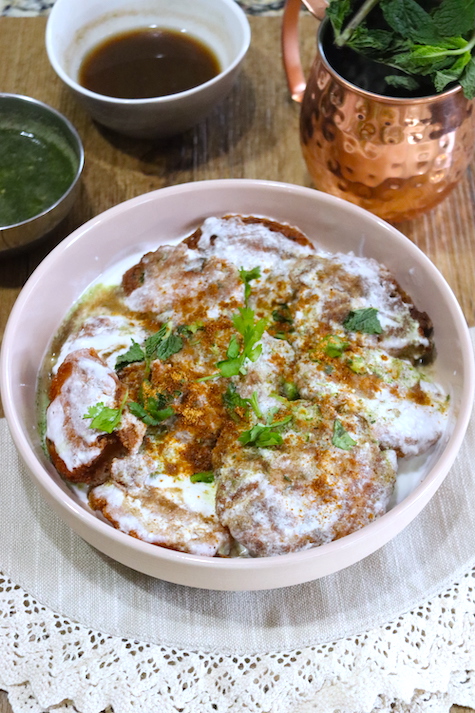 Instant dahi vada is a popular Indian snack made with semolina fritters, known as vada, that are soaked in spiced yogurt and topped with chutneys and spices. Unlike traditional dahi vada, which requires soaking the vadas in water for several hours, instant dahi vada can be made quickly without any prior preparation.
Once the vadas are fried, they are immediately soaked in a mixture of beaten yogurt and spices like salt, sugar, and chaat masala. The soaked vadas are then garnished with green and tamarind chutneys, chopped coriander leaves, and other toppings.
Instant dahi vada is a refreshing and delicious snack that can be enjoyed as an appetizer or a light meal. It is a popular street food in India and is also served during festivals and special occasions.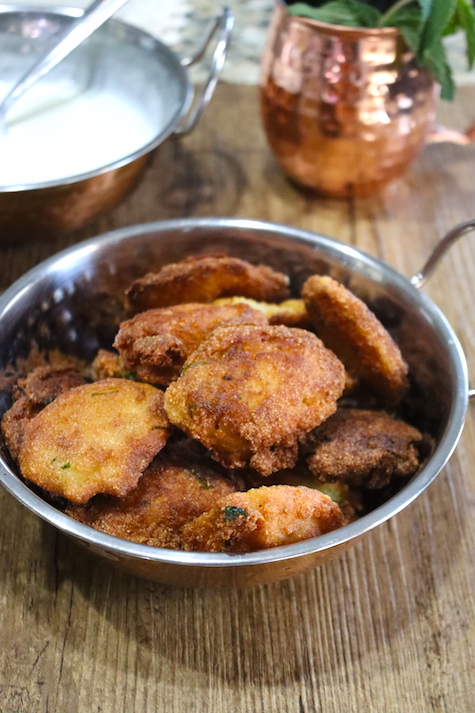 Instant Dahi Vada | Semolina Fritters In Yogurt - Indian Snack
Ingredients
For making semolina-rava vada
Semolina or Rava- 1 cup
Yogurt- ½ cup
Water- ½ cup
Ginger, grated- 1 tsp
Green chilies, chopped- 1
Cilantro, chopped- 2 tbsp
Baking soda- ¼ tsp
Salt- ½ tsp
For making simple mint chutney
Fresh mint leaves- 15 leaves
Ginger, grated- ½ tsp
Green chilies, chopped- 1
Cumin powder- ¼ tsp
Chaat masala- ¼ tsp
Water- ¼ cup
Other ingredients
Oil- for deep frying
Warm water- 2 cups
Salt- ¼ tsp
Yogurt- 2 cups
Salt- ¼ tsp
Sugar- ½ tsp
Tamarind chutney
Chaat masala- ¼ tsp
Chili powder- ¼ tsp
Instructions
First let's make the vada batter, in a bowl, combine semolina, yogurt & water.
Keep the batter aside for 15 minutes.
After 15 minutes, add ginger, green chilies, cilantro, baking soda & salt, combine well.
Place a frying pan over medium heat.
Add oil, let turn hot.
Using a spoon or your hand, drop the batter to the oil. Fry them in batches.
Fry till both sides turn golden in color.
Transfer to a plate lined with paper towel.
These vadas will be really crispy outside & soft inside, can be enjoyed as it is.
Making mint chutney
Add all the ingredients mentioned for making mint chutney to a blender jar & puree till smooth. Pour the chutney into a bowl.
Making dahi vada
In a bowl, add warm water & salt.
Drop the semolina vadas in the water for a few seconds, don't soak them more than a minute.
Take it out of the water, squeeze all the water & place it in a bowl.
By soaking in water, the vadas will turn soft.
In a bowl, beat yogurt, salt & sugar using a whisk.
Pour the yogurt over the soaked vadas.
Drizzle 2 tbsp green mint chutney, 2 tbsp tamarind chutney, and sprinkle chaat masala & chili powder.
Enjoy right away, these are refreshing & delicious.