Scrumptious brown sugar pound cake…
Pound cakes are one of the easiest cakes to make, if we replace white sugar with brown sugar pound cake will have a delicious caramel taste. I'm a caramel flavor freak & I was excited when I found this recipe.
Easy recipe & the cake is rich, and buttery with caramel taste. The frosting made this cake even more delish.
Even without the frosting this cake will taste good, so if you don't want the frosting feel free to skip it.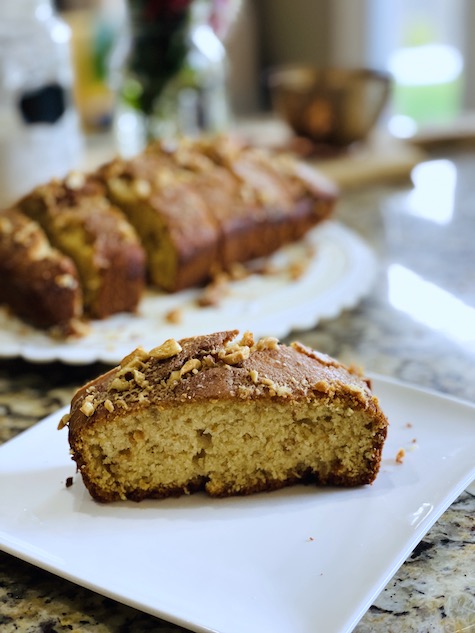 Recipe Courtesy: Joy Of Baking

Brown Sugar Pound Cake | Easy To Make & Delicious
Ingredients
Eggs, at room temperature- 3 large eggs
Milk, at room temperature- 3 tbsp
Pure vanilla extract- 1½ tsp
Light brown sugar- ¾ cup
All purpose flour- 1¼ cups
Baking powder- 1 tsp
Salt- ¼ tsp
Butter, unsalted, at room temperature- ¾ cup
For frosting
Butter, melted- 3 tbsp
Light brown sugar- ⅓ cup
Vanilla extract- ½ tsp
Cream- 2 tbsp
Mixed nuts- ⅔ cup
Instructions
Preheat the oven to 350 F or 180 C.
Grease a loaf pan with butter, line the pan with parchment paper.
To a bowl, add eggs & beat well; add milk & vanilla extract, beat well.
To another bowl, add brown sugar, flour, baking powder & salt, beat at low speed for a minute.
Cut the butter into small cubes.
Add to the flour mix, add half of the egg-milk mixture, beat at low speed for 2 minutes.
Add the remaining egg-milk mixture, beat till well incorporated.
Pour the batter onto a loaf pan.
Keep in the preheated oven on the middle rack, bake for 55 minutes.
Make the frosting- To a bowl, add butter, brown sugar, vanilla extract & cream, beat till thick.
Add the mixed nuts & mix well.
After 55 minutes, take the cake out of the oven.
Insert a fork into the centre, if it comes out clean cake has baked perfectly.
Spread the frosting on the cake.
Turn on the broiler in the oven to high. Let the heating elements turn red.
Place the pan under the broiler & broil for 2 minutes, keep an eye on it it can burn really fast.
Let the top turn golden brown & bubbly, take it out of the oven.
Let cool down completely.
Slice the cake & enjoy with a cup of coffee or tea.
Buttery, rich pound cake with caramel taste. Yum!