Delicious chicken biryani cooked in a claypan…
Clay Pot cooking is a traditional style of cooking. In South India, clay pots are widely available & are used for cooking on a daily basis. Some of the benefits of clay pot cooking are food tastes better, no chemical leaching into the food, retains the nutritive value of the food, etc.
Clay Pots have to be only placed on a flame burner, shouldn't be kept on flat ceramic or induction stovetops will cause cracks. In Summer, I often cook fish curry in my clay pot & it's fun outdoor cooking on the separate flame burner that's on the grill.
For the first time ever, I tried cooking chicken biryani in the clay pot & it turned out to be awesome. Cooked the chicken & the rice in the same clay pot & then did dum cooking.
The biryani tasted delicious & aromatic.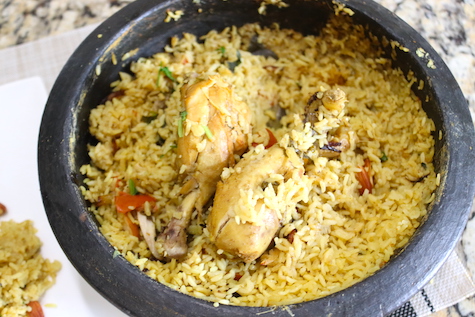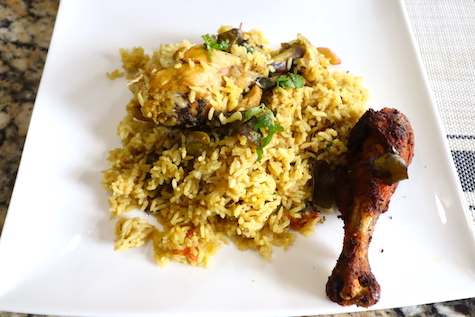 Cooking Video
Best Clay Pot Chicken Biryani Recipe
Ingredients
For cooking chicken
Chicken bone-in pieces- 6 to 8
Ginger-garlic paste- 1 tbsp
Onions, chopped- 1
Tomato, chopped- 1
Green chilies, halved- 3 or 4
Fried onions- 1 cup
Turmeric powder- ¼ tsp
Garam masala- 1 tsp
Fennel powder- 1 tbsp
Chili powder- 1 tsp
Yogurt- 3 tbsp
Mint leaves, chopped- ¼ cup
Cilantro, chopped- ¼ cup
Curry leaves- 10 leaves
Oil- 3 tbsp
Salt- 1½ tsp
For cooking rice
Warm Water- 2¾ cups
Salt- 1 tsp
Garam masala- 1 tsp
Kaima, jeerakasala or basmati rice, soaked & rinsed- 2 cups
To garnish
Fried onions- ½ cup
Roasted cashew nuts or almonds- ¼ cup
Roasted raisins- 2 tbsp
Mint leaves, chopped- 2 tbsp
Cilantro, chopped- 2 tbsp
Instructions
Use a large clay pot for making the biryani.
Either kaima, jeerakasala or basmati rice can be added.
I've taken jeerakasala rice, soak the rice in enough water for 30 minutes.
After that rinse the rice taken in a strainer under running water till the water turns clear, keep it aside.
To the clay pot, add chicken along with all the ingredients mentioned 'for cooking chicken', combine well. Let marinate for 30 minutes.
Place the clay pot over medium heat (on flame burner) & cook covered.
Cook till the chicken has cooked 80%, do not fully cook the chicken.
There will be around ½ cup of liquid in the claypan, that's the flavourful chicken gravy.
If you've added more chicken, there will be more liquid, so add additional water accordingly.
Add 2¾ cups warm water.
For 2 cups rice I've added a total of 3¼ cups liquid. 1:2 rice water ratio (ie, for 2 cups rice 4 cups liquid will make the rice mushy) hence adding less liquid.
Season with salt & garam masala.
Let the liquid come to a slight boil.
Add the soaked & rinsed rice.
Cook covered for 15 minutes till the rice has turned soft.
Let the liquid almost dry off.
If the rice is still crisp, add ¼ cup more water & cook covered till the rice turns soft.
There should be some moisture in the biryani.
Cover the clay pot with banana leaf & then wrap with aluminum foil. This way the aroma of banana leaf will infuse in the biryani.
Reduce the heat to low & cook for 5 minutes.
Turn off the heat & let the biryani rest in the clay pot for 30 minutes.
Before serving, open the banana leaf, the aroma from this biryani is just amazing.
Garnish with fried onions, roasted cashew nuts & raisins, mint & cilantro.
Enjoy the delicious clay pot chicken biryani with raita, pickle & pappad.
Notes
While cooking biryani in the claypan, a thin layer of rice will be stuck to the bottom of the claypan & will turn brown while dum cooking; this rice can be discarded.