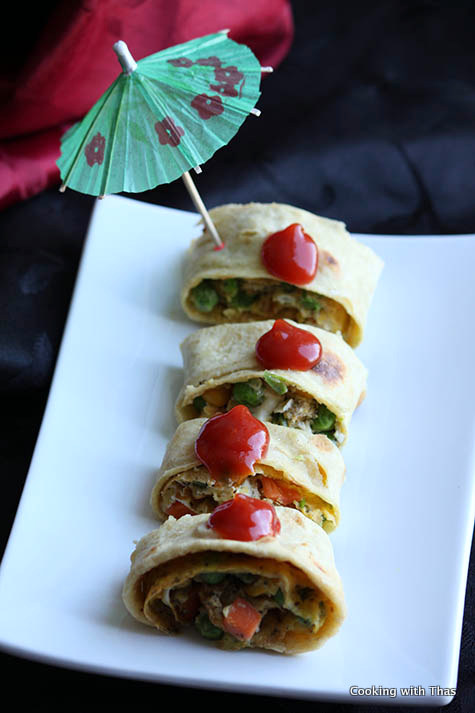 Chapati and omelette rolled together and cut into rounds, perfect for brunch or lunch or dinner…
Yesterday, I promised myself that I would take a break from the store bought tortillas, pita breads and rotis. So for dinner, I had to make chapatis from scratch. Though making any kind of rotis from scratch is a bit time consuming process, once I start making something from scratch I will be seen enjoying it thoroughly. The puffed up chapatis never fails to put a smile on my face. I served the chapati with dal and pan fried fish. Had some leftover chapatis, I stored them in the refrigerator.
Today, I woke up pretty late. Well, it's Sunday morning I better be romancing with my bed. After waking up, lazy me thought of skipping the brunch as it was already lunch time. However, the chapatis in the refrigerator insisted that I make something fancy out of them. I could only think of making omelette and then wrapping it in the chapati. It wasn't a bad idea after all. The wrapped omelette chapati was then cut into rounds and was served with tomato ketchup.
Not just adults, the kids are going to love this too and so it's a kid friendly lunch as well.
You could use tortillas instead of chapatis.
Recipe for making Chapati, click here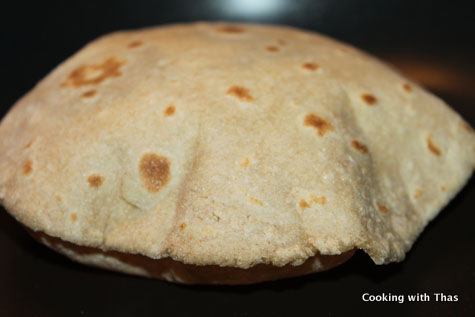 Chapati Egg Rolls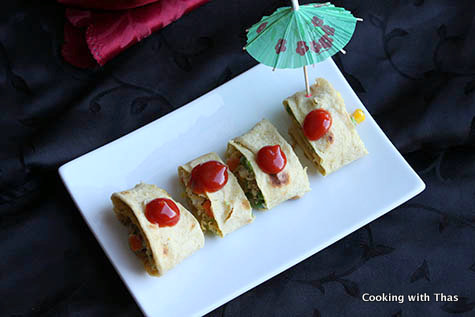 Preparation Pictures
Making Omelette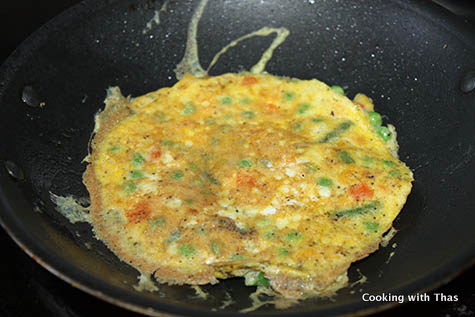 Homemade Chapati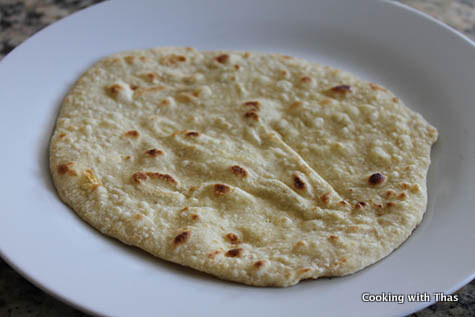 Chapati topped with omelette
Chapati Egg Roll Recipe
Ingredients
For making Omelette
Egg, large- 1
Mixed veggies- ¼ cup
Ground pepper- ¼ tsp
Salt- a few pinches
Cheddar cheese, shredded- 3 tbsp
Cilantro, chopped- 1 tbsp
Other ingredients
Tomato Ketchup
Oil- 1 tsp
Instructions
Make chapatis from scratch or use store bought ones.
You could even use tortillas instead of chapatis.
If using leftover chapatis, warm them before you make the rolls.
In a bowl, whisk together egg, mixed veggies, ground pepper, salt, cheddar cheese and cilantro.
Place a small non-stick pan over medium heat.
Add 1 tsp oil or spray the pan with non-stick cooking spray.
When the pan gets hot, pour the egg mixture and swirl the pan.
Let the bottom side cook well and has set well.
Using a wide spatula, flip the omelette over and cook the other side as well.
Transfer the cooked omelette to a plate.
Place one chapati on a plate. Top the chapati with omelette and warp them together into a roll.
Using a sharp knife, cut the roll into 2 inch slices.
Squeeze tomato ketchup on top of each slice.
Serve immediately.
Notes
Use tortillas instead of chapatis.