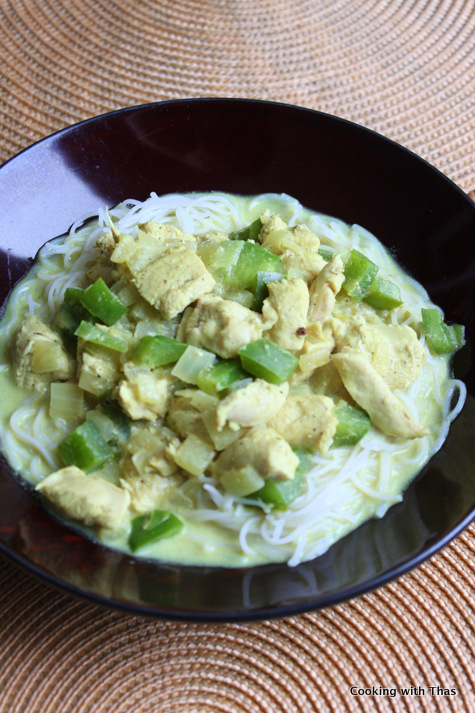 Laksa is a popular noodle soup in Indonesia, Malaysia and Singapore. This is a very comforting dish, coconut milk makes it creamy and the spices added makes this dish  flavorful. I'd made a similar dish called Khow Suey, which is a Burmese speciality. I am sure that these two dishes are related as most of the ingredients used and the preparation are the same. Laksa can be made with chicken, shrimp or fish, I opted for chicken. Made with simple ingredients, it's easy to make and the coconut milk added made it even more delicious. Most importantly, it's a comforting dish and you feel better after having a bowl of this soup.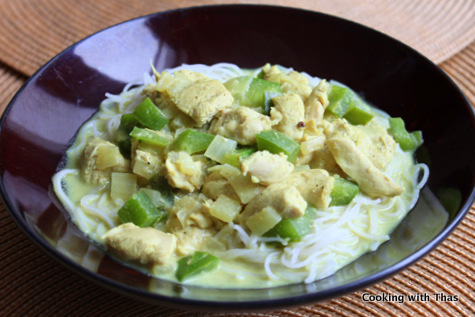 Chicken Laksa with Vermicelli Noodles
Ingredients
Chicken breasts, diced- 2 breasts
Oil- 1½ tbsp
Whole cardamom- 2
Whole cloves- 2
Bay leaves- 2
Onion, chopped- 1, large
Ginger-Garlic paste- ½ tbsp
Turmeric powder- ¼ tsp
Coriander powder- 1 tsp
Ground pepper- ¼ tsp
Salt- to taste
Chicken stock- 1 cup (or use 1 chicken bouillon cube dissolved in 1 cup water)
Green pepper, diced- 1
Coconut Milk- 1 cup
Garam masala- ½ tsp
Lemon juice- 2 tsp
Cilantro, chopped- 1 handful (optional)
Other ingredients
Vermicelli Noodles or Rice Noodles
Instructions
Place a large non-stick pan or saucepan over medium heat.
Add oil, when it turns hot add whole cardamom, cloves and bay leaves; saute for a few seconds till aromatic.
Add onion, sprinkle a few pinches of salt, saute till onions turns translucent.
Add ginger-garlic paste, saute for a few minutes.
Add turmeric powder, coriander powder and ground pepper, saute for a few seconds.
Add the chicken stock, combine well.
Add chicken and cook covered till chicken has half cooked.
Open the lid, add green pepper and coconut milk, cook covered till chicken has cooked well for 10 minutes.
Add garam masala, combine well and cook for a couple of minutes.
Finally, stir in lemon juice and garnish with cilantro.
Remove from the heat and keep it covered.
Cook vermicelli or rice noodles in hot water till it turns tender.
While serving, place some noodles on the bowl and add the chicken soup over the top of it.
Serve warm and enjoy it.