Carrot, celery, onions , cracked wheat and cilantro cooked together and made into a comforting soup…
Cracked wheat, the name says it all- whole raw wheat kernels are cracked into smaller pieces. A popular grain used for making many dishes in India and other countries. There is another similar grains called Bulgur grains. For making Bulgur grains, wheat kernels are steamed and toasted before they are cracked into smaller pieces.
Cracked wheat are commonly used for making breakfast dishes like upma, porridge, soups, pilafs, desserts, sweets and also cooked cracked wheat is made into a salad. They are nutty, rich in fibers and nutrition and quite filling.
I've tried making a few dishes with cracked wheat and enjoyed them so much, especially the cracked wheat chicken pilaf. I also like them when they are mixed with raw veggies and turned into a salad- cracked wheat salad.
The other day, I was in need of a comforting soup as I was sick. When down with cold or flu, a bowl of warm soup has never failed to comfort me. I made a quick soup in the pressure cooker, added veggies and cracked wheat along with vegetable stock. In less than 20 minutes, hearty and healthy cracked wheat soup was ready. It was delicious, comforting and healthy…
Other Cracked wheat dishes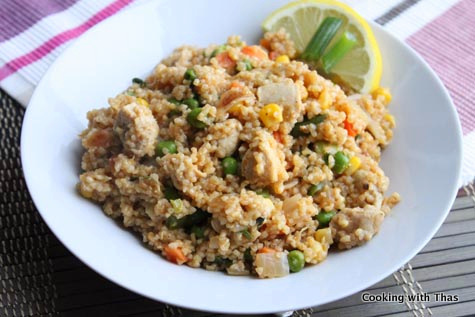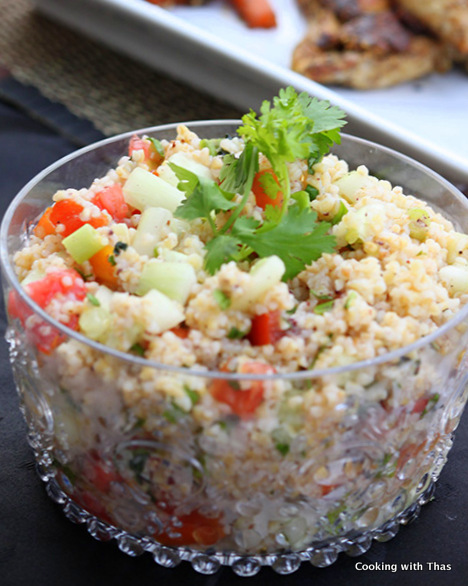 Cracked wheat and veggie soup
Vegetable Soup with Cracked Wheat- Healthy Soup
Ingredients
Carrot, diced small- 2
Celery, diced small- 3 ribs
Onion, chopped-1
Cracked wheat, rinsed-1/2 cup
Cilantro, chopped- ¼ cup
Vegetable stock or chicken stock- 4½ cups
Ground pepper- ¼ tsp
Chili powder- ½ tsp
Ground cumin- ½ tsp
Oregano, dried- ½ tsp (optional)
Salt- to taste
Instructions
In a pressure cooker, add all the above mentioned ingredients.
Cover the pressure cooker, place the whistle on it and cook over medium heat for 20 minutes or until 1 whistle.
Remove the cooker from the heat. After the pressure subsides open the lid.
Using a hand blender, coarsely puree the cooked veggies and cracked wheat together.
Or pour half of the soup into a blender and puree it. Add to the remaining soup and mix well.
Do not completely puree the soup, leave small pieces of veggies and cracked wheat.
Taste, add more salt or ground pepper if needed.
Serve in a soup bowl and enjoy with crackers or toasted bread. Such a comforting soup.