Murthaba is basically meat stuffed paratha, the meat stuffing along with the paratha tastes delicious…
Honestly, I haven't tasted murthaba before nor have I seen this dish being served any where in my hometown-Trivandrum. However, this dish is popular in some places in Kerala, Tamil Nadu and also in Malaysia and Singapore. I came to know about this dish through one of my friends. New recipes, new food names always excite me and for more details I googled about it. I came across a few recipes and saw some pictures as well.
After my little research, I learned that murthaba is basically meat stuffed paratha. There are 4 parts for making murthaba- making the meat filling, making the dough, folding the meat filling into the rolled dough and pan frying them.
You could use chicken, mutton or beef filling for making this. I made beef filling and folded in the rolled dough and pan fried it. The filling along with the paratha tastes delicious.
I believe there are different ways of making murthaba. In some places they layer the meat filling and rolled dough alternatively till there are 3 or 4 layers and then fold them together. I didn't do many layers, folded the meat filling on a single layer of rolled dough and folded into a triangle shape.
I adapted this recipe from here. If you have a different version of making murthaba do share with me.
Recipe for making Beef stuffed Poori- Fried, click here– A similar recipe popular in my family.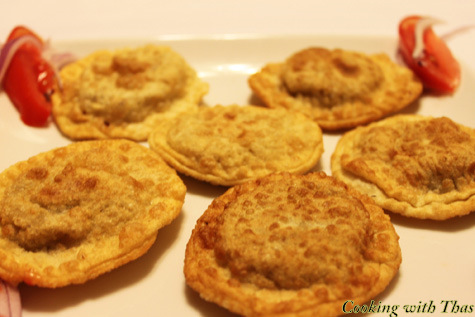 Murthaba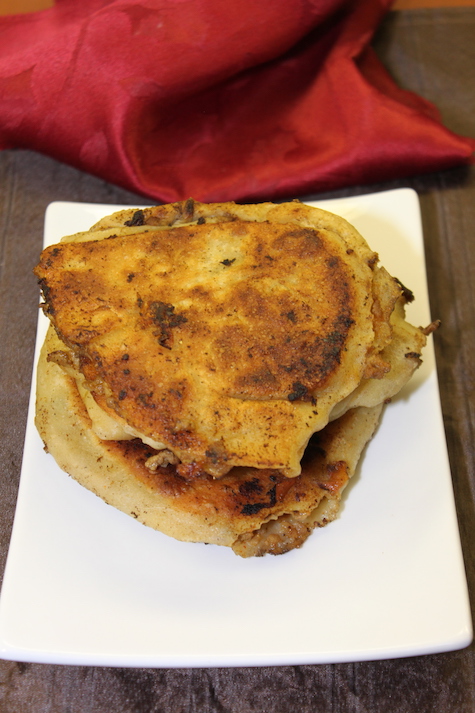 Cooking Video
Preparation Pictures
Making Beef filling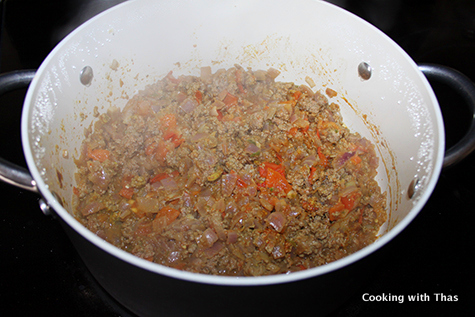 Dough for making parathas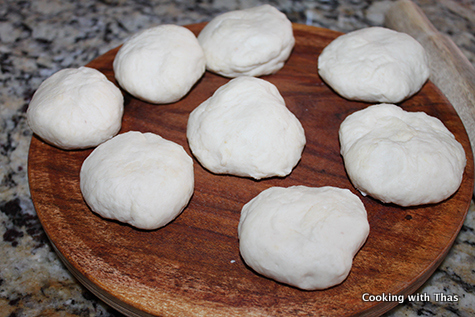 Spread beef filling over the rolled dough
Fold into semi circle shape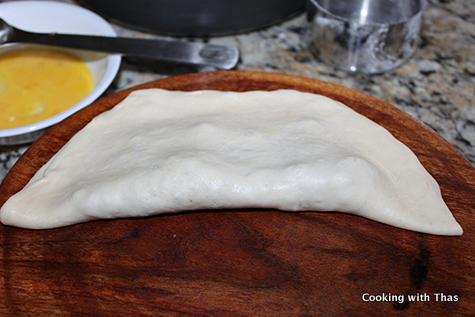 Fold again into triangular shape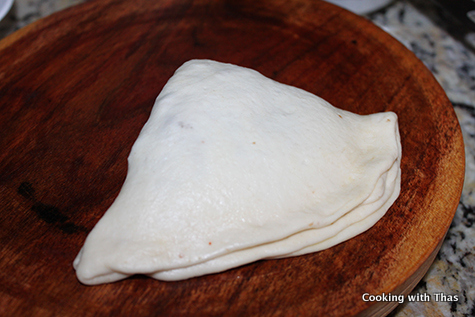 Pan fry the stuffed parathas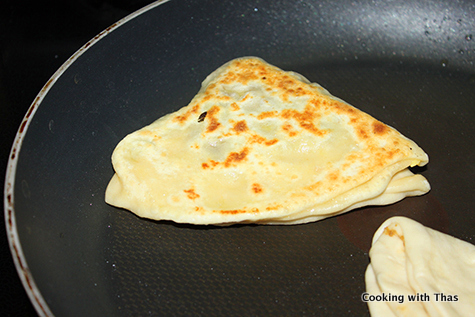 Murthaba- Ground Beef Masala stuffed in Paratha
Ingredients
For making beef Filling
Oil- 1½ tbsp
Onion, chopped small- 2
Ginger, chopped- 2 inch slice
Garlic, chopped- 4
Green chilies- 2
Tomato, chopped small- 2
Ground beef or mutton or chicken- 1 lb or ½ Kg
Chili powder- 1 tsp
Garam masala- ¾ tsp
Turmeric powder- ⅛ tsp
Coriander powder- 1½ tsp
Fennel powder- 1 tsp
Ground pepper- ⅛ tsp
Cilantro, chopped- 2 handfuls
Salt- to taste
For making dough
All purpose flour- 2½ cups
Egg- 1
Ghee- 1 tbsp
Salt- to taste
Water- ¾ cup
Other ingredients
Egg, beaten- 1
Ghee- for pan frying
Oil- for rolling dough
Instructions
In a food processor, coarsely grind the ginger, garlic and green chilies together.
Place a non-stick pan over medium heat. Add oil.
Add onion, season with salt and saute for a few minutes.
Add the ground ginger/garlic and green chilies, saute with onions till onions turn light golden in color.
Add tomatoes, cook till they are mashed up.
Add ground beef, combine well and break the ground beef without any lumps.
Add chili powder, garam masala, turmeric powder, coriander powder, fennel powder and salt. Combine well and cook covered till the beef has cooked well.
After the beef has cooked through, open the lid and cook for some more time till the beef gets lightly browned.
Taste and add more salt or chili powder for more spice.
Add chopped cilantro and combine well.
Remove the pan from the heat and let the beef cool down. Keep aside.
Making the dough
In a large bowl, combine flour, egg, ghee and salt together. Add water little by little and knead well till a soft dough has formed. Do not add too much water nor make into a hard dough.
Keep aside the dough for 5 minutes.
Make 8 balls out of the dough.
Spread some oil on a wooden surface and roll the dough to a round shape. Do not roll the dough too thin as the dough will tear while folding.
Brush beaten egg over the rolled dough.
Place 1 large spoonful of beef filing on the center of the rolled dough and spread it evenly.
Fold the dough over the beef filling into a semi circle shape and again fold over to a triangle shape.
Place a non-stick frying pan medium heat, add ½ tbsp ghee and place the beef filled and folded dough over the ghee and pan fry till the bottom side turn golden brown in color.
Flip it over, spread some more ghee over the murthaba and pan fry the other side as well.
Pan fry both the sides till they turn golden brown in color. Do not pan fry over high heat, keep the heat to medium low.
Let the murthaba cool down a bit and serve along with ketchup or raita.