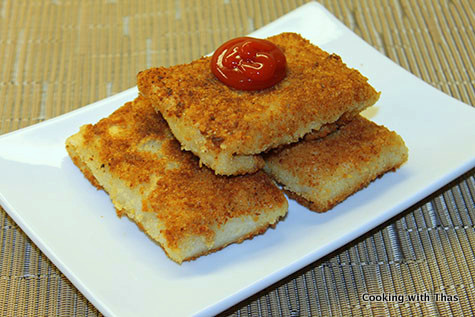 Leftover turkey got a fancy makeover: stuffed the crepes with turkey and fried…
After Thanksgiving, we obviously serve turkey for the next few days. I've been having turkey for the last 3 days and my Man has started to frown. I had some more leftover turkey that I wanted to serve for tonight's dinner. I had to turn that into something fancy and make my Man fall for it.
I made a filling with turkey and stuffed into the crepes and fried in oil till golden. Turned out delicious and my Man gobbled up. Mission accomplished.
You could replace turkey with chicken or canned tuna.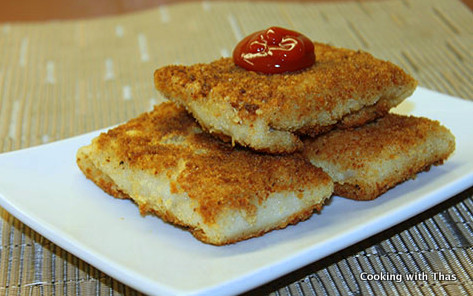 Turkey Stuffed Fried Crepes
Ingredients
For making filling
Oil- 1 tbsp
Onion, chopped- 3
Ginger garlic paste- 1½ tsp
Cooked turkey or chicken or canned tuna, shredded- 2 cups
Garam masala- ¾ tsp
Chili powder- ¾ tsp
Turmeric powder- ⅛ tsp
Coriander powder- 2 tsp
Salt- to taste
Cilantro, chopped- 2 handfuls
Cooked potatoes- 2
For making crepes
All purpose flour- 1½ cups
Water- 1¼ cups
Salt- 2 pinches
Other ingredients
Eggs, beaten- 2
Breadcrumbs- 2 to 3 cups
Oil- enough for frying
For making flour glue
All purpose flour- 2 tbsp
Water- 1 tbsp
Instructions
For making the filling, you can use cooked turkey, chicken or canned tuna. I used turkey.
Shred the turkey.
Cook the potatoes in a microwave or in boiling water.
Place a pan over medium heat, add oil.
Add onion, season with salt and cook for a few minutes.
Add ginger-garlic paste, saute and cook till onions turn light golden in color.
Add cooked turkey, combine well.
Add garam masala, chili powder, turmeric powder, coriander powder and salt.
Cook for a few minutes.
Mash the cooked potatoes and add to the turkey mixture, combine well.
Add cilantro, combine well and cook for a minute.
Remove the pan from the heat and keep aside.
Making Crepes
In a blender, puree all purpose flour, water and salt together till smooth.
Pour the batter into a bowl.
Place a non-stick pan over medium heat, grease with non-stick cooking spray.
Pour one spoonful of batter on the pan, using the back of the spoon spread the batter in a circular way.
Cook for a few minutes and remove the crepe from the pan.
Repeat with the remaining batter.
Making flour glue
Combine 2 tbsp all purpose flour and 1 tbsp water into a paste.
Stuffing the crepes
On the center of the crepe, place 2 to 3 tbsp of turkey filling.
Spread flour glue on the sides of the crepe and fold into square shape (first fold the 2 ends and then the other two ends).
Frying the stuffed crepes
Using a whisk, beat the eggs taken in a bowl. You could either use just egg whites or both whites and yolks.
Spread breadcrumbs on a plate.
Place a frying pan over medium heat, add enough oil for frying. Let turn hot.
Dip the stuffed crepes first in beaten egg and then coat with breadcrumbs.
Place it in the oil and fry till both sides turn golden brown.
Transfer to a plate lined with kitchen paper towel.
Enjoy while it's warm along with tomato ketchup or your favorite dipping sauce.