Puttu, kadala curry & pappadam, a popular breakfast combo in Kerala.
Black chickpeas are common in South India & a variety of dishes are made out of it. However, in North America, white chickpeas are available in all grocery stores. To buy black chickpeas, you have to go to an Indian store.
Black chickpeas are much more nutritious than white chickpeas as well.
Sharing a popular curry that's made in South India & enjoyed with puttu & idiyappam.
I enjoyed puttu & kadala curry.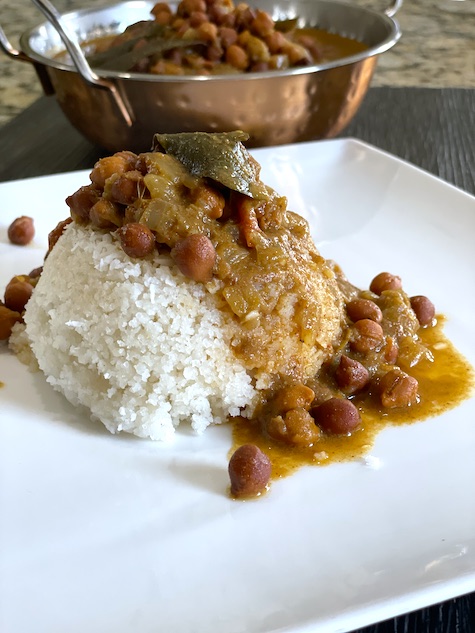 Kadala or Black Chickpeas Curry- Popular Kerala Vegetarian Curry
Ingredients
Coconut oil- 1 tbsp
Dried bay leaves- 2
Onions, chopped- 2
Salt- ½ tsp
Curry leaves- 1 sprig
Ginger-garlic paste- 1 tbsp
Green chilies, halved- 2
Tomatoes, chopped- 2
Kashmiri chili powder- ½ tbsp
Turmeric powder- ¼ tsp
Coriander powder- 2 tbsp
Cumin powder- 1 tsp
Fennel powder- 1 tsp
Salt- 1 tsp
Black chickpeas, soaked & rinsed- 1½ cups
Water- 2 cups
Coconut milk- ½ cup
Instructions
If you don't have black chickpeas, replace them with white chickpeas.
Soak the chickpeas in water overnight & rinse in water.
I'm using Instant Pot for cooking this curry, regular pressure cooker can be used.
Turn on the Instant Pot, select saute setting, select medium temperature.
Add oil, dried bay leaves, onions & salt; saute for 2 minutes.
Add curry leaves, ginger-garlic paste, green chilies, cook for 2 minutes.
Add tomatoes, cook for 2 minutes.
Add all the spices & salt; combine well.
Add the soaked chickpeas, combine well.
Add water, mix well.
Close the pot with the lid.
Select pressure cook setting, set the time to 30 minutes at high pressure.
After 30 minutes of pressure cooking, let the pressure release naturally for 5 minutes & then do a quick pressure release.
Open the lid, combine everything well.
Add coconut milk & combine well.
Select saute setting & cook for 3 minutes.
Serve the curry in a bowl, enjoy with puttu, appam, idiyappam, chapati or rice.