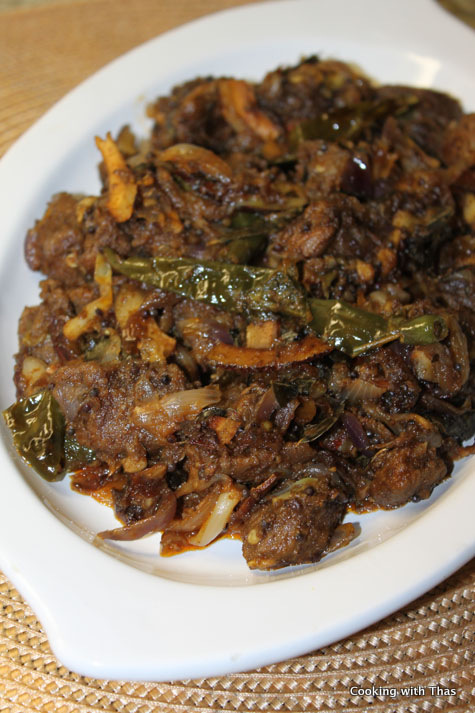 I like my beef cooked this way…
I would like to point out that in North America roast beef means beef roasted in an oven, usually it's a large slice of beef and it's not cubed or cut into chunks. The large beef slice is seasoned and roasted in the oven for many hours or even slow cooked. However, in South India roast beef means cubed beef cooked along with onions and spices till it's browned. Usually, the marinated beef is first cooked in a pressure cooker till it turns tender and then stir fried in a pan till browned. The spices added to the beef and the browning of the beef gives an incredible taste to the beef.
I am not that crazy about beef, however I am pretty crazy about beef cooked this way: Kerala style beef roast is one of my favorites.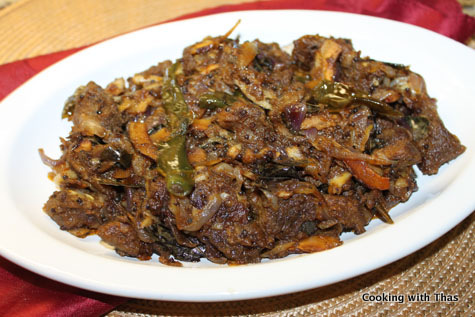 Green Chili Beef Roast
Ingredients
For cooking beef
Beef, stew cut or cubed- 1 lb
Ginger-garlic paste- 1 tbsp
Kashmiri red chili powder- 1 tsp (or add regular chili powder)
Vinegar- 1½ tbsp
Garam masala- ½ tsp
Salt- to taste
Water- ¼ cup
For Stir Frying Beef
Coconut oil- 3 tbsp ( tastes better when coconut oil is added)
Mustard seeds- ½ tbsp
Ginger, chopped- 2 inch slice
Garlic, chopped- 4, large cloves
Curry leaves- 1 sprig
Green chili- 4, halved ( add more if you need it to be spicy)
Small onions, cut long- 15
Ground pepper- ½ tsp
Coconut slices- 10 slices (optional)
Salt- to taste
Instructions
Combine the beef with the above mentioned ingredients in the section "for cooking beef".
Cook the beef in a pressure cooker over medium heat till 3-4 whistles or until cooked well.
Let the pressure of the cooker subside and keep aside the cooked beef. If there is a lof of water in the cooked beef, cook over high heat till there is only very less water.
Place a large non-stick pan or cast iron skillet over medium heat, add coconut oil.
Add mustard seeds, let it splutter.
Add the chopped ginger and garlic to the oil, saute till it turns light golden in color.
Add curry leaves and green chili, saute in the oil for a couple of minutes.
Add small onion, a few pinches of salt and saute till onions turn golden brown in color.
Add the cooked beef along with any water in it, stir fry till the water has dried off and beef turns light browned.
Add ground pepper and more salt if needed.
Roast the coconut slices in oil and add to the beef, combine well and cook for a minute.
Adding coconut slices is just optional.
Serve warm along with rice, roti or even with bread.