Crispy breaded chicken tossed in a delicious sweet chili sauce…
One of the Asian appetizers my hubs & I enjoy the most is the Asian-style chicken bites. Crispy breaded chicken tossed in an amazing sweet & spicy sauce. I recreated this dish in my kitchen & I wasn't disappointed. It turned out delicious.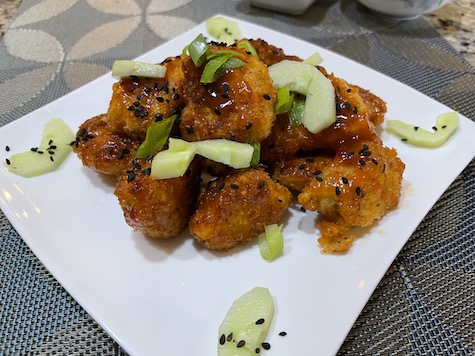 Asian Style Sweet Chili Chicken Bites
Ingredients
Chicken breast or thighs, diced- 2 breasts or thighs
Ground black pepper- a few pinches
Paprika- ⅛ tsp
Salt- ½ tsp
For frying
All-purpose flour- ½ cup
Egg- 1
Breadcrumbs- 1 cup
Oil- enough for frying
For making sauce
Rice vinegar- ¼ cup
Fish sauce or soy sauce- 1 tbsp
Brown sugar- 2 tbsp
Sambal oelek or ground chili paste- 2 tbsp (for less heat add 1 tbsp)
Cornstarch- 1 tsp
Water- 3 tbsp
For garnish
Black or white sesame seeds- 1 tsp
Green onions, chopped- 2 tbsp
Cucumber, sliced thin- ¼ cup
Instructions
To a bowl, add chicken, ground black pepper, paprika & salt, combine well. Let marinate for 10 minutes.
In a bowl have the flour ready, crack an egg into a bowl & beat it well, and spread breadcrumbs on a plate.
Add oil to a frying pan & let the oil turn hot.
First coat the chicken with flour, dip in the egg & let coat well, finally coat with breadcrumbs.
Drop the chicken to the hot oil & deep fry till golden in color & crispy.
Transfer to a plate lined with paper towel.
In a bowl, add all the above-mentioned ingredients for making the sauce, combine well.
Add the sauce to a hot saucepan, keep stirring & cook for 3 minutes till the sauce thickens.
Transfer the sauce to a bowl.
Pour the sauce over the chicken, toss it well.
Garnish with sesame seeds, green onions & cucumber.
Enjoy this sweet & spicy chicken bites, perfect appetizer.