Toddy Palm seeds or Nongu Smoothie…
Toddy palm seeds or Nongu is a delicacy, the tender seeds can be enjoyed as it is or can be made into a juice or smoothie. Whenever I visit India, I do a road trip from Trivandrum to Nagercoil to visit my family, it's only a 2 hrs road trip. On the way to Nagercoil, the sight of Nongu is a delight and the street vendors will be selling it in the form or sharbat. They will scoop out the seeds and add the seeds along with the juice to a glass and add sharbat to it. It's a perfect cooling thirst quencher and the taste of fresh nongu is incredible. I also buy a few nongu to enjoy after I reach home. The fresh nongu tastes so tender and has a nutty flavor, you won't feel like turning it into anything else. However, nongu smoothie with coconut milk or milk tastes delicious as well.
Here is the picture of Palm seeds or Nongu that I clicked in 2017, sold by street vendors on the way to Nagercoil.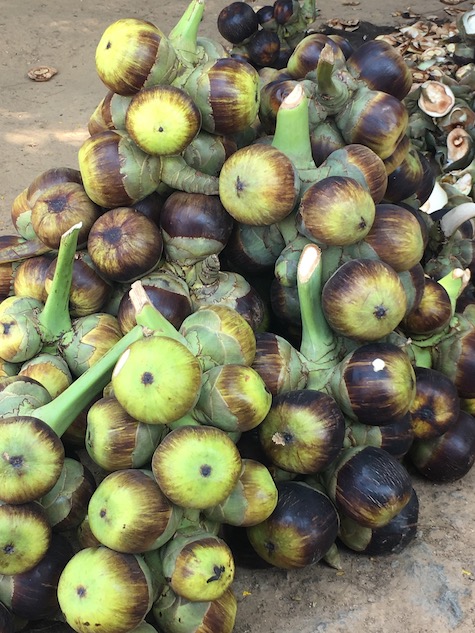 I do miss fresh Nongu and tender coconut or Karikku. At times, I buy the canned toddy palm seeds. It's preserved in sugar syrup, hence you won't get the natural taste of nongu. The other day, I made a smoothie out of palm seeds and coconut milk, tasted delish. If you are lucky enough to get hold of fresh nongu, do try this smoothie, you will enjoy it.
Making Toddy Pam Coconut Smoothie Video
Toddy Palm Seeds Smoothie- Nongu Smoothie
Ingredients
Toddy Palm seeds or Nongu- 3 tbsp (canned)
Coconut milk, light- 1½ cups
Water- ½ cup
Soaked chia seeds or basil seeds- 1 to 2 tbsp/glass
Instructions
I've used canned palm seeds, they are preserved in sugar syrup. Hence, I added 3 tbsp seeds along with the sugar syrup.
If using fresh palm seeds, add around 6 seeds. You will have to add some sugar to sweeten the smoothie.
Into a blender- add palm seeds, coconut milk and water.
Blend till smooth.
Pour into glasses.
Add soaked chia seeds or basil seeds.
Enjoy, the smoothie tastes yum.