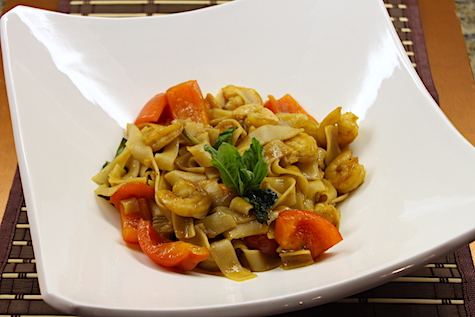 Drunken noodles or Pad Kee Mao, an incredibly delicious Thai dish…
Finally, I made the best tasting Thai drunken noodles or Pad Kee Mao in my kitchen. This is one of my favorite Thai dishes; it's highly aromatic, flavorful and the taste lingers to your mouth for a long time. It has a bold flavor and the addition of basil leaves, Thai red chilies imparts a nice heat to this dish.
I added shrimp to this dish; chicken or beef can also be added. For making the sauce: soy sauce, dark soy sauce, oyster sauce, and fish sauce are added. I would highly recommend using all these sauces as skipping one of the sauces will alter the taste of this dish.
Without further ado, let me share this amazing recipe with you all. If you are a Thai food fanatic like me, this recipe is a keeper and you will make this dish quite often.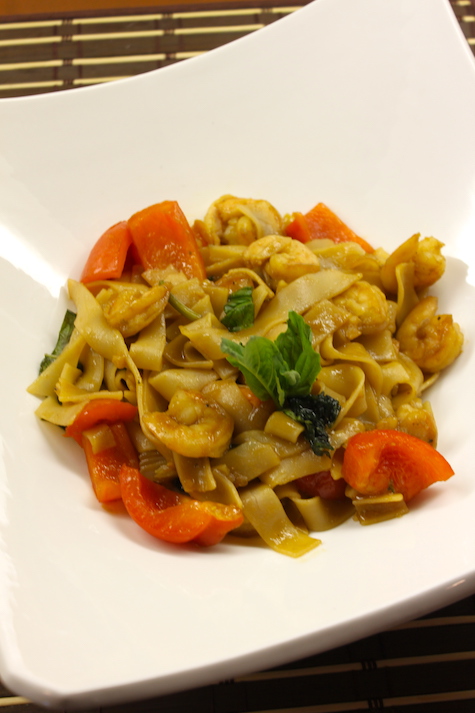 The Best Thai Drunken Noodles Recipes- with Shrimp
Ingredients
For marinating Shrimp
Shrimp, deveined- 15
Soy sauce- 1 tbsp
Fish sauce- 1 tsp
Garlic, grated- 1 clove
Ground black pepper- 2 pinches
For making Sauce
Soy sauce- 1 tbsp (use low-sodium)
Dark soy sauce- ½ tbsp
Fish sauce- 1 tbsp
Oyster sauce- 1 tbsp
Palm sugar- 1 tbsp (or use coconut sugar)
Ground black pepper- 2 pinches
While Stir Frying
Oil- 3 tbsp
Garlic, chopped- 4 cloves
Thai red chilies, halved- 2 (for more heat add 3 to 4, Thai chili is very hot)
Shallots, sliced- 4
Fresh basil leaves, chopped- 10 leaves
Red pepper, diced- 1
Rice Noodles, cooked in hot water- 200 g (or ½ the packet)
Basil leaves, chopped- 3 leaves, to garnish
Instructions
In a bowl, combine shrimp along with the ingredients 'for marinating shrimp', keep aside.
In another bowl, combine all the sauces mentioned 'for making sauce'.
Cook the rice noodles in hot water, let turn soft. Donot over cook the noodles. Drain the noodles and keep aside.
To prevent the cooked noodles from sticking while you cook the shrimp- add some warm water to the cooked noodles. Just before adding the noodles to the cooked shrimp drain the water.
Place a large wok over medium-high heat.
Add oil, followed by garlic, thai red chilies, shallots and basil leaves. Stir fry till shallots turn translucent.
Add the marinated shrimp, stir fry for a few minutes till shrimp has cooked.
Add the diced red pepper, stir fry for a minute.
Add the prepared sauce, stir for a minute.
Add the cooked noodles, stir fry over high heat for 3 minutes.
Add chopped basil. Stir fry for a minute.
Remove the wok from the heat.
Serve on a bowl and enjoy while it's warm. It's incredibly delicious.
Notes
Thai red chilies are super hot, I can't handle too much heat so added 2 chilies, it was still hot but tasted good.
If you like the heat, add 3 to 4 chilies.
You can replace shrimp with chicken or beef. Cook for more time till the meat has cooked well.