The title of the cookbook says it all…
Being an eat out fanatic, I've dined in many restaurants all over the US. Most of the time I try not to go to the same restaurants over and over as I want to try different restaurants and different cuisines. Every time I dine in a restaurant and after I enjoy the food, I've wished if I could get a copy of the recipe from the chef to take home. That wish didn't come true and I kept wishing. I've also tried a few times to re-create restaurant dishes in my kitchen, looks like I am not a good recipe cloner. Many times I've searched the internet and haven't been successful in getting good recipes that taste just like the restaurant ones. And my search for restaurant food recipes continued…
Recently, I got hold of a review copy of the  cookbook "America's most wanted recipes" written by Ron Douglas. After reading this book, I can say that my restaurant recipe search has literally come to an end. This cookbook reveals the secret recipes of many popular restaurants in the US: Applebee's, Chili's, Olive Garden, P.F. Chang's, Red lobster, Ruby Tuesday just to name a few. I am a huge fan of chicken chili of Chili's, BBQ Chicken Pizza of California Pizza Kitchen, Dungeness Crab Bisque of Red Lobster, Sizziling chicken of T.G.I.Friday's. Well, now I have all these recipes on my hand and all I have to do is get into the kitchen and start the cooking. Before I know, restaurant style dishes will be ready on my dining table. What more do I need to impress my husband and my guest?
If we can make restaurant style food at home, we could cut down on the restaurant visits and save some money. Not just this, when we make the food at home we have all the freedom to make it healthy!
About Ron Douglas, New york Times Best Selling Author:
Ron's passion for cooking started ever since he was a kid who was the personal assistant of his grand mother in the kitchen. The idea for re-creating restaurant recipes hit him when his wife challenged him to make KFC's famous fried chicken for her. He searched the internet for recipes and couldn't find anything that's good and discovered that there were many people who were into recipe cloning. This inspired him to launch a community called "RecipeSecrets.net", where people could share their feedback and work together to create accurate clone recipes. As the website grew, cooking experts and professional chefs got involved in the recipe-cloning movement. His website now has more than 70,000 recipe cloners and over 179,000 newsletter subscribers. Which started as a hobby turned out to be his career and profession. The recipe forum inspired him to write this cookbook.
About the cookbook:
This cookbook is a compilation of the most beloved restaurant dishes in America based on research and consumer surveys.
Reveals the secret recipes of 54 popular restaurants in the US.
All the recipes are tested and tweaked to taste just like the original.
There are tips throughout the book in which the author shares his personal experience and suggestions.
Tips for saving money, saving time and preparing healthier alternatives.
The author explains the cooking terms, guidelines for buying fresh vegetables, fruits and herbs.
Recipes are very straight forward and the ingredients used in most of them are simple and easily available.
A must have cookbook if you want to re-create restaurant recipes at home, save money and still enjoy delicious food with your family and friends.
I would have liked pictures with every recipe. However, if you have had the food at the restaurant, you could visualize the picture of it.
T.G.I Friday's Sizzling Chicken and Cheese Recipe:
How can I not try the recipes from this cookbook? As soon as I started reading this cookbook, I wanted to try each and every recipe in it. I was so excited to see the recipe for one of my favorite dishes at T.G.I.Friday's: "Sizzling Chicken and Cheese". I tried this and it tasted exactly like the restaurant style. Both the chicken and the veggies tasted delicious along with mashed potatoes it was incredible. I didn't have Chihuahua cheese so I added cheddar cheese.
Ingredients: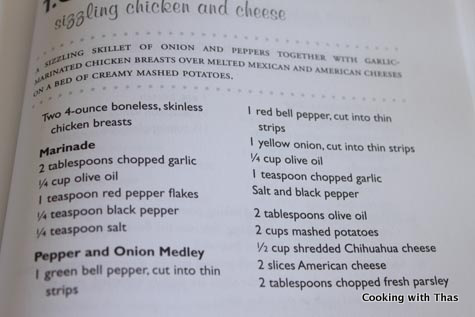 Preparation: