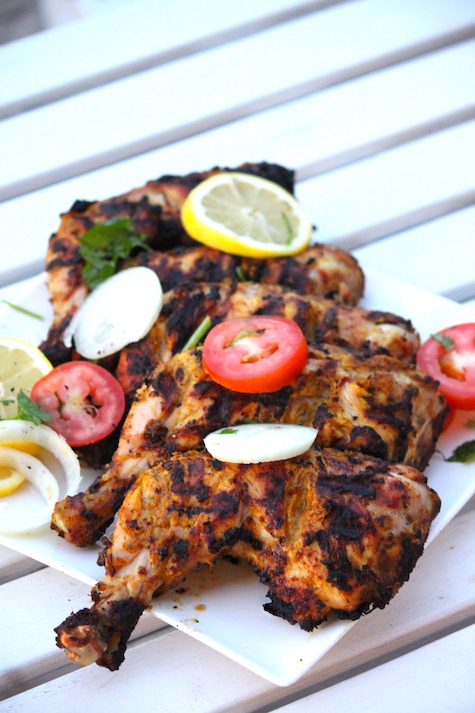 Al Faham chicken, a popular Middle Eastern or Arabian grilled chicken…
This Arabian grilled chicken is quite popular in India as well. My niece introduced me to this. Up until last week I had no clue what Al Faham chicken was. The other day while video chatting with my niece, she was enjoying this chicken. When I asked her what kind of chicken was that, she told me with much enthusiasm it's Al Faham chicken. I was like, what? Got curious & obviously google-searched right away. Many recipes and videos lined up. Sounded awesome and grilling Al Faham chicken got on my must-try list.
In Summer, I enjoy grilling outdoors. Today's weather was perfect for grilling Al Faham chicken. Made the homemade Arabian spice mix and the marinade. Marinated the chicken with the homemade marinade and allowed it to rest for a few hours. Ideally, chicken has to be marinated overnight; that's when the flavors & aroma will get into the chicken and the grilled chicken will turn juicy and succulent.
My hubs & I absolutely enjoyed this grilled chicken. While grilling, the aroma of the roasted whole spices & marinade spread throughout my backyard and it was mesmerizing- deep breath in. The flavor wasn't overpowering, it was subtle yet unique & captivated my tastebuds.
Do give this a try and ensure to marinate the chicken overnight or at least for 4 hours, this will greatly enhance the taste and flavor.
Homemade Al Faham Spice mix or Arabian Spice Mix
The Best Al Faham Chicken- Grilled Arabian Chicken- Homemade Marinade
Ingredients
Chicken, leg-thigh pieces- 6 to 8
For Making Arabian Spice Mix
Coriander seeds- 1 tbsp
Fennel seeds- 1 tbsp
Cumin seeds- 1 tsp
Whole black peppercorns- ½ tbsp
Whole cardamoms- 3
Whole cloves- 2
Whole cinnamon- 1 inch slice
Turmeric powder- 1 tsp
Chili powder- 1 to 2 tbsp
For Making Marinade
Onion, yellow- 1
Tomato- 1 small sized (or ½ of a large tomato)
Garlic- 3 large cloves
Ginger- 2 inch slice
Green chilies- 2 to 3
Cilantro, chopped- 2 handfuls
Olive oil- 1 tbsp
Lemon juice- juice from 1 lemon
Salt- 3 tsp
Yogurt- 4 tbsp
Instructions
Firstly, let's roast the whole spices.
Place a pan over medium heat; add coriander seeds, fennel seeds, cumin seeds, whole peppercorns, whole cardamom, cloves & cinnamon. Roast for 5 minutes till aromatic.
Do not burn the spices.
Remove the pan from the heat and add turmeric powder & chili powder. Combine well.
Add chili powder based on your spice level- 1 tbsp for mild & 2 tbsp for spicy.
Let the roasted spices cool down.
Grind the spice mix to a fine powder in a spice grinder. Keep aside. This will yield around 3½ tbsp.
Into a blender jar, add all the above metioned ingredients 'for making the marinade'.
Add the prepared spice mix, you can add the entire spice mix around 3½ tbsp.
Grind to a smooth paste, water is not required.
Clean the chicken leg-thigh pieces under running water. Chicken legs can also be used.
I removed the skin from the chicken.
Into a large bowl, place the chicken and pour the marinde over it.
For 4 to 6 chicken, don't have to add the entire marinade ( I saved half of the marinade for making chicken curry- I'll be cooking chicken in the marinade, will make an aweosme curry).
If using more chicken, add the entire marinade.
Spread the marinade over the chicken, combine well.
Cover the bowl with a cling wrap.
Marinate in the refrigerator overnight or for 4 hours.
Do not skip marinating the chicken, the longer the tastier and jucier it will get.
Fire up the grill, grease the grill with oil.
Place the marinated chicken on the grill.
Cover the grill and grill for 5 minutes.
Open, flip the chicken over and spray with non-stick cooking oil.
Grill for a few minutes.
I basted the chicken with the marinade that's left in the bowl.
Grill and flip over a few times till chicken has grilled well.
Do not over grill.
Before taking the chicken out of the grill, spray with non-stick cooking oil and grill for 3 minutes.
Transfer to a plate, garnish with sliced onions, tomato, lemon & cilantro.
Enjoy while the Al Faham chicken is warm.
Leftovers can be refrigerated and enjoyed the necxt day for lunch.
How to bake Al Faham Chicken in the oven
Preheat the oven to 400 F or 200 C.
Place the marinated chicken on a baking pan lined with aluminum foil.
Grease with non-stick cooking oil.
Bake for 30 minutes.
After 30 minutes of baking, flip over the chicken and bake for another 20 to 25 minutes.
Bake till chicken has turned golden brown. Total 45 minutes of baking.