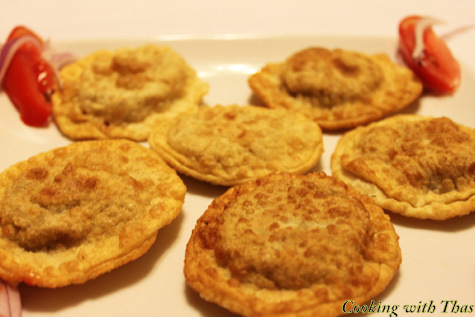 Poori is a famous Indian bread; served for breakfast with veg or non-veg curries. The other day, I made poori in a real fancy way. I had beef that day, so made beef masala and then stuffed the beef masala into the poori and fried it. Doesn't it sound fancy? It came out pretty good and needless to mention, the stuffed pooris disappeared from the platter in no time.
This is how the stuffed poori before frying looks like: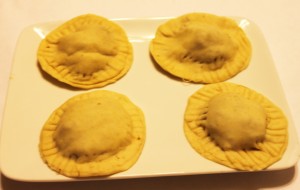 Beef Stuffed Poori
Ingredients
For cooking beef
Beef, stew cut- ½ lb or ¼ Kg
Chili powder- 1½ tsp
Turmeric powder- ¼ tsp
Garam masala- 1 tsp
Fennel powder- 1½ tsp
Coriander powder-1 tsp
Salt- to taste
Water-1/4 cup
For making the Masala
Onion, minced- 2
Ginger, minced-1 tbsp
Garlic, minced-1 tbsp
Green chilies, minced-1 tbsp
Cilantro, chopped-1 handful
Oil- 1 tbsp
Salt- as required
For making poori
Wheat flour or Atta-1/2 cup
Maida-1/2 cup
Water- as required
Salt- a pinch
Oil- 2 tsp
Instructions
Making beef Masala
Coat the beef with all the above ingredients "for cooking beef" and add water to it. Cook the beef in a pressure cooker until 3 to 4 whistles.
Let the pressure subside, open the cooker and cook the beef until all the water has evaporated.
Coarsely grind the beef in a food processor (do not make into a paste) or shred it and keep it aside.
Heat a pan over medium heat, add oil, add onion, season with salt and saute till translucent.
Add minced ginger, garlic, green chilies, cilantro, saute until onions start to turn light brown.
Add the cooked and shredded beef and stir fry for a few minutes.
This is the stuffing for the poori.
Making poori dough
In a large bowl, add both the flours, salt and knead by pouring water little by little , make a soft dough. Add oil and keep it aside.
Make small balls out of the dough.
Roll each balls into round shape, by sprinkling wheat flour while rolling to avoid sticking.
Now using a round shape cutter, make small rounds out of the rolled dough.
Make as many rounds as possible from the whole dough.
Take one of the rounds, place 1 to 2 tbsp beef masala and cover it with the second round, seal the edges by pressing the 2 rounds together.
You could press a fork over the edge of the poori.
Heat enough oil in a frying pan.
Fry the beef stuffed dough in the oil, flip it over and let both sides turn golden brown.
Using a slotted spoon, transfer the fried stuffed poori on a paper towel, let cool down a bit.
Serve warm with salad or tomato ketchup.