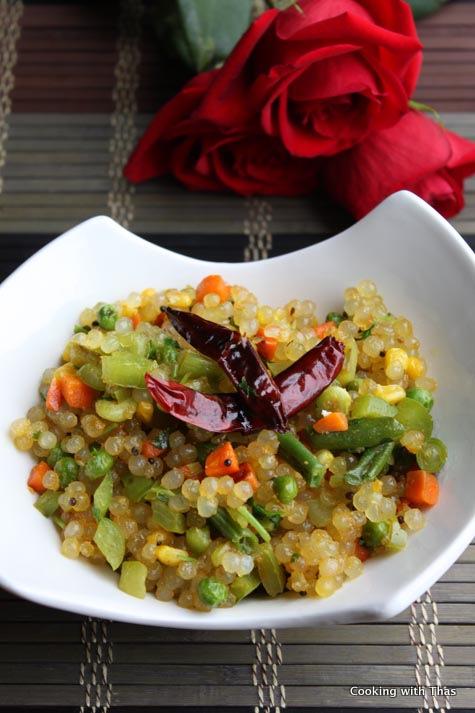 A popular Maharastrian dish made with sabudana or tapioca pearls…
Sabudana or sago (or Chavari in Malayalam) or Tapioca pearls, is a common ingredient in Payasam , a popular dessert in Kerala. I dig out sabudana only when I have payasam that too vermicelli (semiya) payasam, else I seldom take it out of my pantry.
I haven't made a savory dish with sabudana before, in fact I wasn't aware that savory sabudana dish is popular in North India. It's big time I need to broaden up my culinary knowledge. When I came to know that this ingredient can be transformed into a savory dish, I got curious. If you have used sabudana you would know that before cooking, it has to be soaked in water for a few hours. After it has been soaked, the sabudana will resemble tiny glass jelly beans and can be added to whatever you are cooking. It doesn't have any taste nor flavor, the jelly texture is what makes it unique.
The other day, I tried making a savory dish with it. I thought I wouldn't like it, however it wasn't bad after all. The trick is to not to make the dish mushy, the soaked sabudana shouldn't stick together. I enjoyed the glass bead look and the jelly bean texture of it.
Recipe for making Sabudana Payasam
Preparation Pictures
After adding soaked sabudana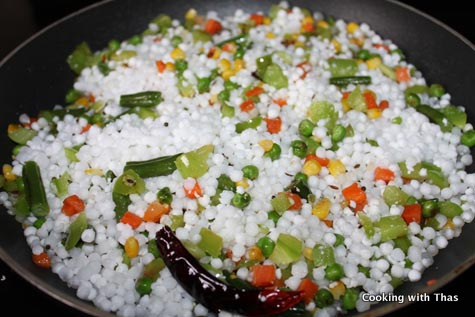 Sabudana Kichadi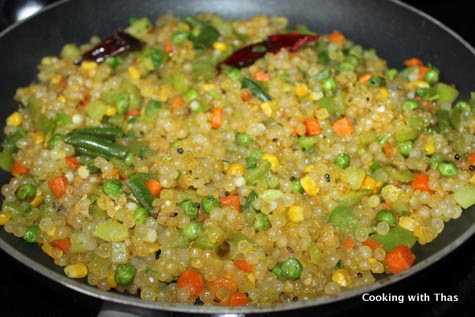 Sabudana Kichadi or Sago or Tapioca Pearl Kichadi
Ingredients
Oil- 1 tbsp
Mustard seeds- 1 tsp
Cumin seeds- 1 tsp
Dry whole red chili- 2
Mixed veggies- 1½ cups, chopped small (corn, peas, beans, carrot- use frozen)
Green chili, chopped- 1
Green pepper, chopped small- 1
Sabudana or sago or tapioca pearls- 1½ cups, soaked in just enough water to cover it
Chili powder- ½ tsp
Ground pepper- ⅛ tsp
Cumin powder- ½ tsp
Fennel powder- 1 tsp
Turmeric powder- ⅛ tsp
Cilantro, chopped- 2 handful
Lemon jucie- ½ tbsp
Salt- to taste
Instructions
In a bowl, soak the sabudana or sago in just enough water to cover it and keep it overnight. It will absorb the water so don't add excess water. Drain the soaked sabudana and keep aside.
Place a pan over medium heat, add oil, let it turn hot.
Add mustard seeds, let it splutter.
Add cumin seeds, saute for a few seconds.
Add dry red chili, saute for a couple of seconds.
Add mixed veggies, green chili and chopped green pepper along with salt, saute till veggies turn tender and light golden in color.
Add chili powder, turmeric powder, ground pepper, cumin powder and fennel powder, combine well.
Add soaked sabudana, combine well and cook till it turns transparent.
Don't add any water and don't cook or saute too much as it will turn mushy.
Add cilantro and lemon juice, combine well, cook for a minute.
Taste and add salt if needed.
Remove the pan from the heat and sevre warm as a side dish.