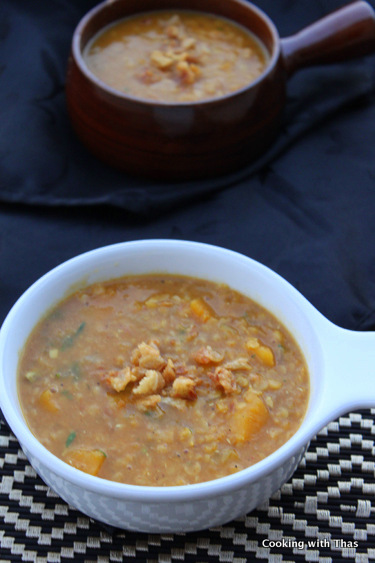 A bowl of this soup and you will feel cozy…
It's that time of the year again when I like to sip a bowl of soup and feel good about it. Summer has gone with the winds and the enchanting Fall has arrived. Fall is obviously the most beautiful season and the Nature will be seen adorned with her gorgeous fall attire. Clicking pictures and enjoying the beauty of Nature, that's what I do during Fall. Besides that, I make soups almost everyday to keep me warm and cozy.
Yesterday, I made this squash and lentil soup, such a hearty soup. A bowl of this soup is enough to fill your stomach, it's healthy and delicious.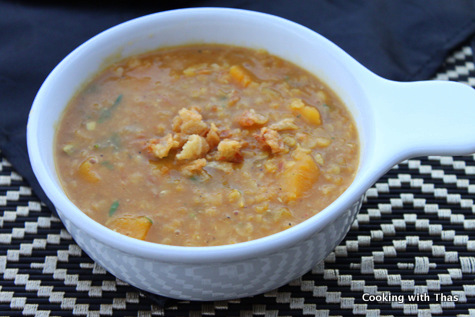 Preparation Pictures
Cooking squash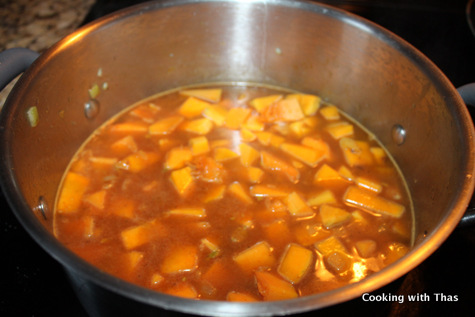 Cooking lentils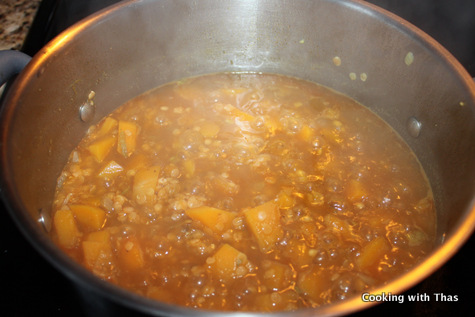 Pureed mixture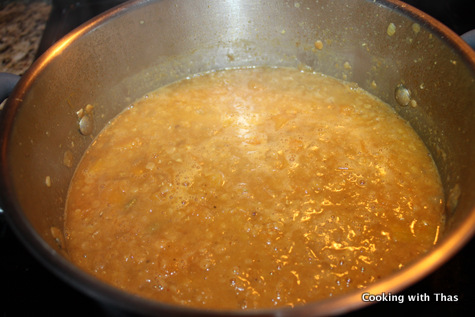 After adding fried onions and cilantro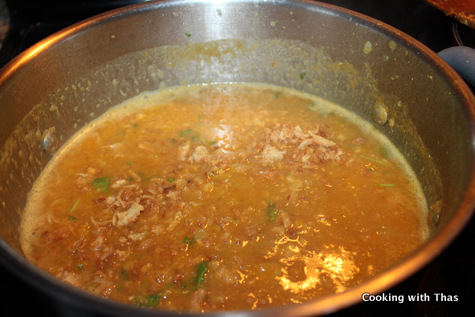 Butternut Squash and Lentil Soup
Ingredients
Ghee or butter- 1 tbsp
Ginger, minced- ½ tbsp
Garlic, minced- ½ tbsp
Onion, chopped small- 1, large
Garam masala- 1 tsp
Coriander powder- 1½ tsp
Kashmiri red chili powder- ¾ tsp
Cumin powder- ½ tsp
Salt- a few pinches
Ground pepper- ½ tsp (optional)
Butternut squash, diced- 1
Chicken stock or vegetable stock, low sodium- 1 cup + ½ cup ( or use 1 bouillon cube dissolved in 1½ cups water)
Red lentil, rinsed- 1 cup
Water- ½ cup, to thin down soup
Fried Onions- ½ cup, (store-bought))
Cilantro, chopped- 2 handful
Instructions
Place a soup pot or large saucepan over medium heat, add ghee or butter.
Add onion and a few pinches of salt, saute till translucent.
Add minced ginger and garlic, saute for a few minutes.
Add garam masala, coriander powder, kashmiri red chili powder and cumin powder, saute for a few seconds.
Add diced butternut squash, saute for a few minutes.
Add 1 cup chicken stock or vegetable stock, cook covered till squash turns just tender.
Add red lentil and ½ cup more chicken stock, cook covered till lentils are cooked.
Don't over cook the lentils.
Remove the pot from the heat, coarsely puree the mixture using a hand blender. Don't puree to a smooth paste, leave a few chunks of squash and whole lentils.
Return the pot over the heat, add water to thin down the soup.
Add ground pepper if needed for spice.
Add fried onions and cilantro, cook for a few minutes.
Taste and add salt if needed. As chicken stock has salt in it you don't have to add too much salt so be careful while adding salt.
Serve in a soup bowl, garnish with fried onions and enjoy the hearty and warm soup.
Notes
~I used store bought fried onions.

~Use low-sodium chicken stock.