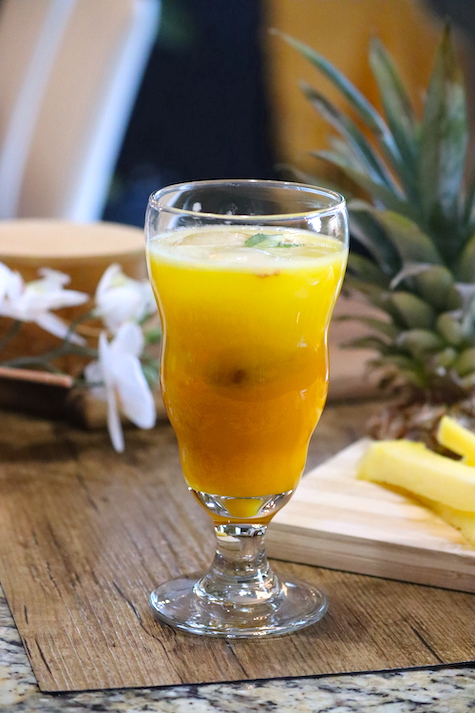 Mango pineapple drink is a tropical-flavored beverage made by blending mango pulp and pineapples. The drink has a sweet and tangy taste and is usually served chilled.
For making this drink, I've used store-bought mango pulp, it's sweet & smooth pulp. I then juiced the ripe & sweet pineapple, and combined it with the mango pulp.
To add a tropical twist, you can also add lime juice to the mixture. Then, serve the mango pineapple drink chilled, garnished with pomegranate & mint leaves.
Mango pineapple drinks are not only refreshing and delicious, but they are also packed with nutrients. Both mangoes and pineapples are rich in vitamins C and A, which are essential for maintaining healthy skin, eyes, and immune system. They are also a good source of fiber, which aids in digestion and promotes satiety.
Refreshing Mango Pineapple Drink
Ingredients
Mango pulp- 4 tbsp (store-bought), for making 1 glass
Freshly squeezed pineapple juice- 1 cup
Ice cubes
Pomegranate, for topping (optional)
Mint leaves, for garnish
Instructions
For making this drink, I've added mango pulp available in Indian stores. It's a very sweet & delicious pulp.
Or you can puree 1 ripe mango along with some water till smooth.
Use freshly squeezed pineapple juice.
Add ½ cup diced ripe pineapple to a blender jar, add 1 cup water & blend till smooth.
Strain the pineapple juice into a pitcher, and discard the pulp.
To a tall glass, add 4 tbsp mango pulp & add the pineapple juice, combine well.
Mango pulp is sweet so don't have to add any sugar.
Add a couple of ice cubes.
I've also added 1 tbsp pomegranate, this is optional.
Top with fresh mint leaves.
Enjoy this delicious & refreshing drink, perfect for summer.