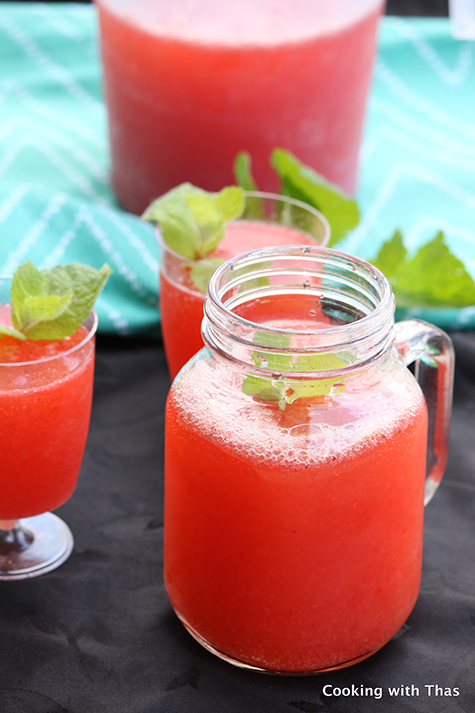 Strawberry, ginger ale and lemonade mixed together, it's refreshing and is a perfect thirst quencher…
I had this mocktail at one of my friend's party last year, I was seen sipping this the whole time. It was not just refreshing but had an amazing taste too. My firend Zari was kind enough to reveal the recipe. Since then this mocktail has been my most favorite drink.
I had made this for our last year's block party and everyone loved it especially the kids. If the kids love something that gotta be really good. Our block party for this Summer was yesterday and I made this again and it got finished in just a matter of minutes.
This is certainly going to be a big hit and will turn into everyone's favorite mocktail for Summer.
Recipe Courtesy: My dear friend Zari.
Other Mocktail Recipes, click here.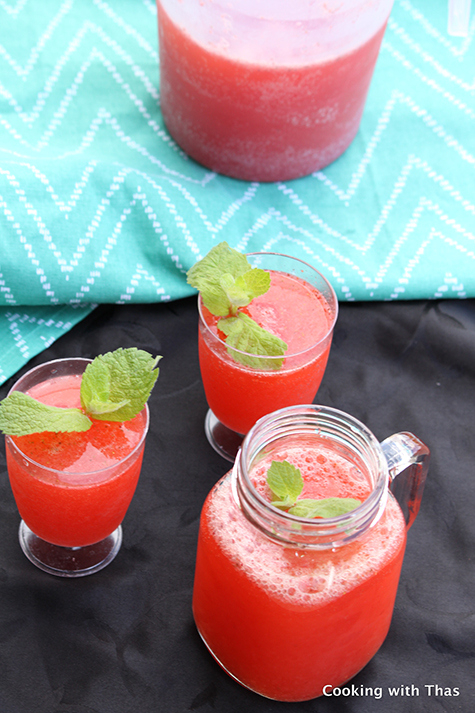 Strawberry Mocktail- Refreshing Summer Drink
Ingredients
Strawberries, ripe- 30
Sugar- ½ cup
Water- 2½ cups
Ginger Ale- 4 cups
Lemonade- 4 cups (store bought)
Mint leaves- to garnish (optional)
Instructions
Half the strawberries and add them to a blender jar, puree the strawberries along with the sugar and water till smooth.
Strain the pureed strawberries, this is to remove the grainy seeds.
Into a large pitcher, add the strained strawberry puree.
Pour the ginger ale and lemonade and combine well
Pour into mason jars or fancy glasses, garnish mint leaves and serve immediately.
This recipe will make a large batch perfect for summer outdoor parties; for small batch half the ingredients.