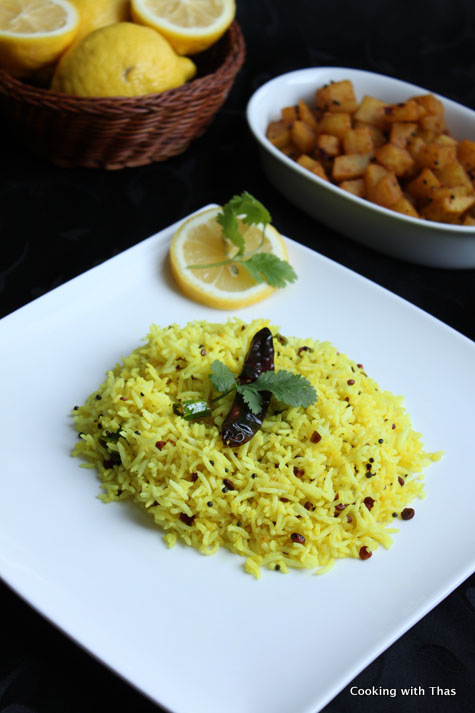 South Indian comfort food…
Lately, I have been embracing bright colors. I now dare to wear bright colorful clothes, carry colorful bags, walk on colorful shoes and my latest favorite lipstick color is fuschia. Yes,  I am all about bright colors now. It's just not me the entire fashion world is talking and wearing color. I always used to be a neutral color-loving girl and always fell for beige, cappuccino color, bronze, etc and used to frown at red, yellow, orange. Well, I am out of my comfort zone. I now feel color actually makes everyone cheerful and happy, ins't it? Oh, talking about colors I am reminded of the colorful houses in my hometown. Last time, when I had visited my hometown, I was astonished to see all the houses painted in bright colors including my parent's house. At first, I couldn't help laughing at those colors, believe me my parents house now has a parrot green color. I even saw houses painted in pink, fluorescent colors, purple, orange, yellow etc. Looks more like a candy house 🙂
Nevertheless, I've always loved to cook colorful dishes. The natural gorgeous colors of many fruits and veggies have always amazed me; the red color of pomegranate, wine red color of beetroot, intense yellow color of lemon, the list is endless. They are just stunners!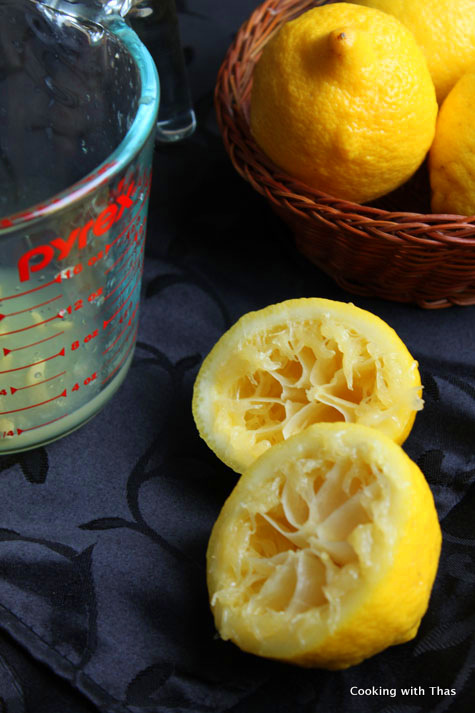 Yesterday, I decided to make some colorful vegetarian dishes. One dish that flashed through my mind instantly was lemon rice which has a marvelous yellow color. It's not the lemon but the turmeric powder that imparts the yellow color to the lemon rice. Also, it's been ages since I've made lemon rice so I felt very enthusiastic about making lemon rice.
Lemon rice is a South Indian vegetarian delicacy, often served for lunch along with pickle and yogurt. It's a comfort food for many South Indians, the lemon juice imparts a slight tartness to the rice and the seasonings make the rice taste refreshing & delish.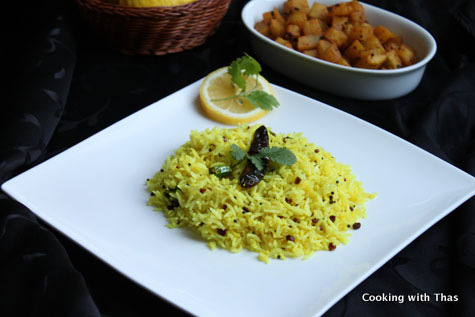 Cooking Video
Lemon Rice
Ingredients
Coconut oil- 2 tbsp (or add 1 tbsp oil + 1 tbsp ghee)
Mustard seeds- 1 tsp
Chana dal- 1 tbsp
Urad dal- ½ tbsp
Dried red chilies, halved- 3
Curry leaves- 1 sprig
Turmeric powder-1/4 tsp
Lemon juice, freshly squeezed- ¼ cup
Lemon zest- 1 tsp (optional)
Cooked Rice- 3 cups (Sona Masoori, Ponni or Basmati Rice)
Salt- 1¼ tsp
Cilantro, chopped- 2 tbsp
Instructions
Cook the rice in boiling water over the stovetop or in a rice cooker or Instant Pot.
Drain the water if cooked in a saucepan & keep it aside.
Have the freshly squeezed lemon juice ready.
Place a wok or large wide pan over medium heat, add oil or both oil & ghee.
Add mustard seeds, let it splutter.
Add chana dal & urad dal, saute till they turn light golden brown.
Add dried red chilies & curry leaves, saute for a few seconds.
Lower the heat, add turmeric powder, saute for a couple of seconds, don't burn it.
Immediately, add lemon juice, combine well.
Add the cooked rice & salt; combine well without any lumps, stir fry for 2 minutes.
Add lemon zest, stir fry for 2 minutes.
Garnish with cilantro.
Serve lemon rice with pickle or any of your favorite veggie side dishes.