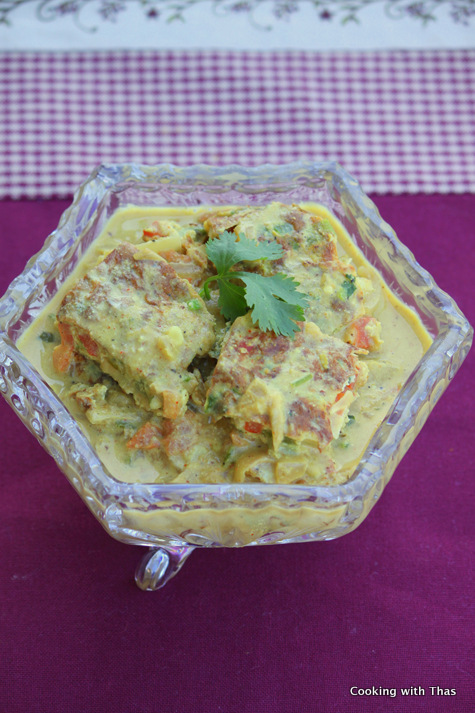 Bite-size pieces of Omelette when added to a creamy and rich coconut gravy, turned into an incredibly delicious dish…
I'd thought why would someone slice a nice looking omelette into bite-size pieces and turn into a curry??? Now, I know the reason: because it tastes delicious. If you are tired of having omelette and looking for a way to make exciting dishes with egg, you gotta try this one.
Trying this dish had been in my to-do list for so long, finally prepared it yesterday and felt so glad that I made it. This dish tasted extremely delicious. Even, my Man loved it to the core as it tasted more like a meat dish.
I made a creamy and rich gravy with coconut milk, added the omelette pieces to it, and cooked for a few minutes. An absolutely delicious dish with omelette.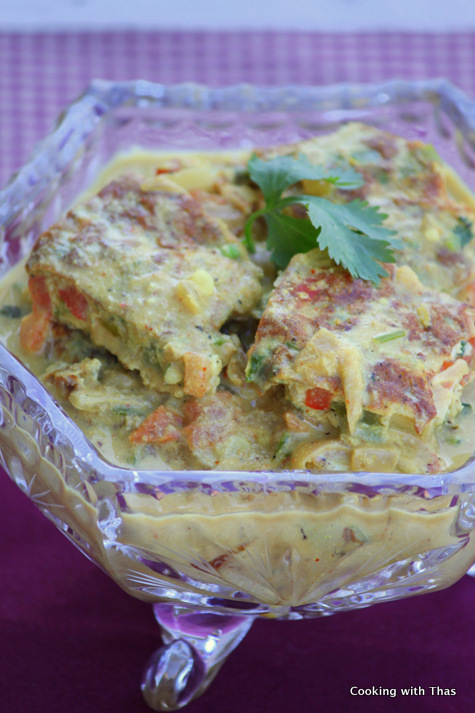 Preparation Pictures
Making the omelette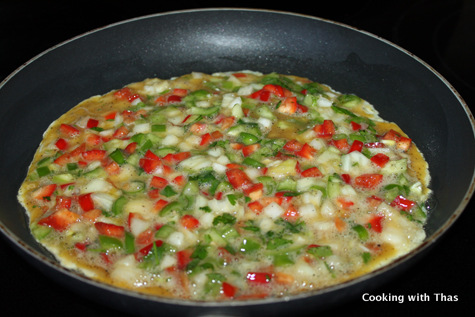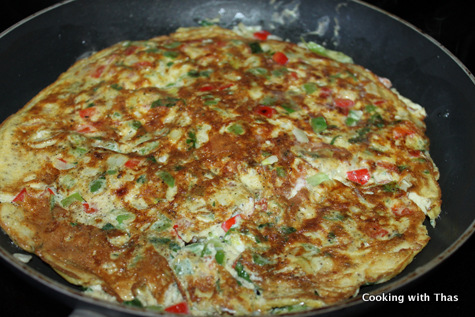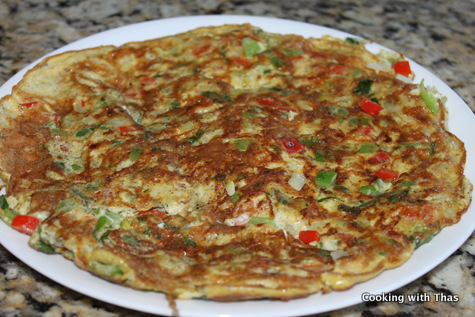 Cut omelette into squares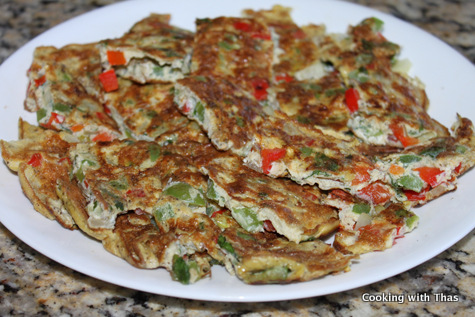 Making the gravy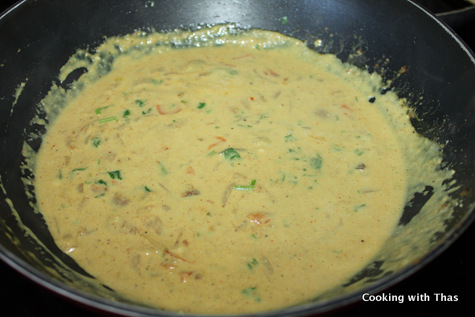 Add the omelette squares to the gravy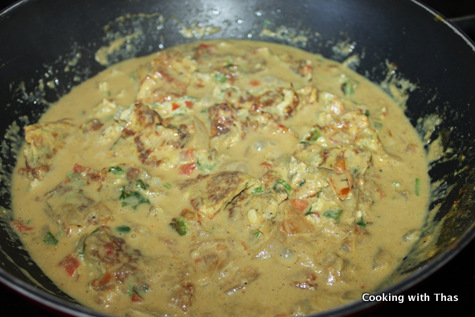 Delicious omelette korma curry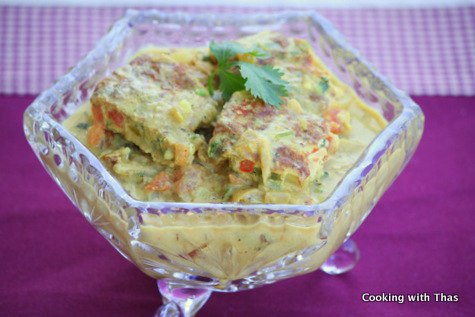 Egg- Omelette Korma Curry
Ingredients
For making Omelette
Egg- 3
Onion, chopped small- 3 tbsp
Green pepper, chopped small- 2 tbsp
Red pepper, chopped- 3 tbsp (optional)
Ground pepper- a few pinches
Salt- ½ tsp
For making gravy
Oil- 1½ tbsp
Whole cardamom- 1
Whole cloves-2
Bay leaf-1
Onion, chopped- 1
Ginger-garlic paste- 1 tbsp
Tomato, chopped- 1
Kashmiri chili powder- 1 tsp (for more spice add regular chili powder)
Turmeric powder- ¼ tsp
Coriander powder- 2 tsp
Fennel powder- 1 tsp
Garam masala- ½ tsp
Salt- 1 tsp
Coconut milk- 1 cup
Water- ½ cup
Cilantro, chopped- 3 tbsp
Instructions
In a bowl, combine all the ingredients to make the omelette.
Place a non-stick pan over medium heat, add 1 tbsp oil and spread it on the pan.
Pour the egg mixture and spread it evenly, let the bottom side cook well, gently flip it over and cook the other side as well.
Let the omelette cool down, cut into squares and keep aside.
Place a wok or pan over medium heat, add oil.
Add cardamom, cloves and bay leaf, saute for a few seconds till aromatic.
Add onion, season with ½ tsp salt and cook till translucent.
Add ginger-garlic paste, cook till onions turn golden brown in color.
Add chopped tomato, cook covered till it's mashed up.
Add Kashmiri chili powder, turmeric powder, coriander powder, fennel powder, garam masala and ½ tsp salt. Combine well and saute for a minute.
If you want this to be spicy, add regular chili powder.
Add the coconut milk, combine well.
Add water and combine well.
Add the omelette squares to the gravy, gently combine to the gravy and let cook for 4 minutes till the gravy thickens.
Sprinkle cilantro over the gravy, cook for a few seconds.
Remove the pan from the heat and keep covered for a few minutes.
Serve this delicious omelette korma curry with roti, naan, chapati, appam etc
Notes
Add any kind of veggies to the egg.

You could replace almonds with cashew nuts.