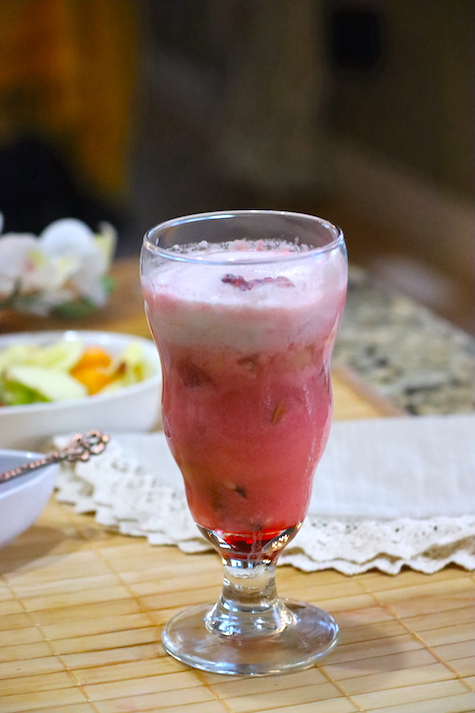 Delicious drink…
In Ramadan, for Iftar (breaking the fast) almost every day I try to make a new kind of drink. Basically, blend different kinds of fruits & you'll have a new drink. I love pomegranates & this time I blended pomegranate & Rooh Afza, which turned out to be a delicious drink.
Pomegranate Rooh Afza with mixed fruits is a delicious and refreshing drink. Rooh Afza is a sweet, concentrated rose syrup and is often used as a base for various drinks and desserts.
To make the pomegranate Rooh Afza with mixed fruits drink, I first blended pomegranate with milk, the color of this milk is just amazing. Added Rooh Afza & mixed fruits such as chopped apples, kiwis, cantaloupe, plums & dried fruits like dates & nuts.
The drink is not only delicious but also packed with health benefits. Pomegranate, for instance, is a good source of antioxidants and has been linked to numerous health benefits, including reduced inflammation and improved heart health. The mixed fruits in the drink are also rich in vitamins and minerals, making it a great way to boost your overall nutrient intake.
Overall, Pomegranate Rooh Afza with mixed fruits drink is a tasty and healthy beverage that is perfect for any occasion, whether you're looking for a refreshing drink to cool you down on a hot day or something to serve at a party.
Pomegranate Rose Syrup-Rooh Afza With Mixed Fruits & Nuts Drink
Ingredients
Pomegranate- ½ cup
Milk- 2 cups
Sugar- 3 tbsp
Rooh Afza- 2 tbsp/glass
Mixed fruits, chopped small
Dates, chopped small- 3
Almonds, chopped- 1 tbsp (or add cashew nuts)
Pistachios, chopped- 1 tbsp
Ice cubes
Instructions
To a blender jar, add pomegranate along with milk & blend well.
Pomegranate will impart a beautiful color to the milk, nice lavender color.
To a pitcher, strain the milk through a sieve. Discard the pomegranate seeds.
Add the sugar & combine well.
Add the mixed fruits. dates & chopped almonds & pistachios.
I've added fruits like apples, kiwis, cantaloupes, plums, etc; literally any kind of fruit of your choice.
Add a few ice cubes & mix well.
While serving, to a glass add 2 tbsp Rooh Afza or rose syrup & add the pomegranate mixed fruits milk.
If you don't like Rooh Afza, you can skip it.
Pomegranate milk tastes delish by itself, maybe add some more sugar based on your sweet level.
Enjoy this drink right away, tastes delicious & refreshing.