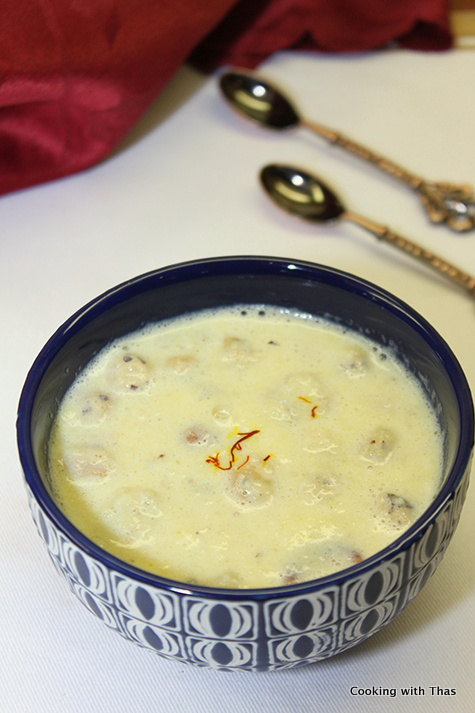 Meet my new favorite dessert made with puffed lotus seeds, absolutely delish…
This is the first time ever I've cooked with and have tasted puffed lotus seeds or phool makhana or fox nuts; I've fallen head over heels for this amazing seed. This is quite popular in North India, they are used in making curries, desserts and the roasted seasoned puffed lotus seeds are served as snacks.
Phool Makhana kheer is a popular dessert in Bihar, a state in India and North Eastern Bihar produces 90% of the puffed lotus seeds. I've watched a couple of YouTube videos about harvesting and processing the puffed lotus seeds, so much effort and manual labour goes into making these.
Let's talk about the health benefits of Puffed lotus seeds- Wow, they have unbelievably amazing health benefits- rich in potassium, calcium, minerals, protein, fiber and nutrients.
Remedy for Insomnia
Beneficial for Diabetic patients: high fiber, low fat and low sugar
Strengthens the heart
Perfect for weight loss
High in Protein
Good antioxidant source
I bought the puffed lotus seeds a couple of months ago and it had been sitting in my pantry. I felt bad for not trying anything with it for long. Hence, wanted to make something delicious with it. Kheer it is.
This is a very simple recipe and can be made in a matter of minutes. At first, puffed lotus seeds have to be roasted till they turned crispy and crunchy. I tasted one of the roasted seeds, and I couldn't stop munching on them. They turned unbelievably crispy and crunchy and tasted delish. It is similar to popcorn, but I would say I liked the roasted puffed lotus seeds better than popcorn. Even without any seasonings they tasted great. I finished the first batch of roasted seeds in no time and had to roast another batch for making the kheer.
For making kheer, roasted the seeds in ghee and then ground them coarsely. Added them to boiled milk and condensed milk, seasoned with my favorite saffron, cashew nuts and let it thicken. The thickened kheer was allowed to cool down. This kheer tasted absolutely incredible, creamy yet light and amazing.
Puffed lotus seeds are available at most Indian stores. Next time, you come across puffed lotus seeds do buy a pack and try this yummy kheer.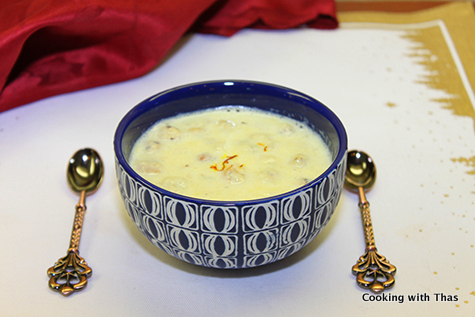 Puffed Lotus Seeds Kheer- Phool Makhana Kheer
Ingredients
Ghee- 1 tbsp
Puffed louts seeds or Phool Makhana- 1 cup
Cashew nuts- 8
Whole Cardamom- 2 (or cardamom powder- 2 pinches)
Milk- 2 cups
Sweetened Condensed milk- 4 to 5 tbsp (or add sugar)
Saffron- 2 pinches
Instructions
Place a pan over medium heat, add ghee and let it melt.
Add the puffed lotus seeds, saute for a few minutes till they turn crispy and crunchy.
Add the cashew nuts and roast for a few seconds.
Remove the pan from the heat, let cool down a bit.
Into a blender, add ¾ cup of the roasted puffed louts seeds.
Add whole cardamom to the blender.
Coarsely grind them.
Place a saucepan over medium heat, add 2 cups milk.
Add condensed milk, combine well and heat till milk comes to a slight boil.
Add ground roasted puffed seeds, combine well.
Add saffron, combine well.
Let cook for 3 minutes, stirring continuously.
Add roasted cashew nuts and ¼ cup whole roasted puffed lotus seeds- you can crush them a bit or add the whole ones. Combine well and cook for a minute till kheer thickens.
Remove the saucepan from the heat.
Let the kheer cool down and serve in a bowl. Enjoy this delicious kheer.
You can even chill in the refrigerator and serve. Yum Yum Yum...