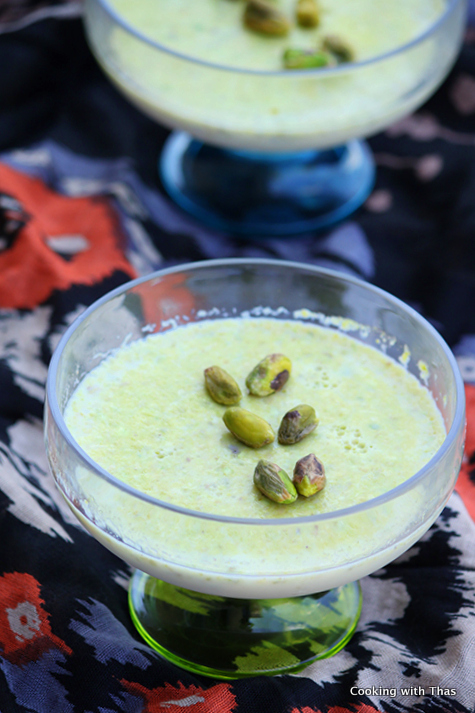 Pistachios and saffron made into a pudding; melt into the mouth and yummlicious pudding…
I think I've mentioned a million times over here that I am obsessed with saffron. Oh my, the aroma and the taste of saffron is just addictive and anything with a hint of saffron is heaven for me. For that reason, I love to make anything that calls for saffron or tend to add it to most of my desserts.
I'd already shared the recipe for making Pistachio and saffron flavoured milk, one of my favourite chilled drinks. Yesterday, after I was done with my Iftar cooking, I felt that my Man and I deserve something yummy and sweet. Also, it was a Sunday so there was nothing like wrapping up a weekend with a yummy dessert.
I went ahead and made this easy pudding, it only took a few minutes to make this and after chiling it for an hour the pudding was all set and ready to enjoy.
The aroma of saffron and the crunchy pistachios made this pudding absolutely delicious…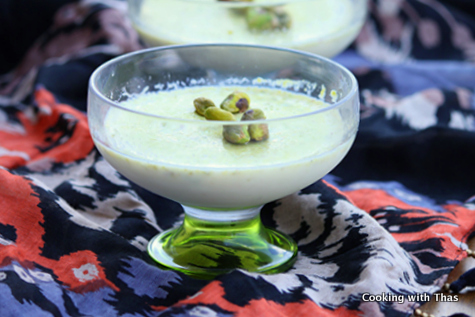 Cooking Video
Preparation Pictures
Making the pudding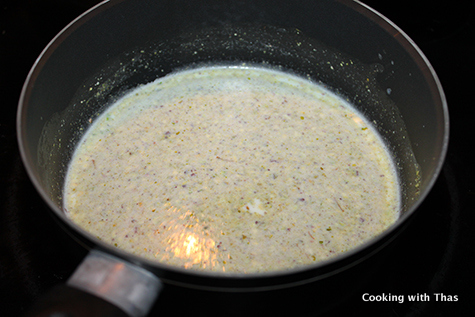 Poured into ramekins and bowls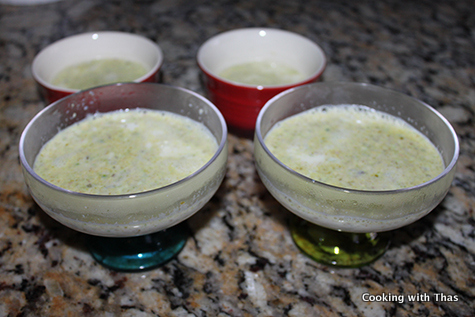 Pistachio- Saffron Pudding- Easy Pista Pudding Recipe
Ingredients
Milk, whole or 2%- 2 cups
Sweetened condensed milk- ¾ cup (based on your sweet level)
Pistachios, unsalted and shelled- ¼ cup
Saffron- 20 strands
Agar-agar strands, 1 inch strands- ½ cup cooked in 1 cup water(or use 2½ tsp powdered Gelatin)
Instructions
In a food processor, coarsely grind the pistachios. Don't make into a fine powder. Keep it aside.
In a small saucepan, add ½ cup agar-agar strands along with 1 cup water. Place the pan over medium heat and let the agar-agar strands dissolve in water, stirring occasionally.
If using Gelatin- Sprinkle 2½ tsp gelatin over 3 tbsp cold water and let stand for 5 minutes till gelatin softens.
Place another large saucepan over medium heat, add milk and condensed milk, combine well and let cook for 5 minutes.
Taste and add more condensed milk based on your sweet level.
Add the saffron to the milk, combine well.
Add the coarsely ground pistachios to the milk, combine well.
Lower the heat and let the milk simmer for a couple of minutes.
Now, add the dissolved agar-agar to the milk mixture (or softened gelatin), you could strain it to remove any undissolved strands.
Combine well and remove the pan from the heat.
Let cool down for a few minutes.
Pour into individual ramekins or dessert bowls.
Refrigerate for 1 to 2 hours or until the pudding has set well.
While serving, you could garnish with more pistachios.
Enjoy this rich, creamy & melt in your mouth delicious pistachio saffron pudding.