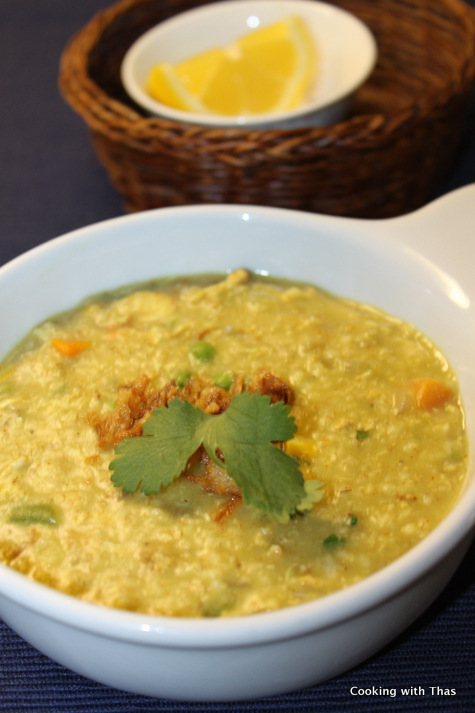 Savory Oats soup with chicken tastes absolutely delicious, I couldn't stop with just one bowl…
One ingredient that's always seen in my pantry is Oats. Almost everyday I have oats mixed with milk for breakfast, it's easy to make and healthy too. I'd made cookies, pancakes, waffles, granola bars with oats. Recently, I'd also made savory oats upma or oats and veggie stir fry. However, the thought of making a soup out of oats combined with chicken didn't really struck me.
Last year when I visited India, I bought a pack of oats thinking that it's regular oats, when I opened it for making my breakfast I found that it was masala oats, so couldn't combine it with milk. On my next shopping, I browsed through the oats section at the store. It was interesting to see all the different flavored oats sold there, all were spicy and savory flavored. On the other hand, in North America you'll only get to see sweet and fruit flavored oats.
Seeing the masala oats in India made me realize that oats can be combined with chicken and made into a savory soup. My mom tried oats soup and gave me the green signal. Just like making chicken and rice kanji or porridge, I replaced rice with oats. Since, instant oats cook in a minute it was easy to make. I added chicken, mixed veggies and masalas to the oats, tasted very similar to Haleem. My hubby and I enjoyed this delicious oats soup. I foresee myself making this soup a lot during Ramadan.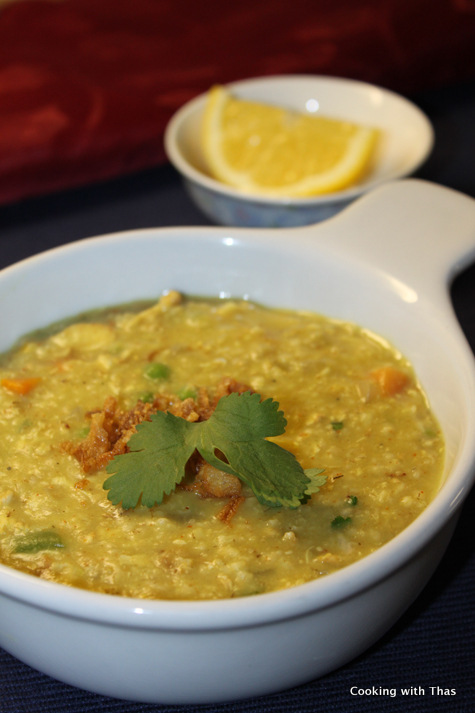 Preparation Picture
After adding shredded chicken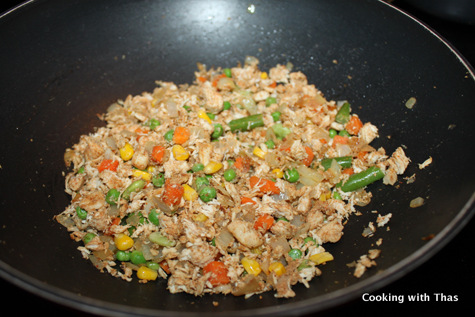 After adding oats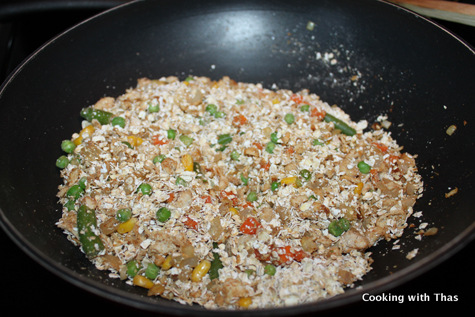 Oats chicken soup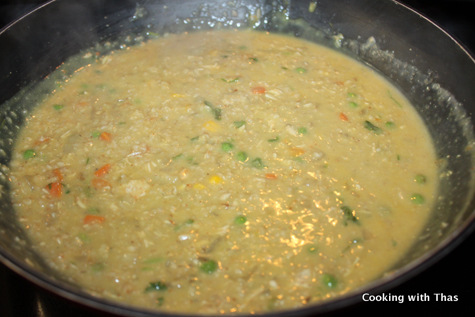 Oats and Chicken Soup- Masala Chicken Oats Kanji
Ingredients
For marinating chicken
Chicken breast, diced small- 1
Chili powder- ½ tsp
Ground cumin- ¼ tsp
Coriander powder- 1 tsp
Garam masala- ¼ tsp
Salt- ¾ tsp
For making soup
Oil- 1 tbsp
Onion, chopped small- 1
Ginger-garlic paste- ½ tbsp
Mixed veggies, chopped small- 1 cup (carrots, beans, corn and peas)
Instant oats- 1½ cups
Chili powder- ½ to 1 tsp ( add more if more spice is needed)
Coriander powder- ½ tsp
Fennel powder- 1tsp
Garam masala- ¼ tsp
Turmeric powder- ¼ tsp
Water- 3 cups
Thick Coconut milk- ¼ cup
Lemon juice- ½ tbsp
Salt- 1 tsp
Cilantro chopped- 2 handfuls
Fried onion- ¼ cup (Optional, I used store bought fried onions)
Ghee- 1 tbsp
Instructions
Combine the chicken with the above mentioned ingredients "for marinating chicken".
Cook the chicken covered in a saucepan till the water has dried off and chicken turns light brown. Let the chicken cool down and shred it using a fork. Keep aside.
Place a large wide pan over medium heat, add oil.
Add chopped onions, season with ½ tsp salt and saute for a minute.
Add ginger-garlic paste, saute till onions turn translucent.
Add mixed veggies, cook covered for a few minutes till veggies turn soft.
Add the shredded cooked chicken, combine well.
Add instant oats, saute for a couple of minutes.
Add chili powder, coriander powder, fennel powder, garam masala, turmeric powder and salt, combine well.
Add water, combine well and cook for a couple of minutes.
Add lemon juice, combine well.
Add coconut milk, combine well, cook for a minute.
Taste and add more salt if needed.
Add fried onions and cilantro, combine well.
Finally, add the ghee, combine it to the soup and cook for a few seconds.
Remove the soup from the heat and serve into soup bowls.
Serve the soup warm and enjoy.