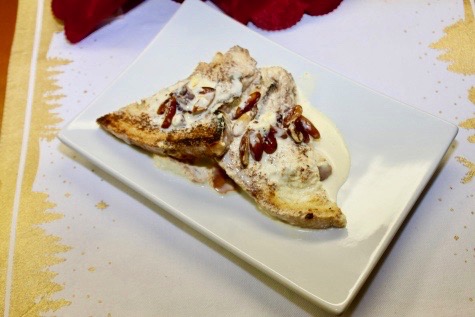 A popular Indian dessert made with bread; rich, creamy and delish…
Double Ka Meetha is a popular dessert in Hyderabad, India. I love the simplicity of this dessert, made with simple ingredients that's always found in our pantry and refrigerator. The other day, I had a sweet craving and I had lots of bread in my refrigerator.   All I could think of was to make double ka meetha.
Isn't the name very interesting??? In India, bread is also called double roti as the size of the bread doubles up after baking and meetha in Hindi means sweet, hence it's sweet bread.
Bread slices are pan or deep fried in ghee, dipped in sugar syrup, topped with roasted nuts and sweetened, thickened milk. It can be served right away, I love my double ka meetha chilled. Tastes super delicious when chilled, YUMMMM…
Cooking Video
Double Ka Meetha Recipe- Easy Sweet Bread Recipe
Ingredients
Ghee- 2 tbsp/batch (for pan frying bread)
Bread slices- 6, halved
For making sugar syrup
Water- 1 cup
Sugar- 1 cup
Whole cardamom, slightly crushed- 2
Saffron- 2 pinches soaked in 1 tbsp water
Lemon juice- 1 tsp
For cooking milk
Whole milk- ½ litre, 500 mL
Condensed milk- 3 tbsp (sweetened)
Saffron- 1 pinch
For roasting nuts
Almonds- 2 tbsp
Pecans or cashew nuts or pistachios- 2 tbsp
Ghee- 1 tsp
Instructions
Pan frying bread
Bread slices can be either pan fried or deep fried in ghee or oil. I prefer to pan fry.
Cut each bread slice diagonally, we will have 12 slices in total.
Place a pan over medium heat, add 2 tbsp ghee.
Place the bread slices, do not crowd the slices- pan fry in 2 batches.
Let the bottom side turn crispy and golden brown, flip it over and let other side turn crispy.
Transfer to a plate, keep aside.
Making sugar syrup
Soak 2 pinches saffron in 1 tbsp water for 5 minutes.
Place a saucepan over medium heat, add water and sugar, let sugar dissolve.
Add crushed whole cardamoms.
Add 1 tsp Lemon juice to prevent sugar from forming crystals.
Add soaked saffron, combine well.
Let sugar syrup come to a boil.
Remove the pan from the heat and keep aside to cool down.
Cooking milk
In another saucepan, add milk and condensed milk.
Add a pinch of saffron as well to the milk.
Cook over medium low heat, let milk come to a slight boil, after that lower the heat and let simmer.
Let milk thicken and reduce to half its amount.
Remove the saucepan from heat.
Place a pan over medium heat, add 1 tsp ghee. Add any kind of nuts and dried fruits like dates. Roast till golden in color, keep aside the roasted nuts.
Assembling the double ka meetha
Use a wide deep bowl to assemble this dessert.
Have everything ready, pan fried bread slices, sugar syrup, roasted nuts and thickened milk.
Dip the bread slices in sugar syrup for 2 seconds, both sides- do not soak it.
Arrange on the bowl.
Top with roasted nuts.
Pour the sweetened and thickened milk evenly over the bread slices.
This can be served right away. However, it tastes much delicious when chilled.
Chill in the refrigerator for 30 mins to an hour.
Serve on dessert plates and enjoy.
Do watch the cooking video and cook along with me.