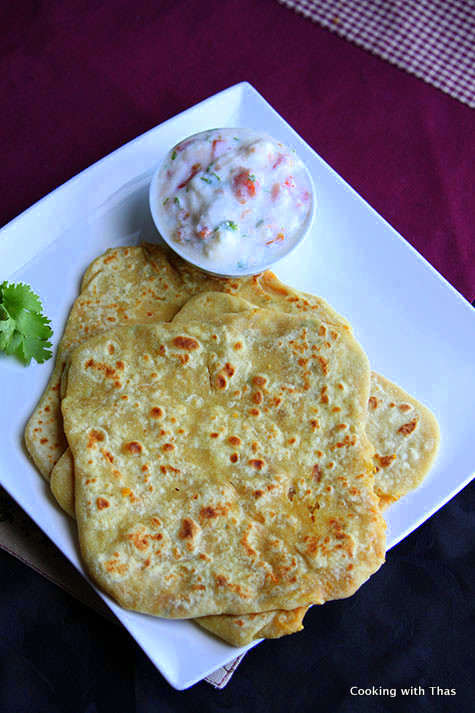 Protein rich chick peas are mashed and stuffed into parathas, nutritious and delicious parathas…
I love stuffed parathas, believe me I've made so many varieties of parathas: Tuna paratha, Beef paratha, Spinach paratha and Potato or Aloo paratha. I loved all of them, it was just delicious when had with raita or yogurt. So the other day, while thinking of making parathas, I felt like stuffing the parathas with my favorite chick peas. Since, I use canned cooed chick peas, making the chick peas stuffing was very easy. Made the chick peas masala and stuffed it into the paratha dough, rolled it and cooked it. It was delish, had some leftover chick peas masala which was turned into cutlets, now that was yummy.
For more stuffed Paratha recipes, click here.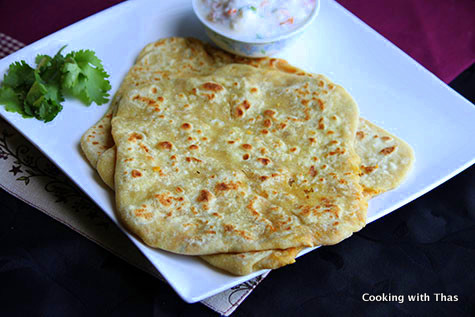 Preparation Pictures
Chick peas stuffing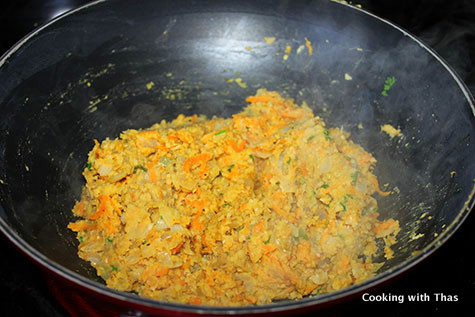 Stuffing into the dough
Rolled stuffed dough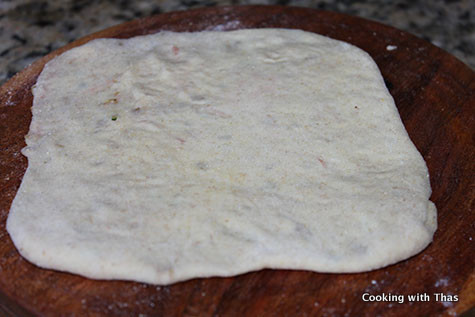 Chick Peas Stuffed Paratha- Chick Peas Paratha
Ingredients
For making Paratha
Wheat flour or Atta- 2 cups
Warm water- ¾ cup
Salt- a few pinches
Oil- 2 tbsp
For making chick peas stuffing
Chick peas, cooked canned- 1 can, drained
Oil- 1 tbsp
Cumin seeds- 1 tsp
Onion, chopped- 2, medium sized
Carrot, shredded- 2
Water- ¼ cup
Chili powder- 1 to 1½ tsp (based on your spice needs)
Coriander powder - 1½ tsp
Garm masala ½ tsp
Ground cumin- ½ tsp
Salt- to taste
Cilantro, chopped- ¼ cup
Ghee- for cooking paratha
Instructions
In a bowl, combine flour and salt, add water slowly and combine well till you get a smooth dough. Knead well for 2 to 3 minutes till soft. Add oil over the dough and combine well. Keep aside for 10 minutes.
If using dried chick peas, soak it in water overnight and cook it with water in a pressure cooked for 3 to 4 whistles. Drain the water and ground the cooked chick peas.
Or use cooked canned chick peas, drain the chick peas well.
Ground the drained chick peas in a food processor until coarsely smooth. Keep aside.
Place a large pan over medium heat, add oil.
Add cumin seeds and saute for a few seconds.
Add chopped onions, season with salt and cook till translucent.
Add shredded carrot, cook for a minute.
Add the coarsely ground chick peas, combine well.
Add ¼ cup water and cook covered for a few minutes.
Add chili powder, coriander powder, garam masala, ground cumin and enough salt. Combine well and cook till the mixture turns dry.
Sprinkle cilantro, combine well and cook for a minute.
Remove the pan from the heat and let cool down.
Making chick peas stuffed parathas
Make large balls out of the prepared dough.
Spread some flour on a clean surface or wooden board, place the dough ball over it, dust with flour and roll into a small round shape.
Place 1 to 2 tbsp of chick peas stuffing on the center of the dough. Fold the dough over the stuffing and seal it.
Dust with enough flour to prevent the dough from sticking and roll the stuffed dough into round or square shape.
Heat a tawa or pan over medium heat, add 1 tsp ghee, place the stuffed rolled dough over the ghee and let the bottom side just turn hot.
Flip it over and spread some more ghee, cook for a minute till golden spots appear on the bottom side.
Again flip it over and cook till the other side gets cooked.
Transfer to a plate.
This can be served with raita or veggies combined with yogurt, pickle etc.
Notes
Leftover chick peas stuffing can be made into cutlets: make small balls, flatten it between the palm of your hands, dip in egg white, dip in bread crumbs and pan fry or deep fry till golden brown in color.