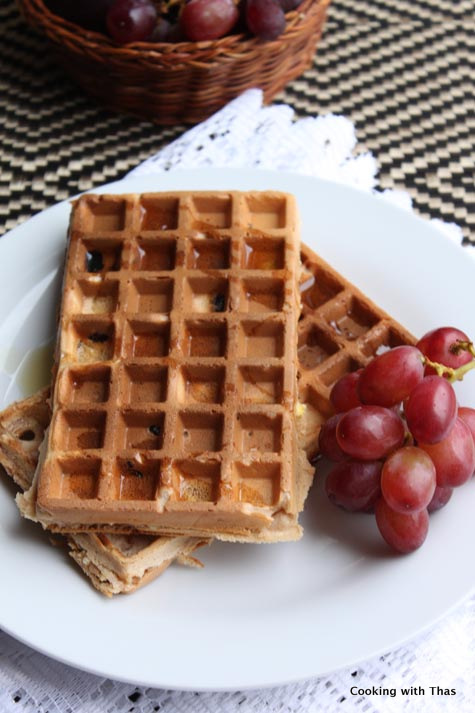 Delicious waffles that can be made in just a matter of minutes and can be enjoyed at any time…
I didn't have any idea to make waffles this morning, in fact I didn't even have any clue about what to make for breakfast. It's not breakfast, it was brunch to be precise. I was about to get settled with cereal or omelette, that's when my mind started arguing with me. It insisted on making something different and to make my man happy. I was still half asleep that time, I didn't have any energy to argue back so I said yes to whatever it said. That's when I saw the jar of nutella sitting very prettily in the pantry. I couldn't resist it so made up my mind to make something out of it. Lately, I've been very fond of my waffle maker, so I felt I should be making waffles and nutella should go into the batter. Made the waffle batter, combined with nutella and poured onto the waffle maker. The waffles turned out so pretty and delicious. Nutella definitely made this waffle taste much better and yummy. My man's stomach was full, my heart was full and my mind felt content 🙂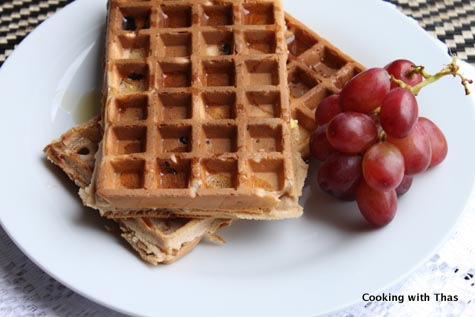 Nutella Waffles - Easy Waffles with Nutella
Ingredients
All purpose flour- 2 cups
Baking powder- 1½ tsp
Salt- ⅛ tsp
Eggs- 2
Vanilla extract- 1 tsp
Nutella, hazelnut flavor- 3 tbsp
Almonds, blanched and chopped- ¼ cup (optional)
Milk- 1½ cups
Instructions
In a small bowl, beat the eggs using a whisk.
In a large bowl, combine the flour with baking powder and salt.
Add the beaten eggs, combine well.
Add vanilla extract, nutella & almonds; combine well using a spatula.
Pour the milk, combine well breaking any lumps & make into a smooth thick batter.
Preheat the waffle maker.
Grease with non-stick cooking spray.
Pour enough batter onto the waffle maker, don't pour too much it will over flow while cooking.
Close the waffle maker and cook till the waffle has cooked well.
Using a flat spatula remove the waffles from the waffle maker.
Transfer to a plate, pour maple syrup or honey and serve warm. Enjoy!