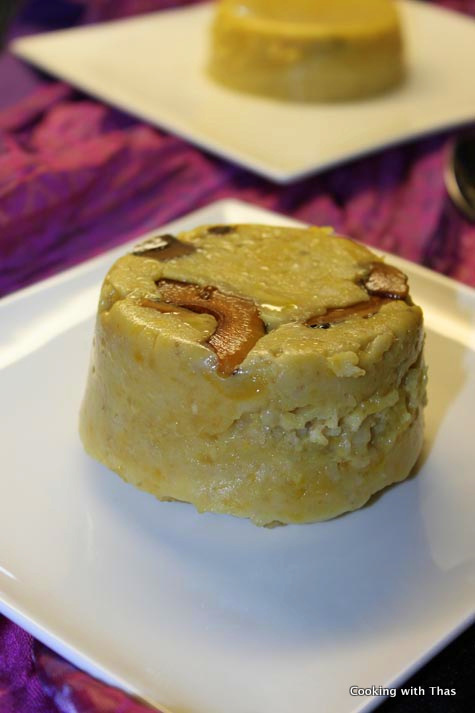 The best pudding I've had in a while, Yum…
How Ironic! Yesterday was the first day of Spring and it's been snowing lightly for the past few days. This year we did get a lot of snow so I enjoyed this winter a lot, now I cannot wait for some greenness, lushness and serenity. Summer, please come faster.
Last night, we dined at a new sushi restaurant that was opened a couple of months ago. Finally, my wish came true: a really good sushi restaurant in my city that too very close to my house. I loved the lively ambience, the variety of sushi and other Asian dishes they had and the ipad menus they had for every table was really impressive. Looking forward to more sushi date nights with my man.
I didn't cook anything different for the past few days, I'd been making quick and easy dishes with very less effort. This evening, I wanted to make something unique, a delicious dessert was in my mind. I raided my pantry real quick and found canned jackfruit in it. A few desserts using jackfruit hit my mind, I didn't settle down with those. How about making a pudding out of jackfruit? Sounded terrific and I  went ahead to make this jackfruit-oats pudding.
I made two versions of pudding with oats and without oats. If you are gluten intolerant, you can avoid adding oats and make the pudding just with the jackfruit. I loved both the versions, with oats it was a little heavy and without oats the pudding was more light.
Here is the Jackfruit Pudding without adding Oats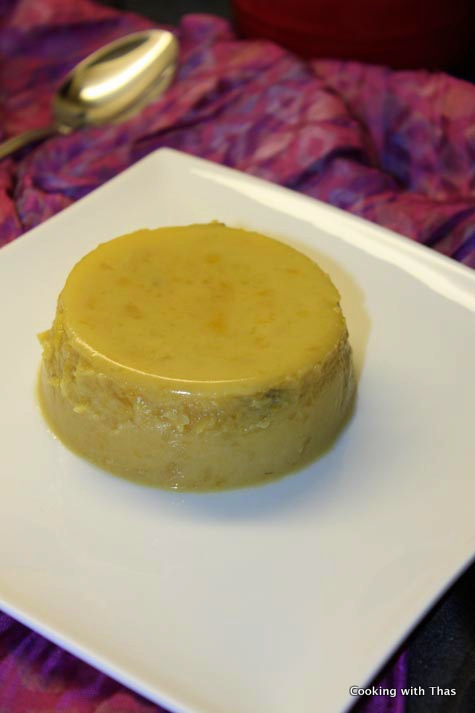 Jackfruit Oats Pudding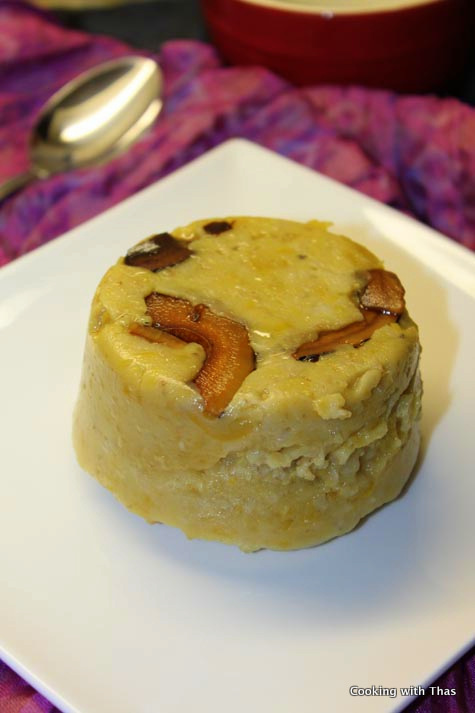 Step by Step Pictures
Jackfruit Oats Pudding or Jackfruit Pudding
Ingredients
Jackfruit, ripe- 1 can (580 mL) or 10 ripe slices
Jaggery melted in water- 200 gm melted in ¼ cup water
Agar-agar strands, 1 inch- ½ cup melted in ¼ cup water
Instant oats- ½ cup microwaved/cooked in ¼ cup water or milk
Ground cardamom- ¼ tsp or 2 whole cardamom smashed
Coconut Milk, thin- ¾ cup
Coconut milk, thick- ½ cup
Ghee- 2 tbsp
Coconut slices, roasted in 1 tbsp ghee- 15 slices
Instructions
I used canned ripe jackfruit, discard the water in the can and just use the jackfruit.
Cook the jackfruit covered in a pan for a few minutes.
In a blender, puree the cooked jackfruit to a coarse paste. Keep aside.
In a saucepan, combine jaggery and ¼ cup water, cook till it is completely dissolved in water. Remove from the heat and keep aside.
In another saucepan, heat ½ cup agar-agar strands (1 inch strands) along with ¼ cup water, let the agar-agar melt completely. Make this just before you add to the jackfruit mixture, else it will solidify. If it solidifies, heat it up to melt it.
Roast coconut slices in 1 tbsp ghee till it turns golden brown in color, keep aside.
Microwave instant oats and water or milk for a minute. Or cook it in a saucepan, keep aside.
Place a large non-stick pan over medium heat, add ghee.
Add the pureed jackfruit to the ghee, cook it in ghee for 3 minutes.
Add the melted jaggery, combine well and cook for a couple of minutes.
Add the ground cardamom or smashed cardamom pods.
Add the thin coconut milk, combine well and cook for 3 minutes.
Add cooked oats, combine well and cook for a minute.
Add thick coconut milk, combine well and cook for a minute.
Add melted agar-agar to the mixture, combine well and cook for a few seconds. Remove from the heat.
Grease ramekins with non-stick cooking spray.
Place 3-4 roasted coconut slices on the bottom of the ramekins.
Pour the prepared jackfruit-oats mixture on top of the roasted coconut slices. Let cool down for a few minutes.
Refrigerate till the pudding has set well, for an hour.
While serving, run a sharp knife along the sides of the ramekin, flip the pudding onto a dessert plate.
Enjoy this delicious pudding.