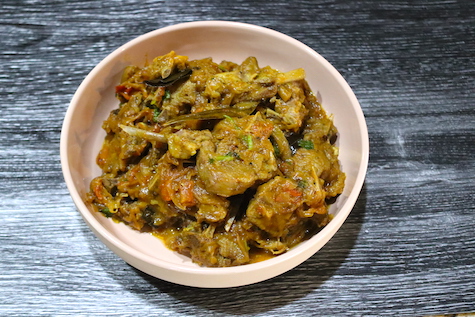 Flavorful mutton or goat roast, Kerala style…
In Kerala, one of the dishes enjoyed by all meat lovers is mutton or goat roast, apart from chicken and beef. Freshly butchered goat is available there, which is one of the reasons why the goat roast tastes delicious.
Although I'm not an ardent fan of mutton, once in a while, I indulge in this mutton pepper roast along with palaada or appam.
There are many ways to make a good mutton roast, and I am sharing my favorite recipe.
To make this dish, ground black pepper and green chilies are added to impart heat.
Kerala mutton roast is a delicious and hearty dish that is sure to please anyone who enjoys bold and spicy flavors.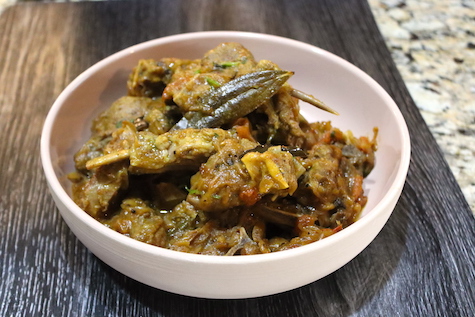 Kerala Mutton- Goat Roast | Mutton Masala
Ingredients
For making the marinade
Pearl onions- 5 (or use 3 shallots)
Garlic- 4 large cloves
Ginger- 2-inch slice
Green chilies- 3 or 4 (based on your heat level)
Whole cardamoms- 3
Whole cloves- 2
Whole cinnamon- 2-inch slice
Curry leaves- 8 leaves
Ground black pepper- 1 tsp
Turmeric powder- ¼ tsp
Garam masala- 1 tsp
Fennel powder- 1 tbsp
Salt- 1½ tsp
Goat or mutton- 1 kg or 2 lbs (I used mutton chops)
For making the masala
Coconut oil- 3 tbsp
Dried bay leaves- 2
Onions, sliced thin- 3, large yellow onions
Curry leaves- 10 leaves
Tomatoes, chopped- 2
Garam masala- ½ tsp
Ground black pepper- ¼ tsp
Salt- 1 tsp
Cilantro, chopped- ¼ cup
Instructions
I've taken 1 kg or 2 lbs of goat or mutton chops, you can use any kind of bone-in cuts.
Clean the mutton well under running water, add 2 tbsp lemon juice to the mutton combine well & rinse in water.
I used a mortar & pestle to crush the marinade ingredients. You can also use a food processor & coarsely grind them.
Add the pearl onions, garlic, ginger, green chilies, cardamom, cloves & cinnamon to a mortar & using a pestle crush everything coarsely.
Add the crushed ingredients to the mutton.
Add curry leaves, ground black pepper, turmeric powder, garam masala, fennel powder & salt; combine everything well.
Let marinate for a couple of hours, can be kept in the refrigerator.
I've pressure cooked the mutton in my Instant Pot or use a regular pressure cooker.
Add the marinated mutton to the stainless steel pot. Don't have to add water.
Close the pot with the lid.
Select pressure cook setting, set time to 20 minutes at high pressure.
If cooking in a pressure cooker, you have to add ½ cup water to the mutton.
After 20 minutes of pressure cooker, let the pressure release naturally for 5 minutes & then do a quick pressure release.
Open the lid, the mutton will be perfectly cooked & there will be some liquid left in the pot.
Keep aside the cooked mutton.
Place a large saucepan over medium heat.
Add oil & dried bay leaves; saute for a minute.
Add the thinly sliced onions & curry leaves, season with 1 tsp salt & saute till onions turn golden brown in color.
Add tomatoes, combine well & cook covered till tomatoes have mashed up.
Now, add the cooked mutton along with the flavorful liquid.
Increase the heat to high & cook till the liquid dries off, keep sauteing & ensure the bottom doesn't turn brown.
Add garam masala & ground black pepper; stir fry till slight brown spots appear on the mutton.
If you want this dish to be very spicy, add more ground black pepper.
Garnish with cilantro, take the pan off the heat & keep it covered for some time.
Enjoy this delicious mutton roast with chapati, poori, palaada, appam, etc.