Chicken filling made in the Instant Pot…
This chicken filling made effortlessly in the Instant Pot can be used for making several dishes. Filling for samosa, make into cutlets, make sandwich, make wraps, filling for quesadilla etc. One filling and several dishes. The best part is that, this chicken filling can be made ahead of time and refrigerated for a few days.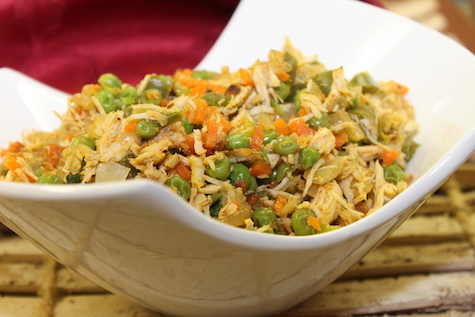 Recipe for making Indian Chicken Quesadilla

Instant Pot Chicken Stuffing
Ingredients
For cooking chicken
Chicken breasts, cubed- 2
Chili powder- ¾ tsp
Turmeric powder- ⅛ tsp
Coriander powder- 1½ tsp
Garam Masala- ½ tsp
Salt- ½ tsp
For making chicken stuffing
Prepared shredded Chicken
Oil- 1 tbsp
Onion, chopped- 1
Carrot, chopped- ½ cup
Green peas- ½ cup
Green pepper- ½ cup
Water- ¼ cup
Chili powder- ½ tsp
Coriander powder- 1 tsp
Salt- ½ tsp
Cilantro, chopped- ¼ cup
Instructions
In a bowl, combine chicken along with other ingredients 'for cooking chicken'.
Turn on the Instant Pot.
Add the marinated chicken into the stainless steel pot.
Select Pressure cook mode- high pressure. Time 7 minutes.
After 7 minutes pressure cooking, do a quick pressure release.
Open the lid.
Drain the liquid from the cooked chicken and keep the chicken in a bowl. Chicken liquid can be used for making soups.
Using a fork, shred the chicken. keep aside.
Making Chicken Stuffing
Turn on the Instant Pot. Select Saute Mode, Medium temperature.
Let hot sign appear on the display.
Add oil, add chopped onion, season with ¼ tsp salt.
Saute for 3 minutes,
Add carrot, peas and green pepper, sauce for 2 minutes.
Add ¼ cup water, saute for 3 minutes till veggies turn soft.
Add shredded chicken, combine well.
Add chili powder, coriander powder and salt to taste, combine well. Cook for 2 minutes.
Add cilantro, combine well.
Turn off Instant pot. Keep aside the chicken stuffing.
Chicken filling can be used for making samosas, cutlets, wraps, sandwich, wraps etc.
Notes
For making cutlets: Add mashed potato to the chicken filling and make patties. Dip in beaten egg and then coat with breadcrumbs and deep fry or pan fry the patties.