Kale and red lentil stir-fry is a healthy and delicious meal that's perfect for anyone who wants to incorporate more plant-based meals into their diet. This dish is packed with protein, fiber, and a range of essential vitamins and minerals. It's easy to make and can be enjoyed on its own or as a side dish.
Kale is a nutrient-dense leafy green vegetable that has numerous health benefits. Here are some of the key health benefits of consuming kale:
Rich in Nutrients: Kale is a good source of vitamins A, C, and K, as well as minerals such as calcium, potassium, and magnesium. It also contains antioxidants and flavonoids that help protect the body from harmful free radicals.
Promotes Heart Health: Kale contains high levels of fiber, which can help reduce cholesterol levels and improve heart health. It also contains potassium, which helps regulate blood pressure and reduce the risk of stroke.
Supports Digestive Health: The fiber in kale promotes regular bowel movements and supports digestive health. Kale also contains prebiotics, which helps nourish the beneficial bacteria in the gut.
Anti-Inflammatory: Kale contains compounds such as kaempferol and quercetin, which have anti-inflammatory properties. This can help reduce the risk of chronic diseases such as arthritis, heart disease, and cancer.
Supports Bone Health: Kale is a good source of calcium, which is essential for bone health. It also contains vitamin K, which helps improve calcium absorption and supports bone strength.
Promotes Eye Health: Kale contains lutein and zeaxanthin, which are important for eye health. These compounds help protect the eyes from damage caused by UV light and may help reduce the risk of age-related eye diseases.
Overall, incorporating kale into your diet is an excellent way to improve your overall health and well-being.
In Summer, I planted kale in my vegetable garden & it grew like a weed. Every week, I got to harvest fresh kale leaves & enjoyed making a variety of dishes with it. I also kept some kale in my freezer so that I can use it in winter as well.
Here is a healthy, delicious & easy to make vegetarian dish with kale.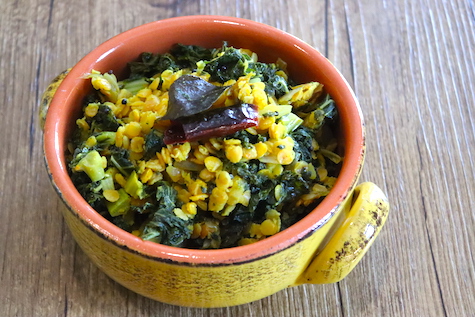 Kale & Red Lentil Stir Fry | Vegetarian Recipe
Ingredients
Coconut oil- 1 tbsp
Mustard seeds- 1 tsp
Dried red chilies, halved- 2
Curry leaves- 8 leaves
Shallots, sliced- 4
Garlic cloves, chopped- 3
Green chili, halved- 1
Red lentil or Masoor dal, rinsed- ½ cup
Kale leaves, chopped- 3 cups
Chili powder- 1 tsp
Turmeric powder- ⅛ tsp
Cumin powder- 1 tsp
Salt- 1½ tsp
Water- 1 cup
Instructions
Rinse kale leaves in running water, pat dry & chop the leaves.
Rinse red lentils or masoor dal in water.
Place a pan over medium heat, add oil.
Add mustard seeds, let them splutter.
Add dried red chilies & curry leaves, saute for a few seconds.
Add shallots, season with ½ tsp salt & cook till shallots turn golden in color.
Add rinsed red lentils, add 1 cup water & combine well.
Cook covered for a few minutes till the red lentil turns slightly soft; don't overcook the red lentil.
Add the chopped kale leaves & cook till the kale turns soft.
Add chili, turmeric, cumin powder & 1 tsp salt, combine well & cook for a few minutes.
Serve in a bowl & enjoy with rice or chapati.