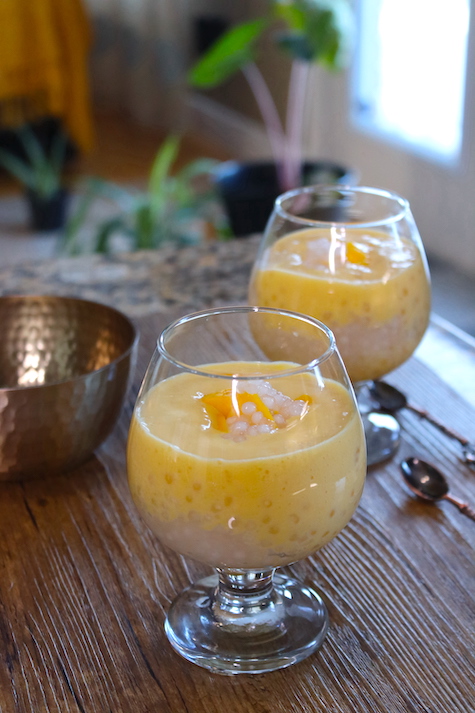 Healthy delicious & refreshing dessert…
Mango sago is a popular Asian dessert made with fresh mangoes, sago or tapioca pearls, and coconut milk. It is a refreshing and sweet dessert that is perfect for warm weather. This dessert originated in Hong Kong. When the recipe went viral on TikTok & other socials many tried this dessert & loved it.
With just 4 simple ingredients we can make this dessert. Sago or tapioca pearls are available in Asian & Indian stores.
To make mango sago dessert, sago pearls are first soaked in water for some time. The sago pearls are then boiled in water until they turn translucent and fully cooked. Fresh mangoes are then blended and mixed with coconut milk and condensed milk. The cooked sago pearls are added to the mixture and the dessert is chilled before serving.
Mango sago dessert can be served in a variety of ways. It can be served in a glass or bowl with additional pieces of fresh mango and some mint leaves as a garnish. Some people also like to add pomelo or other fruits to the dessert. The dessert can be eaten as a snack or as a dessert after a meal.
Mango sago dessert is not only delicious, but it is also healthy. Mangoes are a rich source of vitamin C and antioxidants, while coconut milk is high in healthy fats and has anti-inflammatory properties. Sago pearls are also a good source of carbohydrates.
I'm obsessed with this dessert & fits my criteria of being healthy & easy to make. A dessert that can be whipped up effortlessly & is perfect for any occasion.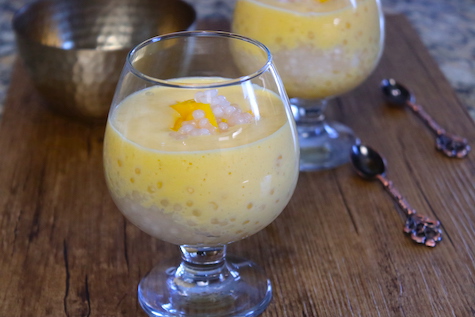 Dried tapioca pearls on the left & cooked pearls on the right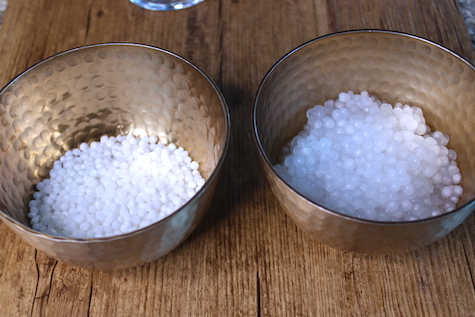 4 Ingredient Mango Sago Dessert | Healthy & Refreshing
Ingredients
Sago or tapioca pearls- 1 cup
Ripe mangoes, chopped- 3 (additional ¼ cup diced mangoes for garnish)
Coconut milk- 2 cups
Sweetened condensed milk- ½ cup
Instructions
Sago or tapioca pearls are available in Asian & Indian stores.
Soak sago pearls in 2 cups water for 30 minutes.
After 30 minutes, drain the water from the soaked sago.
In a saucepan, bring about 4 cups of water to a boil.
Add the soaked sago pearls and stir.
Cook for 15 to 20 minutes or until the sago pearls are fully cooked & turns translucent.
Drain the water and rinse the pearls with cold water.
If you're not going to use the sago right away, add some cold water to the cooked sago & keep it aside in a bowl. Cold water will prevent the sago from turning sticky.
For making this ripe sweet mangoes should be used.
To a blender jar add the chopped mangoes along with coconut milk & condensed milk.
Puree till smooth.
The puree tastes absolutely delish. Have a taste & if you need more sweet, add some more condensed milk.
Divide the cooked sago into 4 dessert bowls or glasses.
Add the mango-coconut-condensed milk puree over the sago.Gently stir.
Cover the mixture and refrigerate for at least 30 minutes. This dessert tastes delish when chilled.
While serving top with some diced fresh mango.
Enjoy this delicious & refreshing mango sago. Yum!