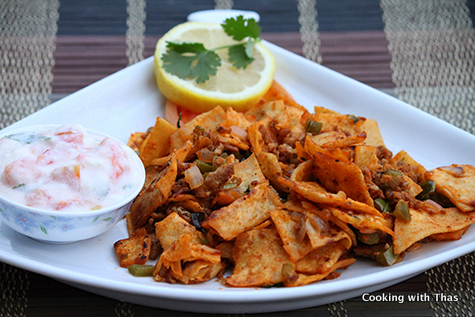 Chapathi and chicken stir fried together, delicious one pot meal and a great way to use up leftover chapathi…
Chapathi is flattened wheat bread that is quite popular in India and is served for dinner or even breakfast along with veg or non-veg curries. The dough for making chapathi is made by kneading wheat flour and water, it doesn't require the addition of yeast or no need of fermentation or anything of that sort. It's very simple- Knead the dough, make small balls out of it, flatten it using a rolling pin and cook it on a tawa or skillet. Puffed up and soft chapathi will be ready in no time.
Yet another popular flat bread in South India is Parotta, made with maida or all purpose flour. Making parotta is quite different from making chapathis and is a bit long process. Parottas are also served with veg or non-veg curries. One of the ways of using up leftover parottas is by chopping the parottas into bite size pieces and stir frying them with chicken curry. This dish is called Kothu Parotta, kothu means chopped or minced and is a quite popular street food.
I didn't bother to make parottas from scratch and then turn them into kothu parotta. Instead, the lazy me made chapathis, the much simpler version and turned them into kothu chapthi. I am always enthusiastic about making one pot meals, hence I was totally up for making kothu chapathi. I served the kothu chapthi with a simple raita or yogurt mixed with tomato and onion. I was found happy, my Man was happy and our taste buds were dancing too. Happy ending!
Recipe for making Chapathi, click here
Recipe for making Parotta or Paratha, click here
Recipe for making Kothu Parotta, click here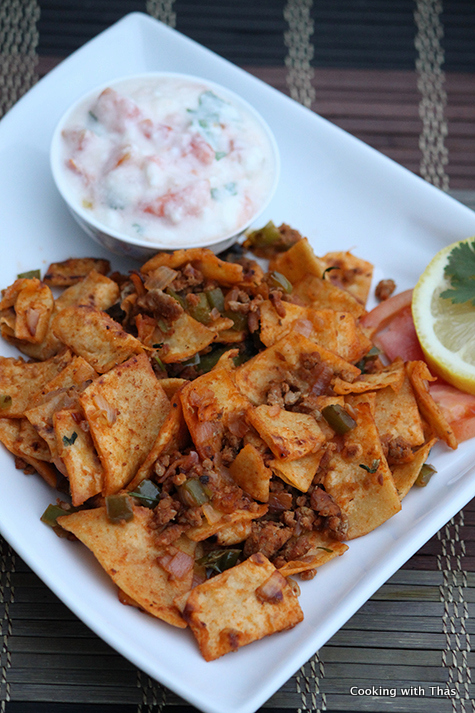 Preparation Pictures
Chapthis cut into bite size pieces
Cooking ground chicken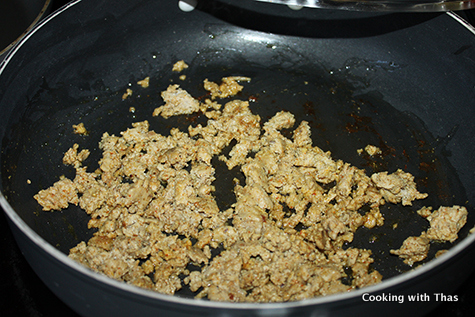 Making the chicken masala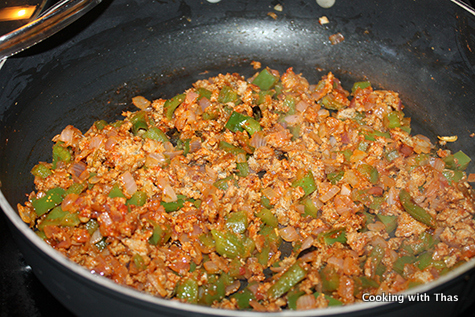 After adding chapathi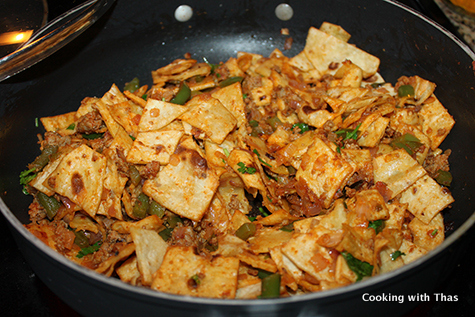 Delicious kothu Chapthi is ready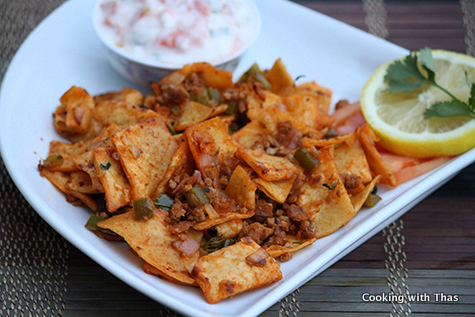 Chicken Kothu Chapathi Recipe - Chicken and Roti Stir Fry
Ingredients
For making Chapathi
Wheat flour or Atta- 2 cups
Water- ¾ cup
Salt- a few pinches
Oil- ½ tbsp
For cooking chicken
Ground chicken or chicken breasts diced small- ½ lb or ¼ Kg
Chili powder- 1 tsp
Turmeric powder- ⅛ tsp
Garam masala- ½ tsp
Coriander powder- 1 tsp
Salt- a few pinches
For making Kothu Chapathi
Oil- 1½ tbsp
Onion, chopped- 2, medium sized
Ginger-garlic- ½ tbsp
Green chilies, chopped- 1 or 2
Curry leaves- 1 sprig
Green pepper or capsicum, chopped small- 1
Egg, beaten- 1, optional
Tomato paste- 2 tbsp
Chapathi, cut into bite size pieces- 8
Chili powder- ½ tsp or more based on your spice level
Garam masala- ½ tsp
Coriander powder- ½ tsp
Lemon juice- 1 tbsp
Salt- to taste
Cilantro, chopped- 2 handfuls
Instructions
Making chapathi
In a large bowl- combine wheat flour, salt and water. Knead the dough till it forms soft.
Pour the oil over the dough and combine well. Let stand for 5 minutes.
Make medium sized balls out of the dough.
Roll the dough balls on a flat surface using a rolling pin to a round shape, dust the dough with wheat flour to avoid sticking to the surface.
Heat a skillet or pan over medium high heat. Grease with non-stick cooking spray.
Place the rolled dough on the hot pan.
In just 10 seconds (you don't need to cook the bottom side at this point it should just get hot) flip the dough to the other side.
Using a flat spatula, gently press on the sides of the dough, it will slightly puff up.
Now, turn to the other side and most of the times it will puff up by itself, else gently press the sides using a spatula.
Once it's puffed up, remove from the pan.
Keep aside the cooked chapathis.
Cooking chicken
I used ground chicken, you could use chicken breast or thighs instead.
Combine the ground chicken or chicken breast with the above mentioned spices 'for cooking chicken'.
Cook the chicken covered in a saucepan till it has cooked well and the water has dried off.
If using ground chicken, using a wooden spatula break any lumps that's formed while cooking.
Stir fry the cooked chicken till it turns light golden in color.
Keep aside the cooked chicken. Shred the chicken breast using a fork or wooden spoon.
Making Kothu Chapathi
Stack up around 8 chapathis on a cutting board. Cut 1 inch stripes vertically and then cut horizontally to make small square pieces.
Place a wok or non-stick pan over medium heat, add oil.
Add onion, season with salt and saute till onions turn translucent.
Add ginger-garlic paste, green chilies and curry leaves, combine well and stir fry till onions turn light golden in color.
Add green pepper, cook for a few minutes till it turns tender.
Add tomato paste, combine well and stir fry for a couple of minutes.
If using egg, add at this point and scramble it.
Add the cooked ground chicken or shredded chicken breast, stir fry.
Add chili powder, garam masala, coriander powder and salt to taste, combine well.
Taste and add more chili powder if you want to be spicy.
Add the chopped chapathis, combine well to the chicken masala.
Drizzle lemon juice over it, stir fry for a couple of minutes.
Sprinkle cilantro, stir fry for a minute.
Taste and add more salt if needed.
Remove the pan from the heat.
Transfer the kothu chapathi on a plate and serve along with raita or yogurt and pickle.