Lebanese red lentil soup made in the Instant Pot is a delicious and hearty soup that's not only quick to prepare but also full of flavor and nutrition.
This is a dump-and-go recipe, all you have to do is dump all the ingredients into the pot & pressure cook for just 10 minutes. Comforting & satisfying soup, enjoy with pita chips.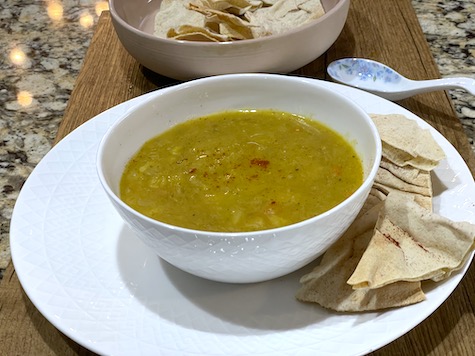 Instant Pot Lebanese Red Lentil Soup - Dump & Go Recipe
Ingredients
For pressure cooking
Onions, chopped- 2
Carrot, chopped- 1
Potatoes, chopped- 1
Red lentil, rinsed- 1 cup
Cumin seeds- 1 tsp
Turmeric powder- ½ tsp
Ground black pepper- ¼ tsp
Salt- 1 tsp
Chicken or vegetable stock- 4 cups
For topping
Instructions
This is a dump & go recipe, so don't have to saute the veggies.
For making a large batch, double or triple the recipe.
Turn on the Instant Pot.
To the stainless steel pot, dump all the ingredients mentioned for pressure cooking.
I've added chicken stock, or add vegetable stock. If using water add 1 chicken bouillon cube.
Combine well, close the pot with the lid.
Select pressure cook setting, set the time to 10 minutes at high pressure.
After pressure cooking, let the pressure release naturally for 5 minutes & then do a quick pressure release.
Open the lid, combine well.
Potatoes added will make this soup thick & creamy along with the red lentil tastes delicious.
Serve in soup bowls.
Add ½ tsp freshly squeezed lemon juice & sprinkle paprika.
Enjoy this comforting & hearty soup with pita bread or pita chips.