Coconut almond burfi is a delicious Indian sweet that combines the flavors of coconut and almonds. "Burfi" refers to a fudge-like sweet in Indian cuisine, a variety of ground nuts and flour can be used for making burfi.
Burfi is a popular sweet in North India & is sold in all bakeries. Barfis are one of the sweets served during festivals & special occasions. Making homemade burfi is not that hard & we will be able to adjust the amount of sweet & ghee based on our liking.
One of my favorite burfis is with coconut & ground almonds, I enjoy the bite of the nutty crunchy coconut along with the rich almonds. Absolutely delicious sweet that can be made effortlessly with minimal ingredients.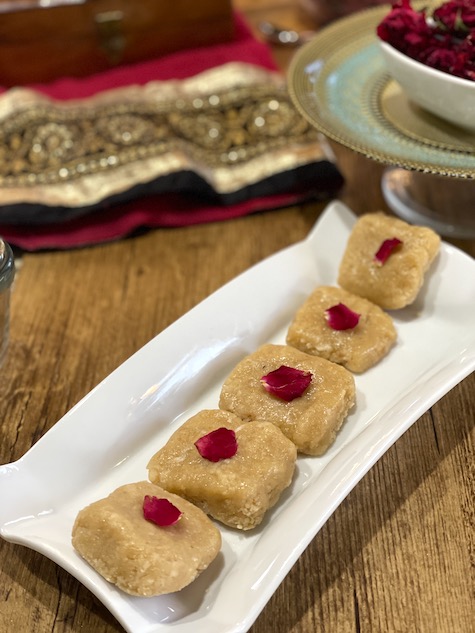 Almond Coconut Burfi | Easy & Delicious Indian Sweet
Ingredients
White or golden sugar- ¾ cup
Grated coconut- 1 cup
Ground almonds- 1¼ cup
Cardamom powder- ½ tsp
Ghee- 1 tbsp
Milk- ½ cup
Instructions
I've tried my best to reduce the amount of sugar in this burfi, if you like very sweet burfi go ahead and add 1 cup white or golden sugar.
Place a non-stick pan over medium heat, add the sugar, combine well.
Add grated coconut & keep stirring, let the sugar dissolve.
Add ground almonds, combine well without any lumps.
Add ground cardamom and ghee, combine well.
Add milk & keep stirring till the mixture thickens, this will take a few minutes.
Ensure to keep stirring otherwise the mixture will stick to the pan & will brown very fast.
Grease a square bowl with ghee.
Pour the burfi mixture into the bowl.
Using a silicone spatula, spread the mixture (don't spread it too thin, should have almost an inch thickness) & smoothen the top.
Let rest for an hour, burfi will set well.
This is slightly soft burfi, wouldn't turn too firm.
Using a knife cut into squares.
Enjoy these delicious coconut almond burfi, absolutely delicious sweet for any occasion.