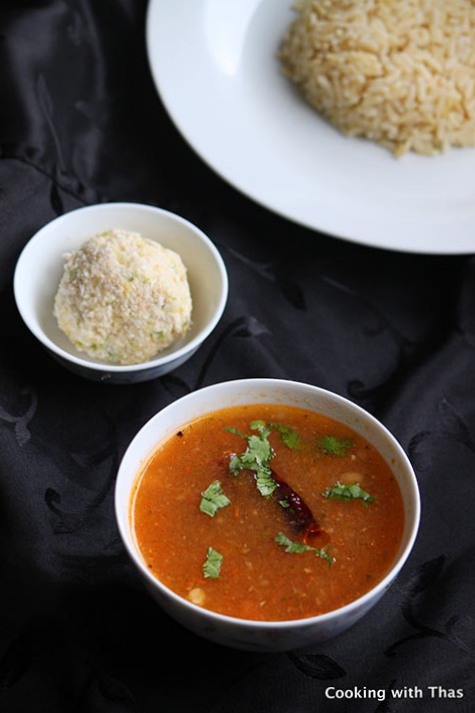 Rasam made effortlessly…
Rasam is a spicy and tangy clear liquid resembles to a soup- it's basically a side dish served with rice and other dishes in South India. This can be enjoyed as a soup or poured over rice. My most favorite way of having rasam is by pouring it over rice along with fish curry, combine everything together and just enjoy. Tastes delicious!
For making rasam: ginger, garlic, peppercorns, cumin seeds, small onions are ground together, due to the addition of ginger and garlic, rasam helps in digestion and gives instant relief from acidity or any gastric problems. It also eases any sinus/nasal congestion and cold.
I've already posted a few recipes for making Rasam, those recipes call for more ingredients and takes a bit more time to make. If you are looking for an easy recipe to make rasam without spending much time in the kitchen, then you gotta try this one. Easy to make rasam recipe that tastes good.
Other Rasam Recipes, click here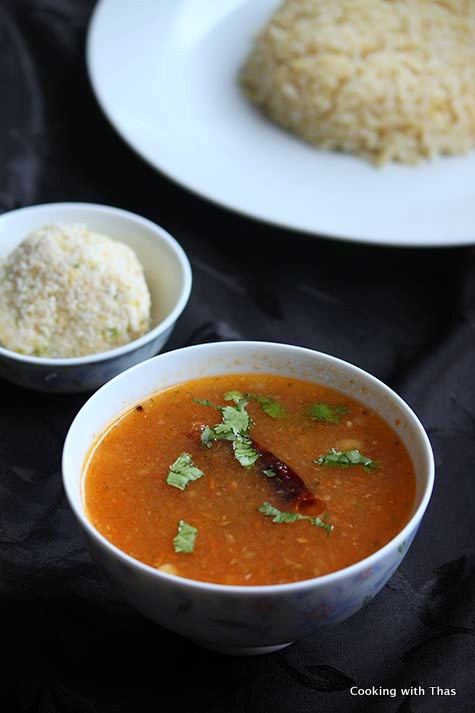 Easy Rasam Recipe
Ingredients
To Grind
Small onions- 3
Garlic- 2 cloves
Ginger- 1 inch slice
Green chilies- 1 or 2
Whole black peppercorns- ½ tsp
Cumin seeds- ½ tsp
Tomato, chopped- 1
Cilantro, chopped- 1 handful
Water- ¼ cup
Other Ingredients
Fresh Tamarind- 2 inch slice soaked in 4 tbsp lukewarm water
Oil- 1½ tbsp
Mustard seeds- 1 tsp
Whole dry red chili- 1
Curry leaves- 1 sprig
Salt- to taste
Instructions
Soak 2 inch slice fresh tamarind in 4 tbsp lukewarm water for 5 minutes till it gets soft. Squeeze the tamarind in water to release the juice, strain the juice and discard the skin.
In a blender, combine all the ingredients mentioned 'to grind' to a coarsely smooth paste. Do not make into a very fine paste. Keep aside.
Place a saucepan over medium heat, add oil and let oil turn hot.
Add mustard seeds, let it splutter.
Add red dry chili and curry leaves. Saute for a few seconds.
Add the ground paste and combine well.
Rinse the blender jar with ¾ cup water as the paste will be stuck on the sides of the jar and pour the water into the saucepan.
Add the tamarind juice and salt to taste. Combine well and cook for a few minutes till the raw smell goes away.
Let the rasam come to a boil.
Taste and add more salt if needed. If you need it to be more spicy, add more ground pepper.
Remove the pan from the heat and keep covered for sometime.
Serve rasam along with rice, fish curry or veg curries.