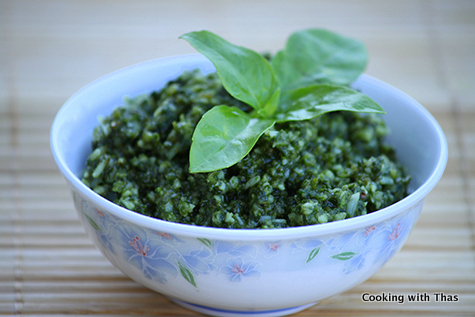 Making basil pesto at home is so easy and tastes better than the store bought ones…
Honestly, I didn't like the taste of basil pesto the first time I'd tried it at an Italian restaurant, it was too overwhelming for me. Hence, I didn't care to buy or make basil pesto for an year. Then, once I'd tried pizza in which pesto was smeared on the pizza crust and topped with chicken and other ingredients. One bite of that pizza and I was blown away. The aroma and the flavor of basil pesto made my tastebuds go crazy. It's just in pizza's the pesto gets a bit caramelized after it has been baked and my tastebuds embraced that taste. After that, pesto turned into one of my favorite Italian sauces/spread.
Since then, I've added pesto into many dishes: marinated chicken in pesto and grilled it, mixed pasta with pesto, smeared pizza crust with pesto, made pesto panini, the list is endless…Literally, I became so obsessed with pesto.
Pesto is a staple in Italy, it's a sauce or spread that's made by grinding basil leaves, garlic, pine nuts, parmesan cheese along with olive oil. Traditionally, the ingredients are hand mixed on a mortar and pestle. They add pesto to most of their dishes, mostly in pastas and pizzas.
I used to buy store bought pestos as I felt lazy to make it at home. Once, I tried making pesto from scratch in my food processor, it only took a few minutes to make it and tasted fresh and much better than the store bought ones. After that, I shy away from store bought pestos.
You only need a few ingredients to make basil pesto, fresh basil being the main ingredient. Use fresh basil for better taste and flavor.
Pesto Recipes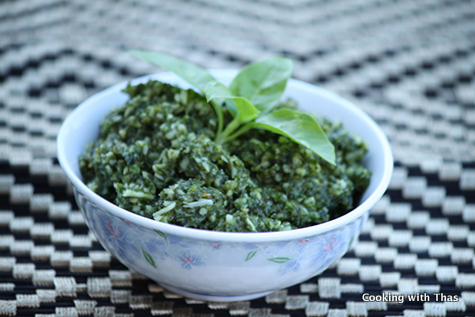 How to make Easy Basil Pesto - Basil Pesto Recipe
Ingredients
Fresh Basil leaves- 2 cups
Parmesan cheese-1/4 cup
Pine nuts or Almonds- 2 tbsp
Garlic, chopped- 1 clove (optional)
Ground pepper- ¼ tsp
Olive oil- 5 to 6 tbsp
Salt- to taste
Instructions
Use fresh basil leaves for better taste and flavor.
You could use either pine nuts or almonds.
In a food processor, add pine nuts or almonds and garlic (if using), process it for a couple of minutes till the nuts have broken down.
Add basil leaves, parmesan cheese, ground pepper and salt, process it for a few seconds.
Using a spatula, scrape down the sides of the bowl.
Pour olive oil while the food processor is running and process till everything has incorporated well.
Transfer the pesto into a bowl.
You could add pesto into your pasta, cook chicken with it, spread over pizza crust, smear on sandwich/panini etc.
Pesto can be kept in the refrigerator for a week or keep it frozen and it stays longer.