Pad Thai, one of my favorite Thai dishes…
One of my favorite cuisines is Thai cuisine. I'm glad there are a few good Thai restaurants in my city. I've to have Thai dishes at least a few times a month. One dish that I order without any second thoughts is Pad Thai. However, making authentic Pad Thai in my kitchen is quite a challenge. It's all about the sauce & the cooking technique stir-fried over high heat.
Every time I make Pad Thai in my kitchen, I tend to tweak the recipe. In one of the Thai restaurants in my city, fried shallots and basil are added to Pad Thai which greatly enhances the taste. So this time, I added fried shallots, basil and altered the sauce recipe as well. Overall, this version of Basil Pad Thai turned out delicious.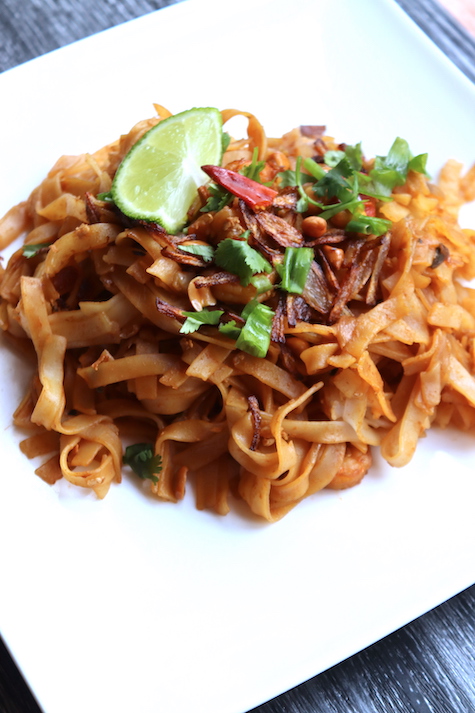 Homemade Basil Pad Thai | Popular Thai Recipe
Ingredients
Sesame oil- 3 tbsp
Garlic, chopped- 3 cloves
Thai bird's eye chili- 2, halved (it's super hot)
Basil leaves- 15 leaves
Green onions, chopped- 2 stalks
Shallots, sliced thin- 4
Shrimp, deveined & shelled- 20
Egg, beaten- 2
Rice noodles, cooked- ½ packet (thin or thick noodles)
For Making Sauce
Soy sauce- 3 tbsp
Dark soy sauce- 1 tbsp
Fish sauce- 2 tbsp
Tomato Ketchup- 2 tbsp
Lemon juice- 1 tbsp
Palm sugar- 1 tbsp (or add 1 tsp white sugar)
Water- ¼ cup
Toppings
Fried shallots
Roasted peanuts, crushed
Green onions, chopped
Cilantro, chopped
Bean sprouts
Lime wedges
Instructions
Cook the rice noodles in boiling water till they turn al dente. Avoid overcooking the rice noodles will turn gummy.
Drain the water, drizzle 1 tbsp oil over the noodles and combine well to prevent from sticking. Keep the noodles aside.
In a bowl, combine all the ingredients for making the sauce & keep aside.
Adding fried shallots will greatly enhance the taste of pad thai. Do not skip adding fried shallots.
Fry 1 shallot sliced in 2 tbsp sesame oil till they turn crispy & golden brown. Transfer to a paper towel & keep aside.
Place a large wok over medium-high heat, add sesame oil.
Add garlic & Thai bird's eye chilies, saute till garlic turns light golden.
Thai bird's eye chili is super hot, if you can't handle too much heat add only 1.
Add basil leaves, Thai basil or regular basil; saute for 2 minutes.
Add green onions & shallots, saute till shallots turn light golden in color.
Add shrimp, cook for a few minutes as per your needs.
Crack 2 eggs into a bowl, beat well using a whisk.
Add the eggs to the wok, scramble the eggs.
Add half of the prepared sauce, stir fry the shrimp for 2 minutes.
Add the cooked rice noodles, stir fry for a minute.
Add the remaining sauce, stir fry over high heat for 3 minutes.
Remove the wok from the heat & keep it aside.
Serve onto a plate.
Add the toppings- fried shallots, peanuts crushed, green onions, cilantro & bean sprouts. Place a lime wedge on top.
Enjoy my version of Basil Pad Thai, tastes delish.