Chicken stuffed semolina (rava) puttu or steamed semolina…
Puttu or steamed rice cake is a South Indian delicacy served for breakfast along with either sweet or savoury curries. Traditionally, puttu is made with wetted rice flour, but these days I'm seeing puttu being made with other ingredients like oats, semolina, wheat flour, ragi or millet flour, brown rice flour etc etc.
The other day, I tried making puttu with semolina and I layered it with chicken masala and it tasted delicious. If using semolina, the puttu has to be served right away when it's still warm else semolina will turn dry when it has cooled down. So, enjoy this chicken stuffed semolina puttu.
Preparation Pictures
Chicken masala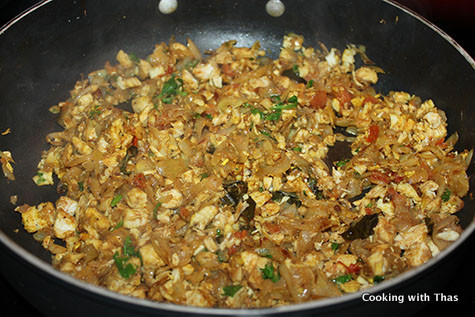 Wetted Semolina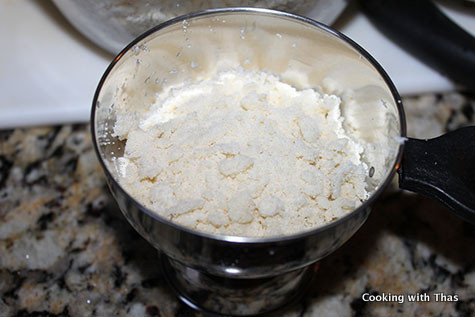 Chicken masala layer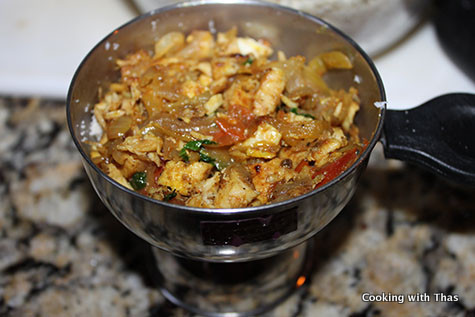 Chicken Stuffed Rava Puttu- Steamed Semolina
Ingredients
For making Semolina puttu
Semolina- 1½ cups
Salt- to taste
Water- just enough to wet the semolina
Grated coconut- 2 tbsp/puttu
For marinating chicken
Chicken breasts, diced small- 2 breasts
Ginger-garlic paste- ½ tbsp
Chili powder- 1 tsp
Turmeric powder- ¼ tsp
Coriander powder- 1 tsp
Garam masala- ½ tsp
Salt- to taste
For making chicken masala
Oil- 1½ tbsp
Onion, chopped thin long- 2
Curry leaves- 1 sprig
Green chilies, chopped- 2
Tomato, chopped- 1, large
Garam masala- ¼ tsp
Coriander powder- 1 tsp
Chili powder- ½ tsp (if needed)
Cilantro, chopped- 2 handfuls
Salt- to taste
Instructions
In a saucepan, combine the chicken with all the above mentioned ingredients 'for marinating chicken'. Keep aside for 10 minutes.
Place the saucepan over medium heat and cook covered till the chicken has cooked well and the water has dried off. Using a fork, shred the cooked chicken, keep aside.
Place a non-stick pan over medium heat, add oil.
Add onion, curry leaves and green chilies, season with salt and saute till onion turns golden in color.
Add tomato and cook till it has mashed up.
Add the cooked shredded chicken, combine well.
Add garam masala, coriander powder, chili powder if needed for spice and enough salt. Combine well and cook for a few minutes till the mixture turns dry.
Add chopped cilantro, cook for a minute.
Remove the pan from the heat and keep it covered, let cool down.
In a bowl, combine semolina and salt. Sprinkle water over it and wet the semolina breaking any lumps that has formed. Wet till it holds well when formed into a ball. Make sure not to add too much water.
I used the puttu maker than can be kept on top of the pressure cooker.
Add ½ cup water into a pressure cooker, close with its lid and place the cooker over medium heat. Let the steam come out of the whistle hole.
Don't place the whistle as the puttu maker will be placed on the whistle hole.
Add 1 tbsp grated coconut as the bottom layer in the puttu maker.
Followed by 1 handful of wetted semolina, 1 handful of chicken masala , again 1 handful of semolina
Finally, add 1 tbsp grated coconut as the top most layer.
Close the puttu maker with its lid.
When the steam starts to come out of the whistle hole, place the puttu maker on the whistle hole.
Steam cook for 5 to 7 minutes till steam comes out of the holes on the puttu maker.
Remove the puttu maker from the cooker.
Flip it over onto a plate and the chicken stuffed semolina puttu in the shape of dome will fall onto the plate.
This has to be served warm, when cooled down semolina will turn dry.
Notes
You could replace semolina with rice flour, ragi flour (millet), wheat flour, brown rice flour etc.