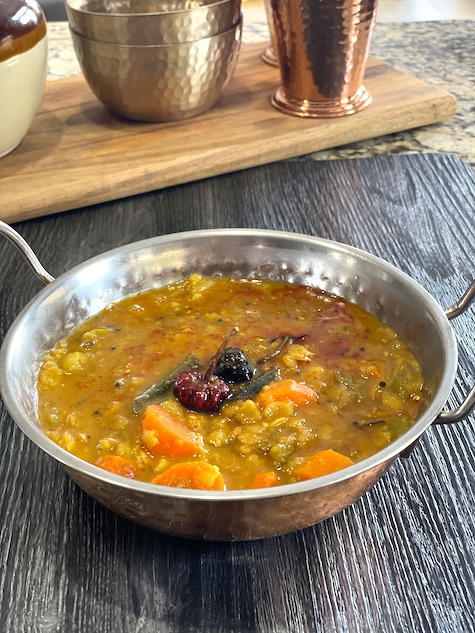 Sambar is a popular and flavorful South Indian dish. It's a curry that is typically made with lentils, vegetables, and a unique blend of spices. Sambar is known for its distinctive taste, combining spiciness, tanginess, and a medley of flavors.
I'd harvested lots of green tomatoes from my garden, though I placed them in a brown paper bag to speed up the ripening, some of them were so stubborn they stayed green.
I'd to use up the green tomatoes & I knew they were great for making sambar.
Green tomato & toor dal sambar is a quick and flavorful South Indian dish made with green tomatoes, toor dal (split pigeon peas), and sambar masala.
It's a comforting and nutritious dish that's typically served with rice, idli, dosa, or other South Indian main courses.
Using an Instant Pot, you can prepare this sambar in around 10 minutes. This quick Instant Pot recipe is perfect for when you want a delicious and comforting sambar in a hurry.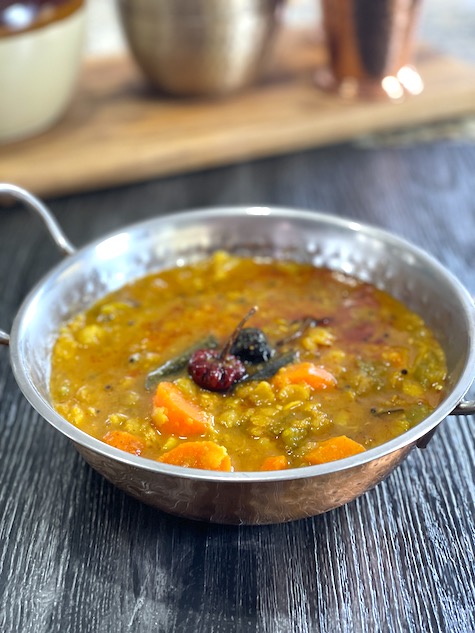 Instant Pot Green Tomato Toor Dal Sambar - 10 Minute Easy Recipe
Ingredients
For pressure cooking
Toor dal, rinsed- ½ cup
Green tomatoes, diced- 3, large sized
Carrot, diced- 1, large sized
Green chilies, halved- 2
Curry leaves- 1 sprig
Sambar masala- 2 tbsp
Salt- 1 tsp (if required)
Water- 2½ cups
For making tempering
Coconut oil- 1½ tbsp
Mustard seeds- 1 tsp
Dried red chilies, halved- 2
Curry leaves- 8 leaves
Kashmiri chili powder- ½ tsp
Instructions
I made this sambar in an Instant Pot pressure cooker, you can also use a regular pressure cooker.
I've used toor dal, take the dal in a strainer & rinse in water till the water turns clear. Don't have to soak the dal.
Dice the green tomatoes & carrot.
Green tomatoes will impart the sourness to the sambar, hence tamarind is not required.
I used store-bought sambar masala. You can use homemade or any of your favorite sambar masala.
To the stainless steel pot, add all the ingredients mentioned 'for pressure cooking'.
Close the pot with the lid.
Select pressure cook setting, set the time to 10 minutes at high pressure.
After pressure cooking, let the pressure release naturally for 5 minutes & then do a quick pressure release.
Open the lid, combine the sambar well.
Taste & add salt if required.
Keep the pot covered.
Make the tempering: place a small frying pan over medium heat, add oil.
Add mustard seeds, and let them splutter.
Add dried red chilies & curry leaves, saute for a few seconds.
Lower the heat, add Kashmiri chili powder, this is optional & combine well.
Immediately, pour the tempering over the sambar & keep it covered for some time.
Enjoy this aromatic & delicious sambar with rice, dosa, or idli.