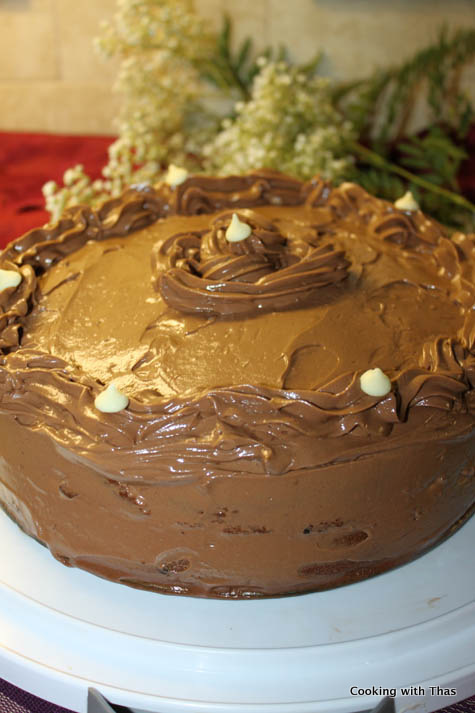 Oey Gooey yummilicious chocolate cake made exclusively for my Man…
It's that time of the year again when I bake a delicious cake exclusively for my Man, Yes, it's his birthday today. For the past 8 years I had baked cake for his birthday without any fail. I still remember the butter cake I'd baked for the first birthday we celebrated together after our marriage, it was a simple and humble cake without any frosting or any decorations, I was a total novice that time. After that, over the years I had experimented different kinds of cakes. Last year, I had made the Tiramisu cake: one of my favorite cakes. Yesterday, while browsing through my cake category I found that I hadn't made a cake with chocolate frosting. My man being a chocolate fanatic, I made up my mind to make a cake with chocolate goodness in it.
I had slight doubts about this frosting if it would turn out to be extremely sweet as the recipe called for 1 lbs of chocolate, as I tasted the frosting I was relived it wasn't that sweet. This is an absolutely delicious cake, it was moist, soft and yummy. The chocolate frosting is the real winner, so don't ignore the frosting.
After I made this cake, my house started to smell like chocolate and my Man couldn't wait till the clock ticked 12, so he digged into the cake before his birthday 🙂 I shared this cake today with my co-workers and everyone loved it. This cake with the frosting is definitely a spectacular treat for any chocolate lovers. Well, even those without the sweet tooth's would fall for this cake.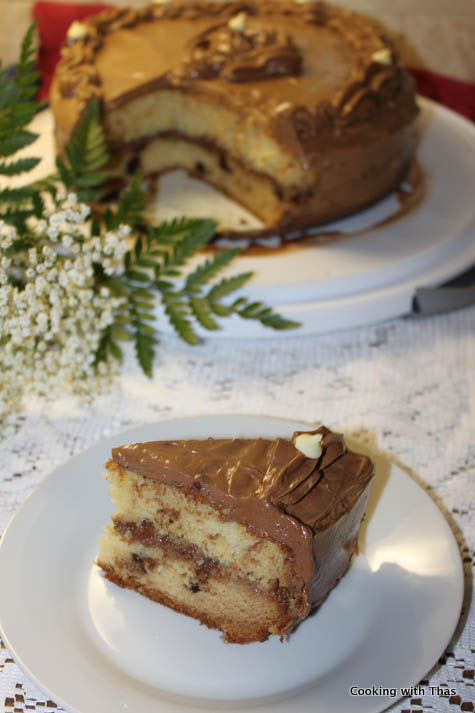 Preparation Pictures
Cake batter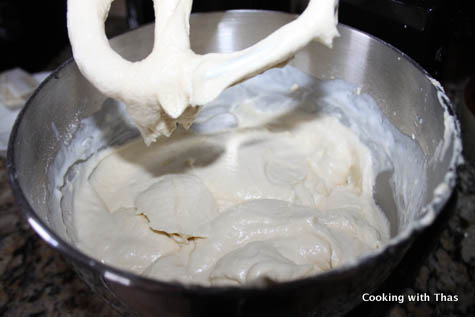 Baked cake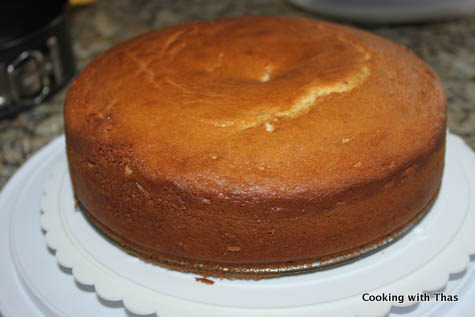 Halved cake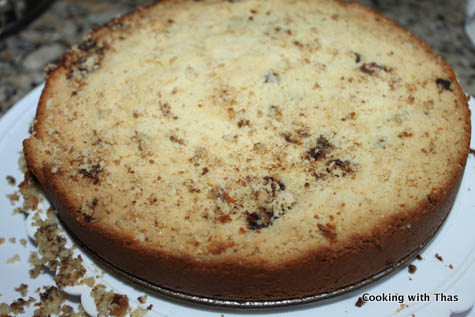 Frosting the cake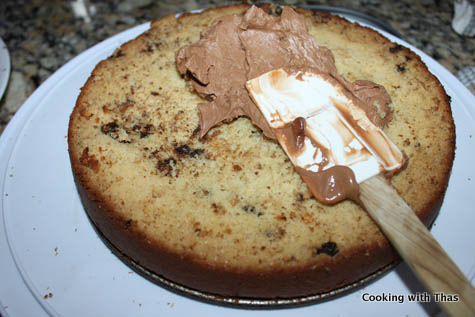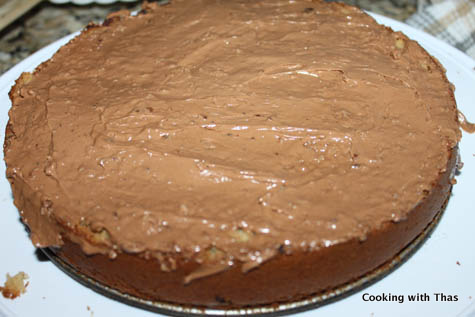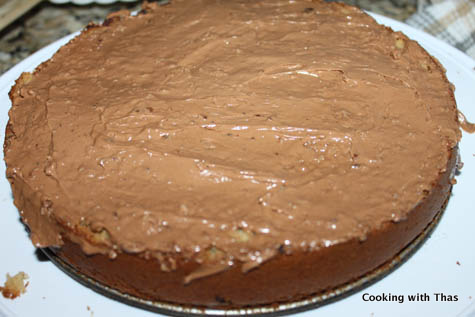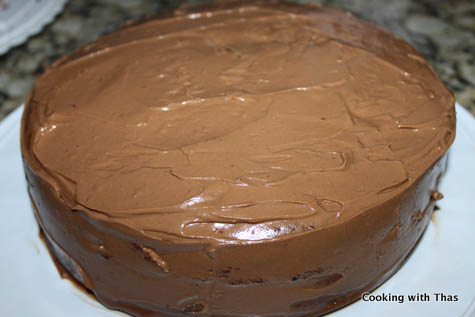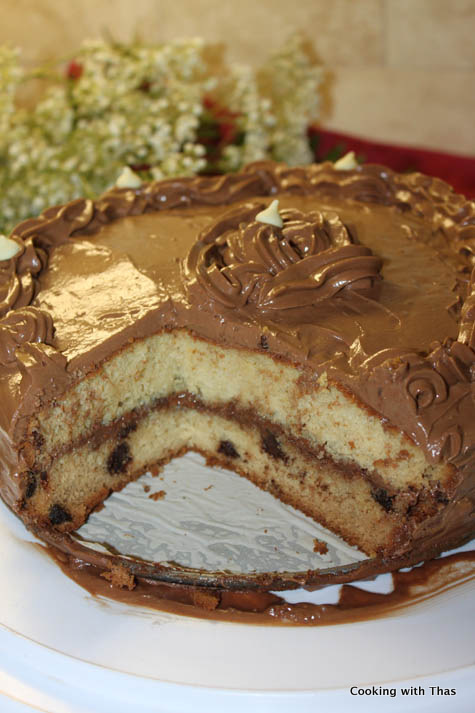 Chocolate Cake with Rich Chocolate Frosting
Ingredients
For making the cake
Butter, unsalted and softened- 1½ sticks (1 stick=1/2 cup) or ¾ cup
All purpose flour, cake flour- 2¼ cups
Baking soda- 1½ tsp
Salt- 1½ tsp
Sugar, granulated- 1 cup
Light Brown sugar- ⅓ cup
Egg yolk- of 1 egg
Eggs, large- 2
Vanilla extract- ½ tbsp
Sour cream- 1½ cups
Milk- ¾ cup
Semi-sweet chocolate chips- ¾ cup
For making Chocolate Frosting
White chocolate chips- 250 g
Semi-sweet chocolate chips- 200 g
Butter, unsalted and softened- 4 sticks or 2 cups
Confectioners sugar or Powdered sugar- 1 cup
Salt- a pinch
Sour cream- 1 cup
Instructions
Making the cake
Preheat oven to 350 F. if you are making 4 layered cake use two 8 inch cake pans to bake. If making 2 layered cake, just use a large pan.
Line the pans with parchment paper, and grease with melted butter. Keep aside the pans.
In a bowl, sift together the flour, baking soda and salt together.
In a stand mixer or using an electric hand mixer, cream the butter and sugar together.
Add the egg yolk, combine well.
Add the eggs, one at a time, beat well after each addition.
Add vanilla extract and beat it.
Combine the sour cream and milk in a measuring cup.
Now, slowly add the flour in 3 additions, alternating with sour cream/milk mixture: beginning and ending with flour.
Beat for a couple of minutes until well incorporated. Don't over beat the batter.
Add the chocolate chips and fold it into the batter.
Pour the cake batter into the pans, fill only ¾ th of the pan as the batter will rise while baking. Spread the batter evenly with a spatula.
Keep the pans on the middle rack in the preheated oven.
Bake for 45 to 50 minutes or until a fork inserted into the middle of the cake comes out clean.
If you have poured the batter into just one large pan, it will take longer time to bake: 1 hour, so keep checking after 50 minutes of baking.
Remove the baked cake from the oven.
Let cool down completely for 20 to 25 minutes.
Making the chocolate frosting
Melt the white chocolate and semi-sweet chocolate taken in a glass bowl, over a saucepan filled with simmering water (double boiling method).
In a stand mixer or using an electric hand mixer, beat the butter and powdered sugar at medium speed till creamy and fluffy for 5 minutes. Add salt and beat.
Add the melted chocolate and the sour cream, beat at high speed till the frosting turns thick and fluffy.
The frosting shouldn't be flowing, if it's not that spreadable refrigerate the frosting for 30 minutes or so until it has thickened.
Assembling and frosting the cake
If you have baked 2 cakes, cut both the cakes horizontally into halves so you have 4 layered cakes now.
If you have baked only one large cake, cut horizontally into two equal halves.
Spread the frosting over each layer and stack the other layers on top.
Spread the chocolate frosting all over the cake and even it out using a spatula.
You could even pipe the frosting into different shapes and decorate it.
If you want you could sprinkle shaved dark chocolate over frosted cake
Get creative and decorate the cake accordingly.
Refrigerate the cake for at least 1 hour before serving so that the frosting will be set well and can be sliced perfectly.
Leftover frosting and cake can be refrigerated for 2 to 3 days. I swear this cake is not going to last for long, it's that yummy!