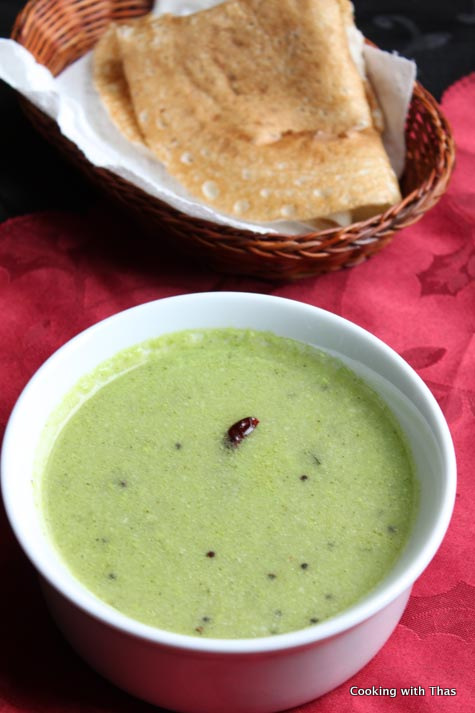 It's Kerala style chutney made with green pepper…
At times, I wish if my mind went blank for a few minutes without any kind of thoughts popping up now and then. This reminds me of how once my mind had actually gone blank for sometime when I had a concussion from skiing. I didn't even get comfortable skiing in the beginner ski slopes that time. It's just I wanted to impress my man, so went ahead and skied on the intermediate hill along with him. I was also curious enough to get on the ski lift or cable transport that carried skiers up a hill, this was not available in the beginner's zone. Rope tows are used on beginner ski slopes. The ski lift dropped me at the very top of a steep hill, as I got off and looked down I freaked out. I couldn't even stand properly on that slope let along skiing. I had no other choice as the ski lift wouldn't carry me down. I closed my eyes, murmured all the prayers I knew and skied down like a maniac. I managed to skii half way down like a pro. After that I saw a person standing right infront of me, I couldn't break nor slow down. Well, to be honest I didn't know how to break, awesome, right? All I did was hit that person, he was a huge man so he stood still, on the other hand I was slightly lifted up in the air for a few seconds and then thrown on the ground with my face down. What a bummer! I literally scared the heck out of my man. My nose was bleeding heavily and immediately went to a concussion. As I opened my eyes I saw myself in an ambulance, and a very handsome doctor started asking me a lot of questions like what was my name, where am I from etc etc. At first, I couldn't remember a thing, my mind was total blank and felt like a new born baby with a fresh mind. Slowly, I got my lost memory back and started to recollect what had happened and what was happening. I really enjoyed the blank feeling I had for a few minutes.
However, I do embrace my thoughts and emotions, without which I won't be myself. "A mind without thoughts is like tea without leaves"-a Tibetan saying.
I know you must be eager to read the recipe and not about my stories and my thoughts, right? So, coming back to the recipe. Last weekend, I made dosa and so wanted to make a curry to serve with it. I was not up for making sambar which would take at least 30 minutes. I wanted something easy and different. When we think of a dish to serve with dosa, most probably sambar and chutney will come into picture. So, my next option was chutney. I had already shared the recipe for making a few kinds of chutney's, so I didn't want to repeat any of those. That day, I had a lot of green peppers in my refrigerator. Green pepper chutney, I thought. Green pepper being one of my favorites veggies with its crisp and mildly spicy taste, I felt it would make a good candidate for making chutney. As I was making this chutney, my sister and my niece came for a chat. Both our webcam's were turned on, I showed my sis and niece how to make this chutney. My niece was an excellent viewer, she looked so curious and enthusiastic while watching me cook. I showed her everything that I do; cooking, plating and clicking the pictures. She was patient enough to watch me do all these. I had so much fun making this chutney with my niece and it tasted so good. I felt so glad to have tried making chutney with green pepper.
Here are the other chutney recipes
Peach and Dried Cranberry Chutney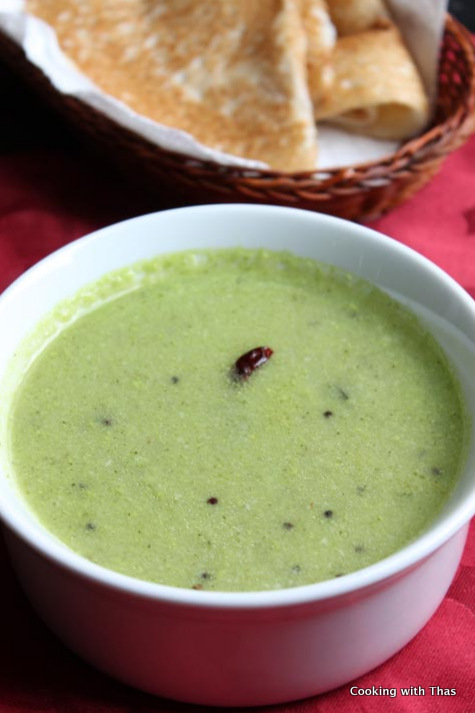 Green Pepper Chutney or Capsicum Chutney - Kerala Style Chutney
Ingredients
To grind to a smooth paste
Coconut grated- ½ cup
Green pepper, diced- 1
Ginger, chopped- 1 inch
Small onions or pearl onions- 3
Curry leaves- 1 sprig
Salt- ½ tsp
Water- 1 cup
While cooking
Oil- 1 tbsp
Mustard seeds- 1 tsp
Dry red whole chili- 2
Curry leaves- 1 sprig
Tamarind, fresh- 2 inch slice soaked in ½ cup lukewarm water
Instructions
Soak 2 inch slice fresh tamarind in ½ cup lukewarm water for 5 minutes, squeeze the tamarind in water to extract the juice, strain the juice and discard the skin.
In a blender, add all the above mentioned ingredients "to grind", grind to a smooth paste. Keep aside.
Place a saucepan over medium heat, add oil and let turn hot.
Add mustard seeds, let splutter.
Add dry whole red chilies, curry leaves, saute for a few seconds.
Add the green pepper-coconut mixture to the saucepan, combine well.
Cook for a few minutes till the raw smell of green pepper goes away, about 3 minutes.
Add ½ cup tamarind juice. Cook for 3 minutes till chutney comes to a slight boil.
Have a taste and add more salt if needed.
Remove from the heat. Transfer to a bowl.