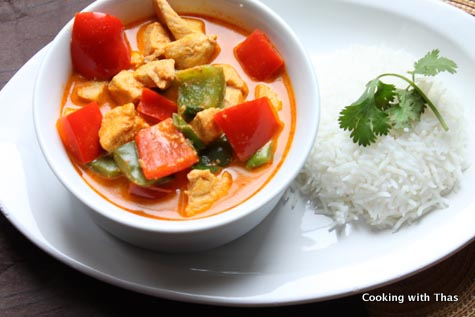 Delicious Thai chicken red curry…
It's hard for me to pick a favorite Thai dish, as I find almost all the Thai dishes incredibly delicious. However, there are a few Thai dishes that I make often in my kitchen. This thai red curry chicken is one such dish and is truly a comfort food for me. Not just red curry, I love green curry as well. I often use the red curry paste by Thai Kitchen, which is available at almost all the stores. I have tried a few other brands and found Thai Kitchen to be the best. Red curry paste and green curry paste are always seen in my refrigerator as it comes in handy most of the time. If I want to whip up a meal effortlessly, it gotta be Thai red curry along with basmati or jasmine rice.
The red curry paste is packed with flavorful ingredients like galangal, kaffir lime leaves and lemon grass. Thai red chilies impart the vibrant red color to the paste. You could literally add anything while making this dish; could it be shrimp, beef, chicken or veggies. All you have to do is cook the meat or veggies, add the red curry paste and finally add coconut milk to it. A flavorful and aromatic dish will be ready in just a matter of minutes. You could seve with jasmine rice, brown rice, basmati rice or noodles.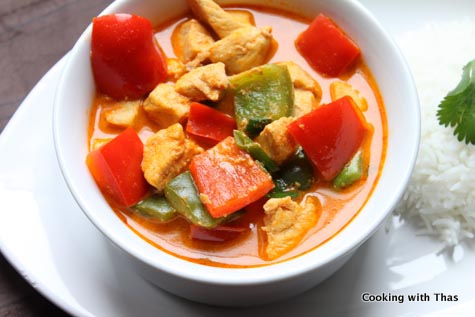 Step By Step Pictures
Easy Thai Red Curry Recipe- with Chicken
Ingredients
Chicken breasts or thighs, cubed- 3 breasts
Green pepper, diced- 1, large
Red pepper, diced- 1. large
Red curry paste- 2 tbsp (I used Thai Kitchen brand)
Fish sauce- ½ tbsp (optional)
Coconut Milk- 1¼ cups
Green onions, chopped- 2 stalk
Instructions
Add the cubed chicken into a large pan, cook covered till chicken has cooked through.
Add red curry paste, combine well.
Add green pepper and red pepper, cook covered for a few minutes. Don't over cook the veggies, it has to be crisp.
Add fish sauce, combine well.
Ad coconut milk, cook covered for 3 to 4 minutes.
Sprinkle green onions and cook for a minute.
Remove from the heat and keep it covered.
Serve along with jasmine rice or brown rice or basmati rice or noodles.
Notes
Replace chicken with shrimp or beef or make it vegetarian.