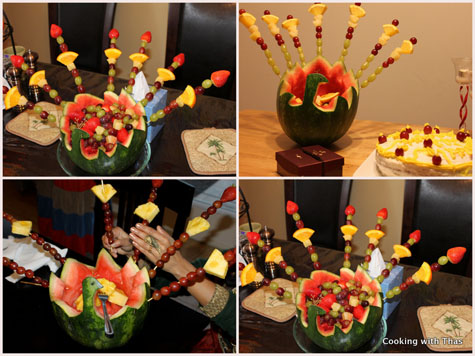 My most favorite fruit basket or centerpiece…
I'd made this peacock centerpiece for 3 special occasions over the years. First try was in 2008 for my hubby's birthday, he was really impressed. Second try was in 2009 for my friend's daughter's birthday party, the guests were impressed and the third one was in 2012 for Eid, my friends were impressed. Usually, once I try something I won't make it over and over, but this one is an exception. During special occasions, if time permits I try to make this. This is an impressive way to serve fruits, your guests will be awed and you feel proud and happy about it.
I am not a professional fruit carver, as you can see from the pictures my first try the peacock neck got lil longer, second try it got lil smaller and I guess the third try it turned out decent. Believe me, it's really easy to make this. Once you get an idea of how it's made you can make it without much difficulty.
This is not my idea, I learned to make this through youtube videos. I am sharing the videos with you all, the lady has explained it so clearly and flawlessly (she's a pro in fruit carving), I couldn't find a better teacher than her, just incredible!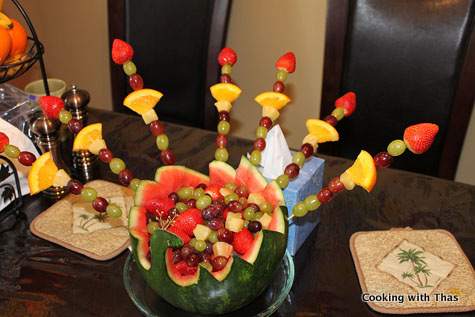 Here are the things you will need to make this:
Round watermelon, try to pick the one that's evenly green in color
You can use edible marker ( I used the sharp tip of the skewer to draw the peacock on the watermelon, make sure you don't draw it too hard)
Small Carving knife
Skewers
Fruits: Orange, strawberry, grapes( brown and green), pineapple etc.
And a lot of patience 🙂
Just follow the video and you will learn to make beautiful peacock centerpiece. I found carving the peacock neck is quite tricky, after drawing on the watermelon, very carefully and patiently carve the neck, first try carving it little thicker so that you can always correct it.
Video 1

Video 2

Video 3
Do let me know how did yours turn out. Have fun Carving!