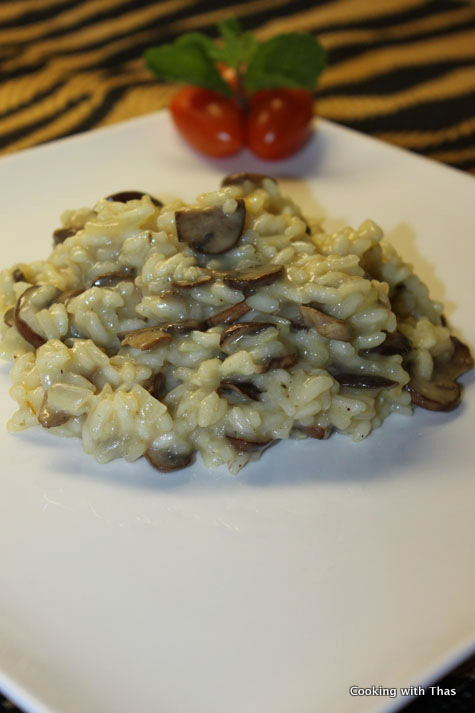 Italian rice delicacy and it was Yum…
Whenever I dine at Italian restaurants, I make sure not to miss risotto, it's one of my favorites. I've had risotto at many restaurants, one of the flavors I love the most in risotto is saffron. Well, saffron is my most favorite spice, so obviously I love that the most.
Risotto is a rice based dish, however the cooking style of it is different from regular white or basmati rice. You first need to get "Arborio rice" to make risotto. You absolutely cannot make risotto with any other rice. In North America, arborio rice is available at almost all grocery stores.
Making risotto is very unlike making other rice, cooking other rice is pretty easy; you just have to combine water and rice and cook it in a rice cooker or in a saucepan till the rice has cooked. However, making risotto is a little tedious, you have to add water or chicken/veggie stock to the arborio rice little by little and keep stirring till the water has absorbed, it will take about 30 minutes or so to cook the rice. Risotto is usually made creamy by adding cream or cheese. Literally, any kind of seasonings can be added to risotto. I like to have my risotto not spiced up or flavored up too much. You could even add any kind of veggies to the risotto; my personal favorites are mushrooms, butternut squash, shrimp etc.
I love the addition of saffron to my risotto, so this time I made saffron mushroom risotto and served with pesto chicken. We had an amazing Italian dinner at home. It was YUM, YUM, YUM!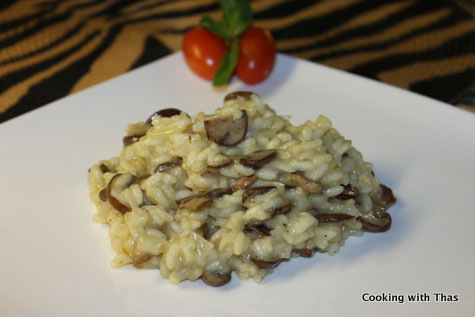 Saffron Mushroom Risotto
Ingredients
Butter, unsalted- 1 tbsp + 1 tbsp
Garlic, chopped- 2 large cloves
Onion, chopped small- 1, medium
Mushroom sliced, brown- 2 cups
Arborio rice- 1½ cups
Chicken stock, low-sodium- 2 cups
Water- 2¼ cups (or add chicken stock)
Saffron- 2 pinches soaked in ½ tbsp water
Parmesan cheese- ¼ cup
Ground pepper- ½ tsp
Salt- to taste
Instructions
Cooking Mushroom
Place a large non-stick pan over medium heat, add 1 tbsp butter, let it melt.
Add brown mushrooms and saute till it turns tender, about 5 minutes.
Keep aside the cooked mushrooms.
Making Risotto
Place a large non-stick pan over medium heat, add 1 tbsp butter.
Add garlic, saute for a couple of minutes.
Add chopped onion, saute till light golden in color.
Add the rice and saute for a minute.
First add 1 cup chicken stock, stir into the rice till the water has absorbed.
Keep adding chicken stock or water to the rice ½ cup at a time and stir into the rice till it has absorbed.
I had to add 4¼ cups of chicken stock + water to cook the rice.
The rice shouldn't turn too mushy, it should be tender and slightly crispy as well.
Add the saffron strands soaked in water to the cooked risotto, combine well.
Add cooked mushrooms, combine well and cook for a minute.
Sprinkle freshly ground pepper, combine.
Add parmesan cheese, stir into the rice and cook for a minute.
Remove the pan from the heat.
Serve warm along with pesto chicken, grilled chicken or roasted vegetables.