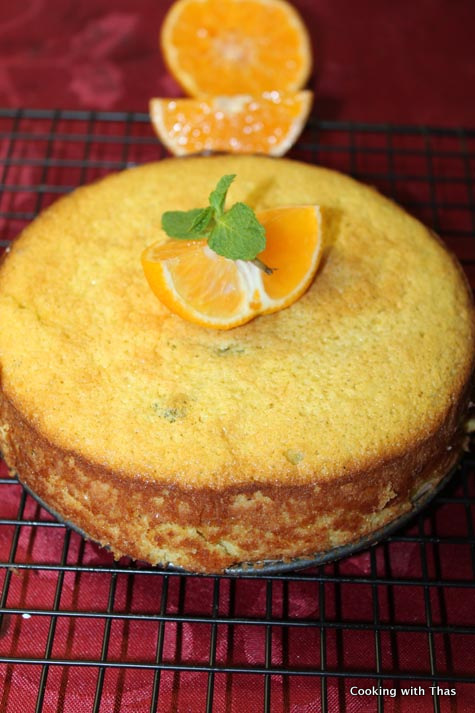 Absolutely refreshing and moist cake…
Clementine is a variety of mandarin orange, obviously it's a member of orange family, though it has less acid than orange. I love mandarin orange and I always have the canned mandarin in my pantry. They are just great for garnishing salads, fruit salads etc. Last weekend, I bought a few pounds of clementines and kept thinking what to make out of it. I started eating it as I didn't have any clue about making anything different with it. That's when I came across the recipe for making this clementine cake, after reading the recipe which had a very few ingredients and it was flour less cake. What did I do next? Wohoo, I just rushed into my kitchen like a tornado and made this refreshing and moist cake. I gave my own twist to the original recipe by adding mint leaves.
I couldn't wait till this cake came out of the oven, I was so anxious to have a taste of this cake. It was such a moist cake, tasted light, with nice aroma of clementines and mint. Unbelievably refreshing and this cake reminded me of eating baked pudding.
If you want a light refreshing cake with less ingredients, then this is the one. Go ahead and grab some clementines on your next shopping, now you know what to make out of it.
Recipe adapted from Nigella Lawson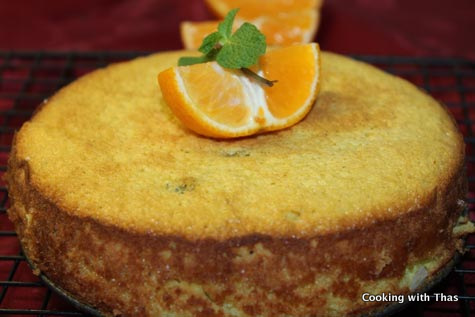 Flourless Clementine Mint Cake
Ingredients
Clementine orange- 2
Eggs- 3
Ground almond or almond meal- 1⅛ cups
Powdered sugar- ½ cup
Baking powder- ½ tsp
Salt- ¼ tsp
Mint leaves- 6 (optional)
Butter, melted- to grease the pan
Instructions
Double the ingredients to make a large cake, if so use 9 inch springform pan.
Preheat oven to 350 F or 176 degree Celsius.
For making this cake, use springform baking pan. I used 6x 2-3/4 inch pan as this is a small cake.
Line the bottom of the pan with a parchment paper, generously grease the pan and parchment paper with butter.
This cake is very moist so don't forget to grease the pan.
Place the whole clementines into a pot and cover it with water, bring it to a boil and simmer it for 45 minutes till the clementines turn tender.
Remove the clementines from water; peel off the skin, discard the seeds, just save the fruit.
Grind the fruit in a blender without adding water to a smooth puree, keep aside.
I didn't use the skin as it will make the cake taste bitter.
In a large bowl, beat the eggs using an electric hand mixer till very smooth.
Add the powdered sugar, and beat it.
Add the ground almonds, clementine puree, baking powder, salt and mint leaves, beat for a couple of minutes till well incorporated.
Pour the cake batter into the pan and bake for 50 minutes or till a fork inserted into the center of the cake comes out clean.
Let the cake cool in the pan.
Unmold the pan, if some parts of the cake clings to the pan gently run a knife through the sides of the pan.
Slice it and serve immediately or chill it.
If you want you could sprinkle the cake with powdered sugar before serving.
Enjoy the refreshing and light taste of this cake.
Notes
If you don't have clementines, use orange instead.