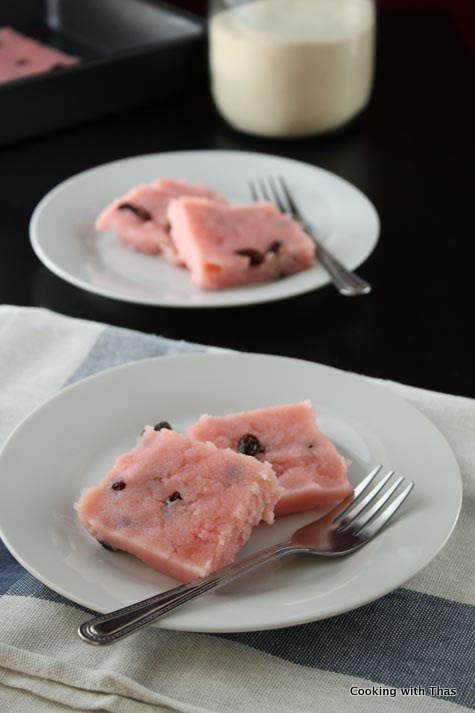 Yet another popular Indian sweet…
This was one of the sweets that I used to make way before I was hit by the passion for cooking. Of course, the simplicity of making this sweet and the very few ingredients the recipe called for attracted me. Only thing that is stopping me from making this these days is the fact that it has wheat and my husband cannot have it. So, I make with wheat free ingredients like ground almond and squash.
Yesterday, I made this to share the recipe with one of my dear readers. I had all the ingredients to make it and it only called for a very less preparation time. This sweet is famous through out India, it is known as Sooji (semolina) halwa in North India and as Rava(semolina) Kesari in South India.
I tried to make this as healthy as possible by cutting down the amount of ghee, sugar and by adding skim milk. You could be generous when it comes to adding ghee and you could even add whole milk. It's solely your choice, either way it's going to taste terrific. A sweet that can be made in less than 15 minutes and which tastes absolutely delicious.
Semolina Halwa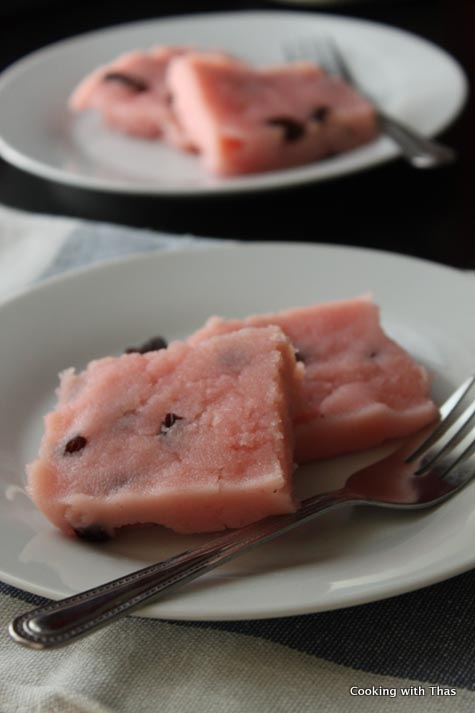 Roasting Semolina or Sooji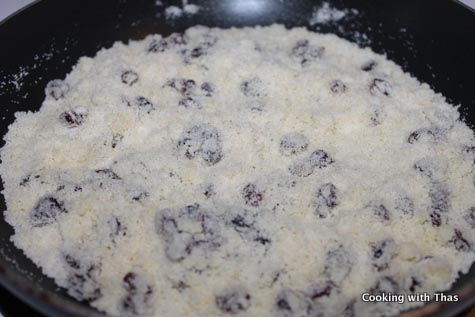 After adding sugar and milk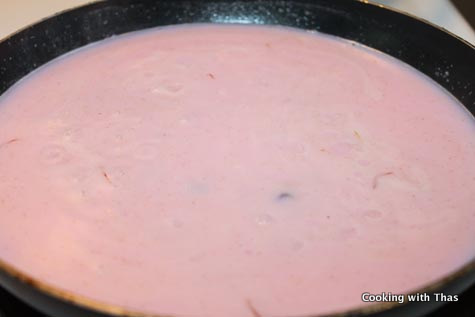 Cooking the mixture

Spread into a greased pan
Semolina Halwa (Sooji Halwa) or Rava Kesari
Ingredients
Ghee or butter- 4 tbsp + 2 tsp
Semolina or Sooji or Rava, unroasted- 1 cup
Raisins- ¼ cup
Cashew nuts- 2 tbsp
Sugar- ¾ cup ( if you want it to be very sweet add 1 cup sugar)
Saffron, strands- 2 pinches
Milk, skim or whole- 1½ cups
Food Color (yellow, orange or pink)- 3 drops
Instructions
In a bowl, combine milk, saffron and food color together.
Place a large non-stick pan over medium heat, add 2 tbsp ghee.
Add raisins and cashew nuts fry till cashews turn light golden in color and raisins puff up.
Add semolina, roast over medium low heat till it turns light golden in color & aromatic.
Be careful not to brown the semolina.
Add the sugar and combine well.
Now, add the milk, keep stirring constantly to avoid forming any lumps.
Stir till the liquid dries off and the mixture starts to stick together.
Taste, add more sugar if needed.
Add 2 tbsp more ghee, combine well.
Make sure the mixture has absorbed all the liquid.
Grease a small pan with 2 tsp ghee, pour the prepared mixture to the pan.
Using a spatula even out the top of the kesari or halwa.
Let cool down for 15 minutes, you could even chill it in the refrigerator.
While serving, using a sharp knife cut into desired shapes and serve.
This tastes really yummy when chilled.
Notes
I only added ¾ cup sugar as I don't like it to be too sweet. If you like this to be really sweet you could add 1 cup sugar.

Add sugar before adding milk, this prevents the formation of lumps.

If you want you could add more ghee, more ghee=more taste.
Usually this has yellow or orange color, I only had pink color so went with pink.