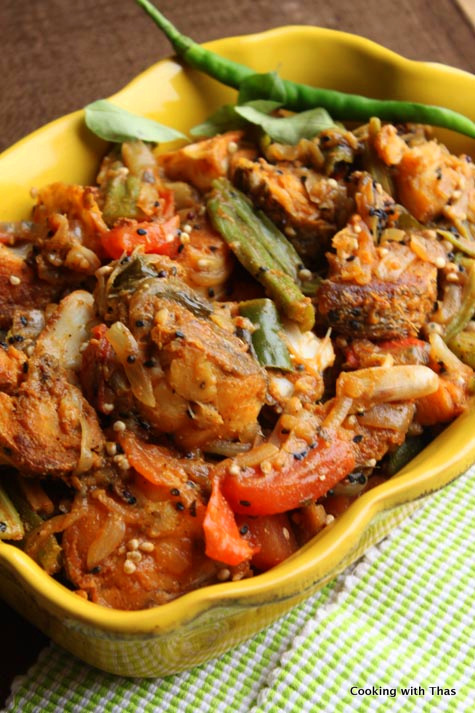 Fish and Okra did get along well, tasted delicious…
I made this stir fry or roast with whiting fish, this fish tastes so delicious. This was the second time I am trying whiting, I loved the mild fish taste and the soft fleshy texture of it. I do love roasts better than fish curries. While making roasts, I pan fry the fish and then combine the fish with onions and other ingredients, pan frying does make the fish taste much delicious. This time, I combined the pan fried fish with okra, it was a terrific combination.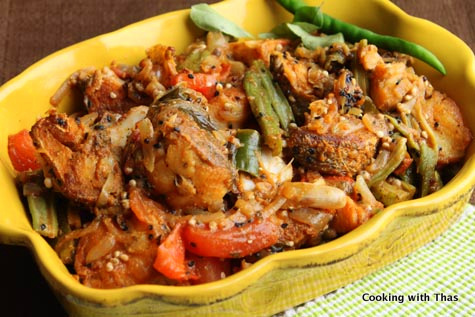 Preparation Pictures
Marinated fish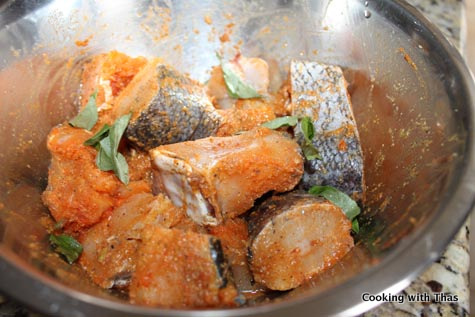 Fried fish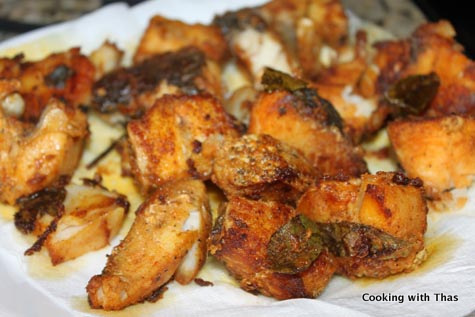 Frying ginger, garlic, green chilies in oil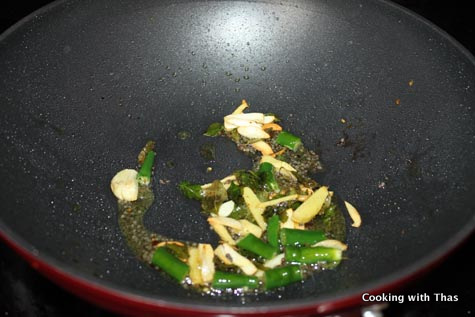 Cooking onions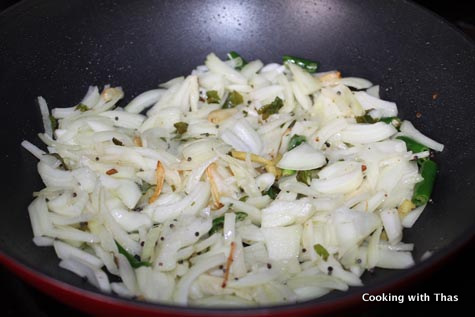 Cooking Okra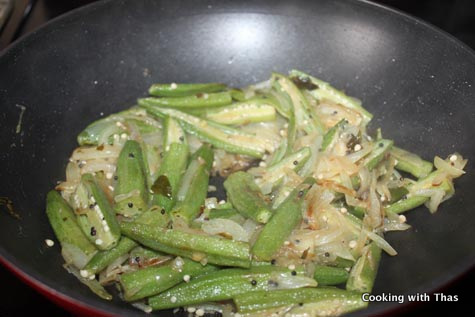 After adding tomatoes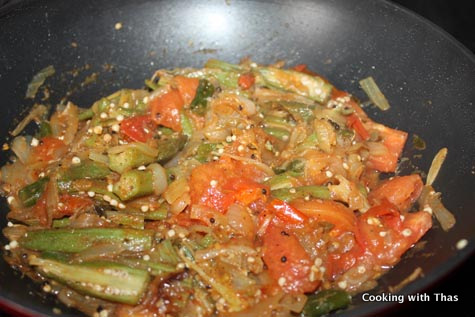 After adding fish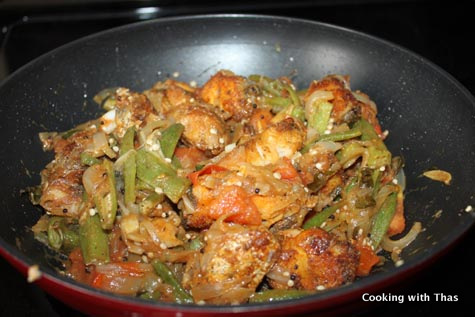 After adding sesame seeds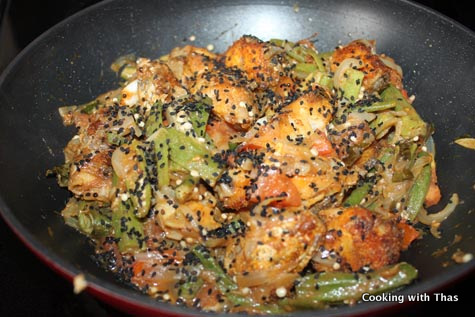 Fish and Okra Roast - Whiting fish with Lady's Finger
Ingredients
For marinating fish
Fish cubed- 10 pieces (whiting, king fish or any fleshy fish)
Ginger garlic paste- 1 tbsp
Kashmiri red chili powder- 1 tsp
Fennel powder- 1 tsp
Coriander powder- 1 tsp
Garam masala- ½ tsp
Curry leaves- 2 sprig
Lemon juice- 1 tbsp
Salt- to taste
Oil- 4 to 5 tbsp for frying
For cooking
Oil- 2 tbsp used for pan frying fish
Mustard seeds- 1½ tsp
Ginger, chopped- 2 inch slice
Garlic, chopped- 3 cloves, large
Green chilies, chopped- 2
Curry leaves- 1 sprig
Onion, chopped- 2, large
Okra or Lady's finger, halved- 12
tomatoes, chopped- 2
Chili powder- ½ tsp
Coriander powder- ½ tsp
Garam masala- ¼ tsp
Sesame seeds, black- 2 tbsp
Instructions
In a bowl, combine the fish with above mentioned ingredients for marinating fish except oil, Keep aside for 10 minutes.
Place a frying pan over medium heat, add 4 to 5 tbsp oil and pan fry fish till it gets golden brown. Transfer to a paper towel.
Add a few tablespoons of water to the bowl in which the fish was marinated, there will be some marinade left in the bowl, combine with it and keep aside.
Place a large non-stick pan over medium heat, add the oil used for pan frying fish.
Add mustard seeds, let it splutter.
Add chopped ginger and garlic, saute till light golden in color.
Add curry leaves and green chilies, saute for a minute.
Add onions, and a few pinches of salt, saute till translucent.
Add halved okra, cook covered till okra has turned tender. If it gets dry sprinkle a little water while cooking it.
Add tomatoes, cook till tomatoes are just done.
Add the fish marinade that's mixed with water to the veggies, combine well.
Add chili powder, coriander powder and garam masala, combine well.
Cook covered for a few minutes.
Finally, add the sesame seeds, combine well without breaking the fish. Cook for a minute and remove from the pan.
Serve with rice, chapati, roti etc.